DC-3/C-47's in Alberta, Canada
---
Alberta Propliner report, July 2002 M.S.Prophet
'C-47's FOR SALE '
Located at Villeneuve Airport, St Albert, about an hour drive northwest of the city of Edmonton Canada, a trio of ex Israeli Air Force Douglas C-47 transport planes can still be found. Villeneuve's based, Global Aircraft Industries Ltd. (GAI) is offering these former military C-47's for sale. During 1997 the Israeli Air Force was selling six C-47's from its inventory and GAI managed to purchase all of them. An Atlanta based company was involved with ferrying the planes from Tel Aviv to Villeneuve. The flights where long. The C-47's cruised at an average of 270 km/h. and despite the installation of 14x '45 gallon' drums, tied down to the floor, they still lacked range. Fuel stops where made at Malta, Scotland, Iceland, Manitoba (Canada) before reaching Villeneuve. At close inspection the C-47's look worn out due to their faded camouflage paint, but they are relatively low mileage. Their engines were overhauled prior to leaving Israel, where the dry desert air has kept the planes in good condition. Three C-47's have already been sold off.
N751A (42-92277) went to the Oklahoma Airborne Museum, McAlester OK, N155JM (41-18401) to the Ozark Airliners Museum, St Louis MO, and N15SJ (44-76717) to Aero Enterprises. When the DC-3/C-47 where rolling off the production lines, back in the 1940's, the airlines where paying an average of $120.000 dollars. Today a DC-3 will fetch $150.000 dollars and between 400 and 500 are still in commercial service. According to GAI C-47 aircraft spec sheet, each of the C-47 is priced at $110.000 US dollars. This does not include a fresh annual and Cof A. If you can find a good home for these birds or even buy one yourself, feel free to contact GAI.
They are at Villeneuve Airport, Box59, Site2, RR1, St Albert, Alberta T8N 1M8, phone (800) 561-6448, (780) 458-2801, fax (780) 459-4163, email: sales@globalparts.com.
N47SJ C-47B-5-DK 14424/25869 43-48608 ex: K-11 Belgium AF 1943 tot. airframe hours 9400.25
N215CM C-47B-15-DK 15347/26792 43-49531 ex: 4X-ADA 1943 tot. airframe hours 17568.07
N269LM C-47B-5-DK 14609/26054 43-48793 ex: HB-IRO,4X-FAH 1943 tot. airframe hours 21520.5
4X-ACW
(with thanks to Paul Silverman, general manager Global Aircraft Industries.)
++++++++++++++++++++++++++++++++++++++++++++++++++++++++++++++++++++++++++++++++++++++
Reynolds-Alberta Museum, Wetaskiwin Airport 03 July 2002
C-FIAE C-47-DL (4563) displayed inside ex: N4877V, 41-18471
'Off site aircraft storage'
C-FJWP C-47-DL 9089 Gateway Aviation ex: CF-PWF, 42-32863
(stored, minus engines and outer wings)
+++++++++++++++++++++++++++++++++++++++++++++++++++++++++++++++++++++++++++++++++++++++
Red Deer Airport 17 July 2002
Douglas DC-3 storage ramp:
C-FDTB C-47A 12597 ex: Dept. of Transport
C-FROD C-47A 13028 ex: Transport Canada c/s '12927'
C-FDTH C-47A 12591 ex: Dept. of Transport
C-FYQG C-47-DL 4654 ex: Nunasi Central Airlines
C-FFAY C-47-DL 4785 bare metal fuselage, no engines and outer wings
C-FVQV DST-A-207C 3264 ex: Arctic Outpost Camps Ltd. No engines and wings
Buffalo Airways ramp:
C-FLFR C-47A 13155 inside for heavy maintenance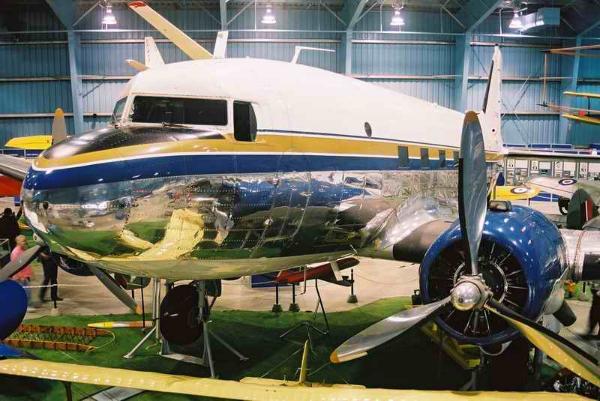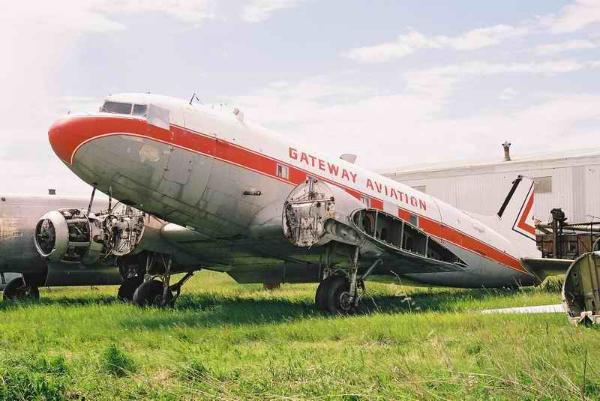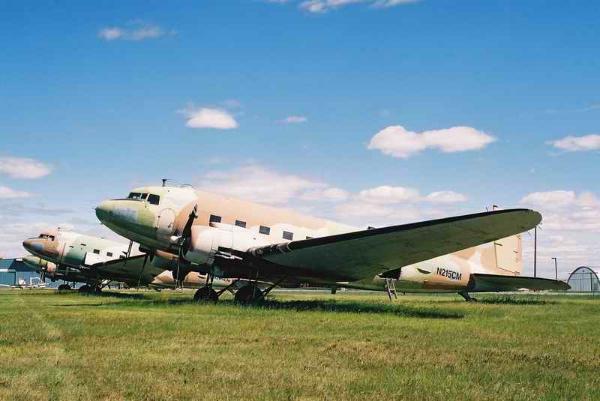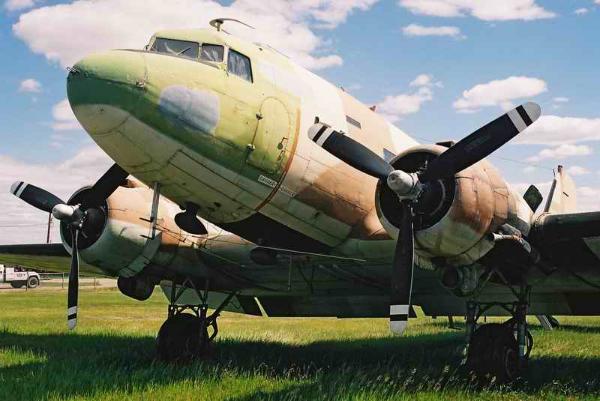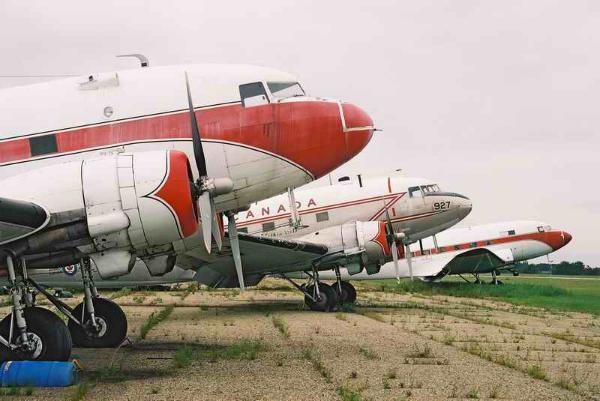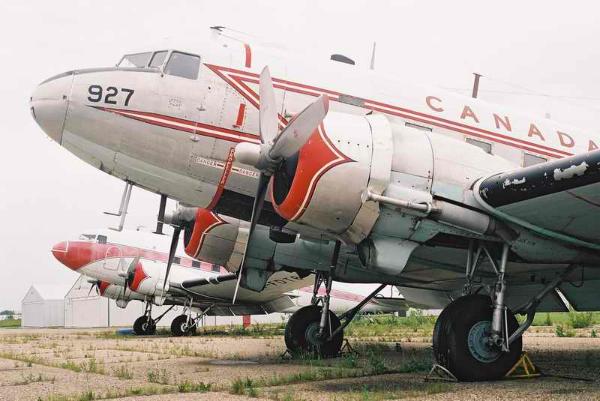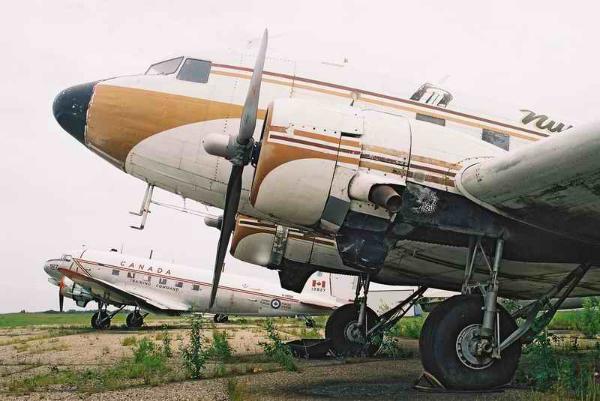 ---