Story from a first-time C-47 Co-Pilot
Photo's and story contributed by Steve Alred
---
Like all other private pilots that fly mostly single engine aircraft their whole life I often fantasized how great it would be to get behind the controls of a large multi-engined airplane. The typical daydream would be something like this. The stewardess comes back into the cabin of passengers and tells everyone not to panic, but the first officer is sick and the captain needs someone to help him fly the airplane, preferably someone who is a pilot. I step up cool and calm and tell the lady that I would be glad to offer my services, whereupon she leads me to the flight deck and puts me into the co-pilot seat. Other variations put me in sole charge of the airplane.(heaven forbid) Well anyway my fantasy came true in part when I got to help co-pilot a Dakota that my son flies cargo in.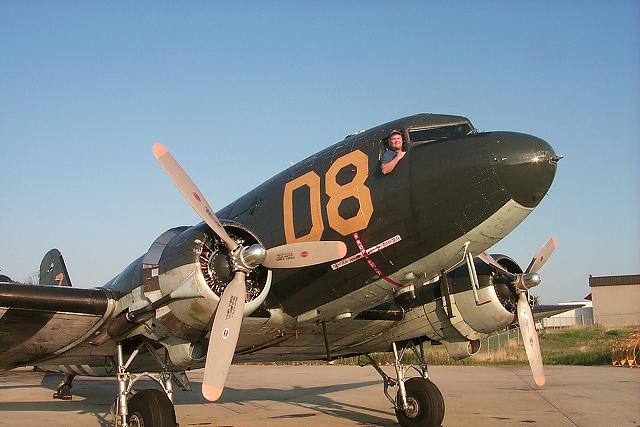 It was about mid-morning one day when I got the call from my son telling me that he was going to fly some freight from somewhere in the Midwest to Alabama and would I like to ride along and maybe get some stick time in the C-47. I told him that I would absolutely like to go and would be there right away. On my way to the airport I was remembering how twenty years ago I took my son on his first airplane ride in a Cessna 150 and how much he liked it with the same intensity that I did, and now he was going to take the old man for a ride. On top of it all he was the captain of an airplane that was even older than his dad, but that was built so well it was still flying better and cheaper than anything else made since. They would not still be flying these things if they did not make money.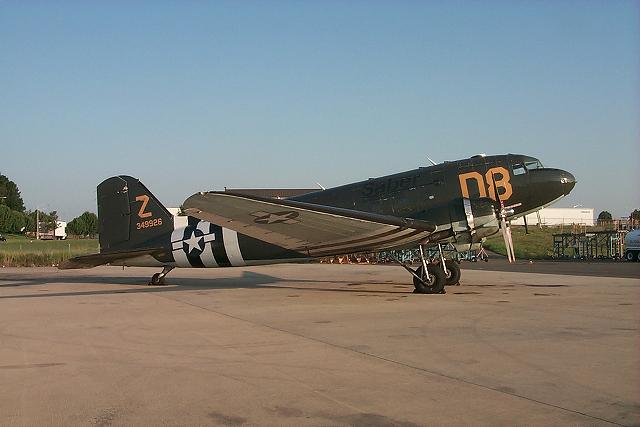 When I arrived at the airport I met my son and he showed me which airplane we would be taking out. He had to go up and call in his flight plan so I walked out to the plane and put my stuff aboard. The real co-pilot Sam was already doing the pre-flight checks and just generally getting everything ready for the flight. Sam told me that the airplane had flown in WWII and on the D-day raids,(more on this later) and as I got in and looked around my mind swam with thoughts about the possible history of this great old bird. Shortly my son and his co-pilot were getting into the plane and stowing their gear. Jason told me to get in the right seat and he would take me though the controls and what we would do for take-off. Engine pressures, gear pressures, cowl flaps, auto-rich, tail wheel lock, Hmmmmmmmmm you know this is just a little more complicated than my cessna 150. As he primed and started the engines a chill came over me as I looked at that big radial fire up and begin to spin. Soon we were taxing out to the runway and taking a position behind a slightly newer aircraft, a Boeing 737, was that the pilot waving at us? At last it was our turn to take off. The adrenaline was pumping pretty steady when Jason advanced the throttles and we started our roll out. Lets see now thirty inches of pressure and I tap the captain on the hand once…….OK……..forty inches of pressure and two taps on the back of the hand……….OK……..then as he puts both hands on the yoke I advance the throttles to 42 inches. Jason starts to rotate around 85 knots with a slow push forward to get the tail up then back to neutral and finally yoke back to lift off. Wow we're flying. I am sitting in the right seat of a big olive drab, older than me, flying machine.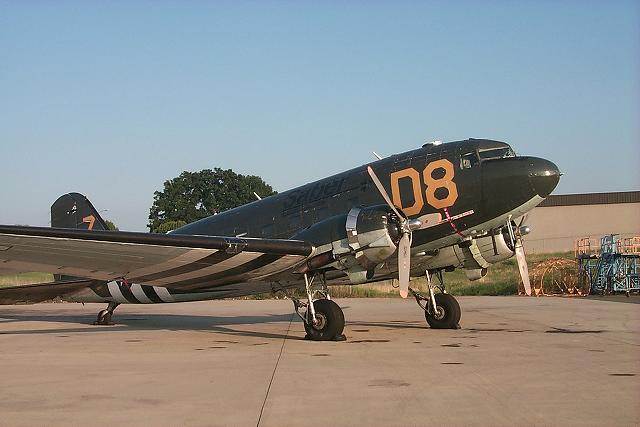 My head is reeling………then Jason snaps me back to reality and says gear... OK.. reach down and unhook the lever…..give it a good yank…….wait for the pressure to stabilize………..reach back and pull the gear lever up and then finally back to neutral…. Ahhh now just settle in and soak it all up. If you have never heard the sync of two big radial engines consider yourself unfortunate, because together they make such beautiful music. As we climbed to alitude I was hoping the moment would never end. Then the captain said " do you want to take her. My supreme moment had come just when I thought nothing could top the previous experience. As I took the yoke Jason told me just to keep her on course and level. No power assist in this baby, when you want to turn her it takes a good amount of muscle power to turn that yoke and work the rudder. Sam thought that during the flight he would have some fun with the newbie flying the airplane. He would wait until I thought that I had the airplane all trimmed up and flying nice and level, then he would walk to the very back of the cargo area and just stand for a minute or two. This would cause the plane to climb and I would retrim, then he would walk forward again causing the plane to then dive. This went on for about 15 minutes until I had finally caught on. Ha-Ha.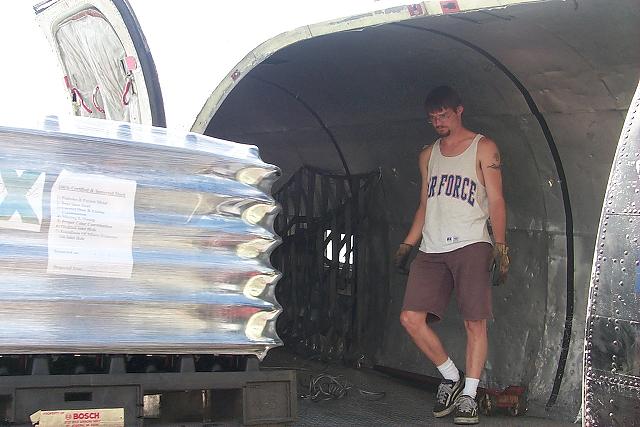 Flying time to our freight pick-up point was about four hours at about 140 knots ground speed. When we landed a big truck met us there and loaded us up with brake parts for a factory in Alabama, naturally they had to be there yesterday. So as soon as we took on fuel we were gone again this time heading south. On this leg of the trip I just watched and stayed out of the way behind both the captain and co-pilot. It was very interesting to watch them work and I tried to remember all of the procedures that I saw them go though. Think of the hundreds of pilots that must have flown this old bird and gone though the exact same routines. Landing in Alabama got us an audience. People wanted to see this old bird painted in the invasion colors. They wanted to get in it and touch a piece of history. Whenever they could both pilots liked to accommodate the onlookers, but also told them that this was a working airplane and it had a job to do, so please stay out of the way when we are unloading. After unloading was done and the customer was satisfied we let the crowd look while we fueled up for the return leg.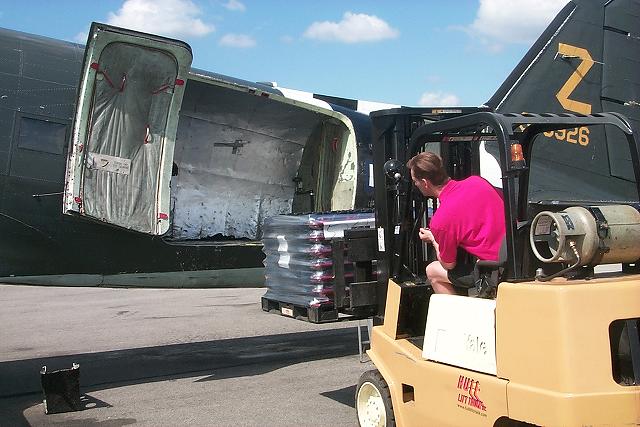 The sun had already set in Alabama as we started the engines for the leg home with no cargo aboard. It was such a nice night that Jason decided to go vfr and again having no cargo meant that I could get into the right seat once more. After the airplane was put into position on the runway I was asked if I wanted to take it off this time. I have made takeoffs hundreds of times before in several different types of aircraft, but nothing quite like this big tail dragger. As I started to advance the throttles I was immediately caught off guard my how much I would have to work the rudder to keep the ship straight. Of course in the first few seconds I was overcorrecting either to the left of the right, but it finally settled down much to my relief, and I felt the first tap of the back of my hand as the pressure passed 30 inches. 40 inches came just as quick and then I put both hands on the yoke and started pushing forward……………OK…….tails up…..let her build up speed to 80 knots….I did not realize it but I had already let the yoke come back to neutral…OK now pull her off…..we're flying again. Let it climb until we get to 6500 feet which we would use to cruise back to North Carolina………….Whew……Feels so good. The rest of the flight was pretty uneventful so I was able to contemplate what a great experience this had been and how my fantasy flight had been everything and more than I had expected. For most pilots of the old Dakota's and DC3's it is just a way to build up time so that they can go on to either an airline job or hauling freight for one of the other big carriers, but for my son I know that it is an adventure that he will remember with fondness as he progresses with his career in aviation. Most of the guys that work on these old birds are called freightdogs, a nickname that they relish. To all the freightdogs of Saber Airlines I say thank you for one of the greatest experiences of my life.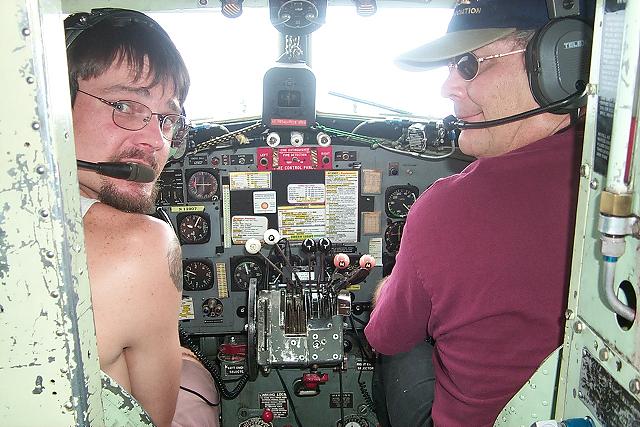 P. S. Trev gave me the history of the airplane in an email . From this I can not tell whether or not it actually flew in the invasion or not. I will hopefully wait until someone else that flew her or knew of her and can tell me more about her history. However it turns out I know that she has given good service to a lot of people over many years and is continuing to do so day in and day out. Also I have tried not to be to technical in writing this as I know that I would get some procedure wrong or at least wrong in the eyes of someone who has thousands of hours in this type. So please forgive any technical errors that I did make.
History of this Saber Cargo C-47 N12907
serial# 27187/15742, Built in Oklahoma City as a C-47A-20-DK
Registered with the USAAF as 43-49226 on Jan 19 1945
Dakota IV registered KN258 RAF Montreal, Canada, Jan 23rd 1945
Arrived in the UK on Feb 13th 1945 Scottish Aviation, Kemble March 4th 1945
233 squadron, Blakehill Farm March 1945
Ferried to Tulihal, India September 1945
435/436 RCAF squadron September 9th 1945
436 squadron Down Ampney September 1945
435 squadron Down Ampney March 17th 1946
Government of Canada April 7th 1946
RCAF July 20th 1946
103 Rescue Unit July 1946
Dakota IVMSR, 405 squadron Greenwood, NS August 7th 1957
104 KU, st Hubert, PQ August 26th 1964
Stationed at Greenwod, NS, November 9th 1966
Canadian Armed forces 424 squadron, Trenton Feb 14th 1969
CC-129 12907 Assigned June 1970
CFB Saskatoon, Storage November 18th 1971
CFB Winnepeg June 21st 1972 CFB Coldlake August 28th 1972
CFB Winnepeg October 11th 1974
A754 Instructional airframe Arttu CFB Winnepeg, October 27th 1976
Total Time 11,094 hours
Depot Level Inspection at CFB Trenton Restored to flying condition July 18th 1984
402 squadron Winnepeg "Miss Piggy" ...(see below picture).
Retired 1st April, 1989
N92BF Basler Airlines July 25th 1991
Fleming Corporation, Nashua, NH, August 9th 1991
N12907 DC-3C Reserved Cvtd March 25th 1993
Saber Cargo Airlines November 1995
N12907, 349226 "Z" USAAF livery, current as of August 2000
---
This photo (below) and the nearest Dakota, is the same aircraft above but, when it was with 402 Squadron all lined up for some ceremony or other. RCAF 12907, "Miss Piggy" after her restoration to flying status. If you carefully examine the photo, the squadron badge has been applied over where the nose numbers used to be and you can make out the skin discolouration from the number decals.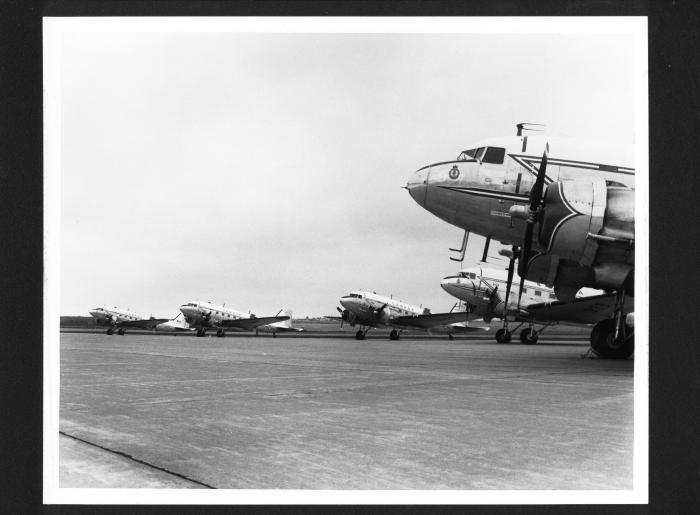 ---