Rare DC-3's in the UK
All information and photographs kindly sent in by William Howe.
---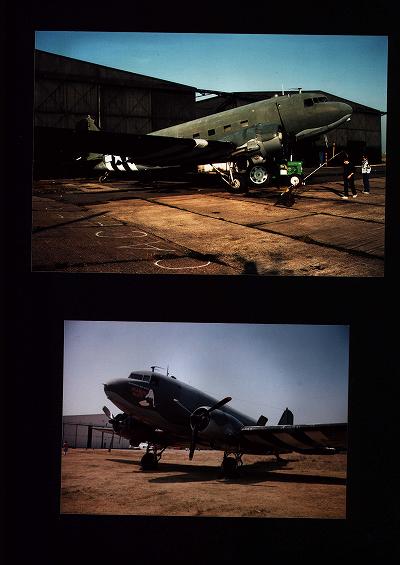 ---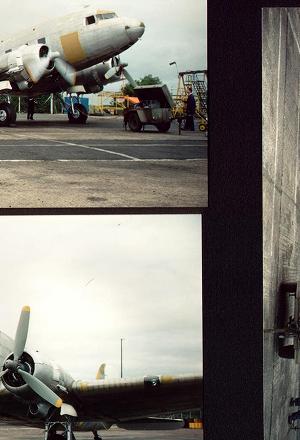 ---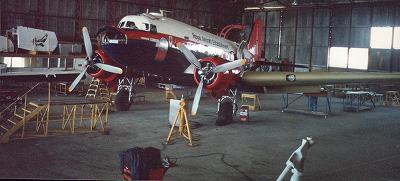 These pics are of Royal Aircraft Establishment Dak ZA947. The a/c had an accident at Farnborough in around 1990 when the Navigator (the RAF used navigators in the right hand seat I believe) accidently retracted the landing gear on the ground with engines running. The port engine prop hit the ground taking with it the reducton gear box, smashed into the fuselage (hence the alclad plate where the nose exit used to be) and wrote off the port wing. Air Atlantique were given the contract to repair and carry out an overhaul of the aircraft. A wing was obtained from a derelict dak in Malta with MIACO (the company Air Atlantique had just aquired which specialised in P&W R1830 overhaul) and brought to uk. The wing was very rough with corrosion and we reskinned much of it together with lots of new angles,ribs etc..it was then taken to Farnborough and fitted to ZA947 together with a new engine and prop.The a/c was then ferry flown to Coventry where we did the actual a/c servicing. This aircraft is now flying with the Royal Air Force Battle of Britain Memorial Flight in D Day markings.
---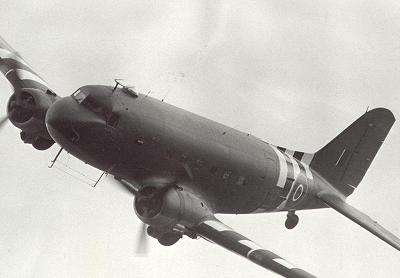 Aces High C47 G-DAKS. The one painted as G-AGHY was used in the 1981 TV series "AIRLINE" about a post war independant airline - "RUSKIN AIR SERVICES". There was only ever one series made, another was planned and would have been based largely on the Berlin Airlift but the makers "YORKSHIRE TELEVISION" were to tight fisted to go ahead with it so it was shelved. Another C47 G-AGIV (really G-BHUB) was also used in the series but not as extensively as G-DAKS. "G-AGIV" only lasted a couple of episodes having "crashed". G-BHUB is actually retired to Duxford where it is painted in wartime USAAF makings with the Imperial War Museum. A year or two after the killing off of AIRLINE G-DAKS was painted in wartime RAF colours for use in the TV series called "THE FOURTH ARM", again with ACES HIGH. (ACES HIGH is a North Weald based film company which also trades in aircraft.). For much of the 1980s and 1990s G-DAKS didnt do much just being parked up with an occasional engine run untill last year when it recieved an "overhaul" and aquired a US N number. It is now back in the air.
---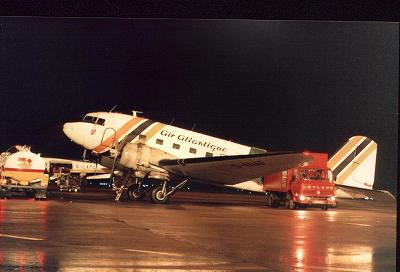 ---
G-AMPO undergoing a check 4 major overhaul at Air Atlantique in around 1989 / 1990 having been impounded at Newcastle Airport for a couple of years whilst operated by Air Luton / Top Flight. It was then sold to Aces High at North Weald then straight onto Air Atlantique who had actually sold it to Air Luton in the first place. One of the pics shows the registration as being G-AMRO but this was actually an "adjustment" of the reg. by us engineers in order to confuse local registration spotters, which it did actually do much to our amusement and their anger !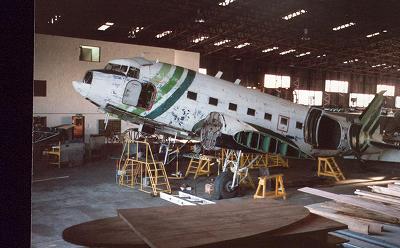 ---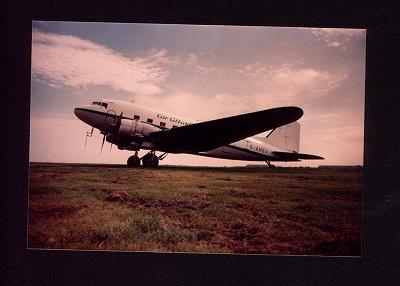 ---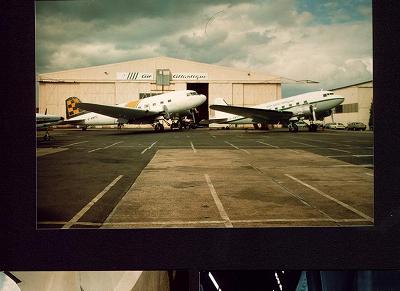 ---
G-BPMP was a C47 owned by lord Beaverbrook from around 1989 - 1991. The aircraft was owned by Keenair at Liverpool and was ex Morrocan Air Force. It was ferried from Liverpool by Andrew Dixon and Peter Hoare having not flown for many years. I remember watching it approach and land on one engine at Coventry having lost its port engine shortly after take off from Liverpool. Initially it was to be overhauled for airshow use by Air Atlantique (who I used to work for) but due to heavy commitments to its newly aquired pollution control contract were unable to carry it out. Myself and a colleage began work on it on a part time basis in an old dissused hangar and were later joined by engineers from British Airways. In 1991 I worked on it full time for several months. Unfortunately the Gulf War meant that Kuwait Oil (who were sponsoring the project) had its assets frozen and therefore money dried up. The aircraft and a very large number of spares were "aquired" by Air Atlantique who then sold the aircraft to Parkhouse Aviation in High Wycombe . The aircraft was then broken up with the wings going to the US and the nose section going to a bookshop in Europe. Friends of the DC3 were heavily involved with the aircraft and infact John & Maureen still get very upset about it even to this day, it was a trajic waste of a good aircraft. For your info Lord Beaverbrooks company which was set up for this aircraft was called Cherkley Aviation Limited.
---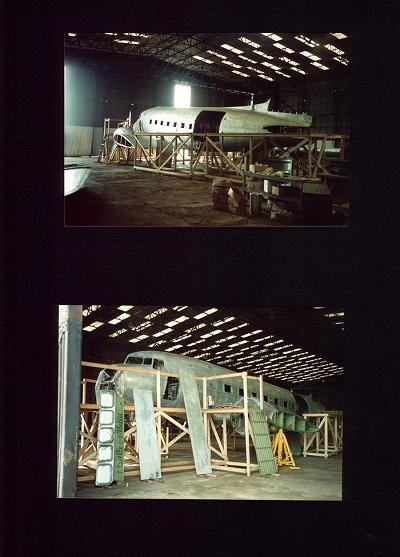 ---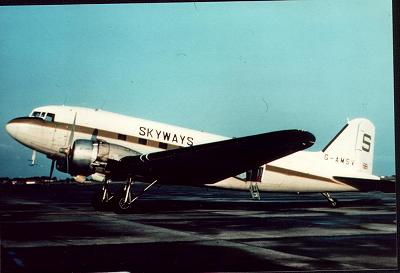 ---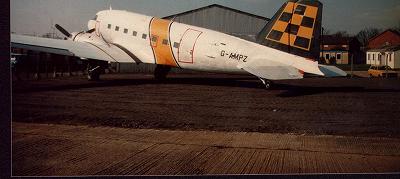 ---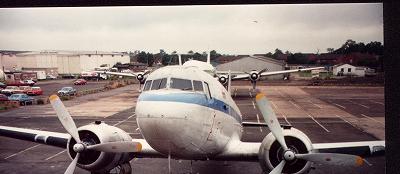 ---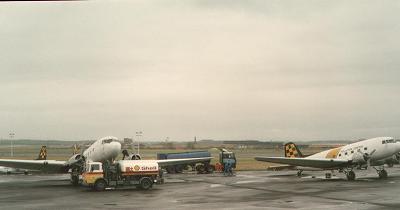 ---
This is the latest and updated information from our regular forum user MAC.. (9/2/2007)
Dakota 3 G-DAKS ex-KG374, TS427, Aces High, Dunsfold. Airworthy

C47B-15-DK G-AMPY ex-EI-BKJ, KN442, 44-76540 Air Atlantique,Coventry. Airworthy

C47B-15-DK G-AMRA ex-XE280, KK151, 43-49474 Flying 2004 Air Atlantique. Sold Abroad 2006 or early 2007???

C47B-25-DK G-AMSV ex-KN397,44-76488 Air Atlantique, Coventry. Stored for spares

C47B-35-DK G-ANAF ex-N170GP, KP220. Thales test A/C, Air Atlantique Coventry. Airworthy

C47B-30-DK G-AMPO ex-LN-RTO, KN566 Donated to the Air Dispatch Sqn, RAF Lyneham Displayed as FZ625

C47B-30-DK G-AMYJ exSU-AZF, XF747, KN353 Donated to the Yorkshire Air Museum, Elvington, York. on display

DC3 N4565L ex-LV-GYP, LV-PCV, N129H, N512, N51D, N80C, NC21744
Being restored at the South Yorkshire Aircraft Museum Doncaster Yorks.

DC3A EI-AYO ex-N655GP, N65556, N255JB, N8695E, N333H, NC16071
Science Museum Collection Wroughton,Wilts Stored.

C47 N473DC Dakota Heritage Inc Airworthy, Based Liverpool.

C47 ? N1944A Marked 315211 Wings Venture, Kemble

C47 G-APML Scrapped, Nose to Kuwait for Restaurant.

C47 G-AMCA Air Atlantique Donated to the Aviadome Museum Holland.

C47 N9050 NOSE RAF Museum Hendon

C47 ZS-MRU Going to Iceland but grounded at Dunsfold, still there in late 2006, Present status unknown.

C47 42-93510 NOSE Kew Trucking, West London

C47 G-AMPZ Sold to Berlin Airlift Assn, Badly damaged Czech Republic.

C47-85-DL N5595T Skysport Engineering, Hatch Stored

C47-30-RA 315509 ex-N47DD American Air Museum, Duxford

C47B-35-DK G-AMSN ex EI-BSI, N3455, SU-BFZ, KN673. Last known at Aces High, North Weald, Present Status and Location unknown

C47D-65-DK 6W-SAF ex-F-GEFU NOSE Aces High, May have moved to Dunsfold.

C47-10-DK FL586 ex-OO-SMA, N99346 FUSELAGE Aces High, last known at North Weald. Present location unknown, May have moved to Dunsfold.

C47-20-DK N47FL ex-EC-FIN, N7164E, C-GCTE Aces High Status and location unknown

Dakota IV KP208 Parachute Regiment Museum, Aldershot, Displayed outdoors.

C47-35-DL G-DAKK At present leased to Aviadome Museum Holland Airworthy (2 year lease)

C47-35-DL 292912 ex-N47FK, EC-FNS,C-FEEX, N308FN. believed sold to USA 2006/2007

Dakota IV G-AMSM NOSE Brenzett Aeronautical Trust, Kent

C47-10-DK NOSE ex-N9050T, ex-Malta 5N-ATA,PH-MAG, G-AGYX KG437
RAF Museum, Hendon

Dakota III EA947 ex-KG661, RCAF661, 42-24338 Battle of Britain Memorial Flight Airworthy Coningsby

DakotaIV KG448 NOSE ex-44-76586 Science Museum.

Dakota IV KG374 ex-KN645 Cold War Hanger RAF Museum Cosford.

C47-25-DK G-AMHJ ex-SU-AZI, ZS-BRW, KG651 Donated by Air Atlantique to the Assault Glider Assn. RAF Shawbury,
---
The following information has been provided about all remaining DC-3/C-47's in the UK, kindly researched and written by the great DC-3 researcher, Coert Munk.
DC-3's IN UK
A provisional listing of all DC-3's in UK (from my earlier book on Daks in Europe). Itís not complete, the Booker US registered Dak is not yet on the list and I didnít check other recent changes!!
Please give comments
by Coert Munk, May 2000
Key:
a airworthy
der derelict
st static display
std stored
u/r under restoration
Aldershot, Airborne Forces Museum
C-47B KP208 16671/33419 st, 44-77087, in D-Day c/s
Booker-Wycombe Air Park, Booker Aircraft Museum
C-47A F-GEFU 19074 st, (6W-SAF), 42-100611, (F-BNFB), 0-00611, (0-100611), (0-20611), 42-100611, nose-section only, painted in USAAF 438th TCG c/s as "4U", loaned to other parties regularly
Brenzett, Brenzett Aeronautical Museum
C-47B G-AMSM 15764/27209 st, KN274, 43-49948, nose-section only, stored outside at the remainders of this former RAF-airfield.
Coningsby, Battle of Britain Memorial Flight
C-47A ZA947 10200 a, KG661, 661, 42-24338, "Portpatrick Princess", as YS-DM of RAF 271Sq.
Cosford, Aerospace Museum
C-47B (KG374/YS) 16587/33335 st, 8355M, KN645, 44-77003
Coventry, Air Atlantique
C-47B G-AMCA 16218/32966 a, KN487, 44-76634, Pollution Control

C-47A G-AMHJ 13468 a, SU-AZI, G-AMHJ, ZS-BRW, KG651, 42-108962, Pollution Control

C-47B G-AMPO 16438/33186 a, (KF964), G-AMPO, LN-RTO, G-AMPO, KN566, 44-76854, Pollution Control

C-47B G-AMPY 15124/26569 a, (NW21711), (EI-BKJ), G-AMPY, N15751, TF-FIO, JY-ABE, (JY-AAE), G-AMPY, KK116, 43-49308, Pollution Control

C-47B G-AMPZ 16124/32872 a, EI-BDT, G-AMPZ, TF-AIV, (PH-RIC), G-41-3-66, G-AMPZ, OD-AEQ, G-AMPZ, KN442, 44-76540, with passenger and freighter configuration

C-47B G-AMRA 15290/26735 a, (CCCP-7245), G-AMRA, XE280, G-AMRA, KK151, 43-49474, freighter and passenger configuration

C-47B G-AMSV 16072/32820 a, (F-BSGV), G-AMSV, KN397, 44-76488, Pollution Control

C-47B G-AMYJ 15968/32716 a, SU-AZF, G-AMYJ, XF747, G-AMYJ, KN353, 44-76384, Pollution Control

C-47B G-ANAF 16688/33436 a, N170GP, G-ANAF, (KP220), G-ANAF, KP220, 44-77104, Pollution Control

C-47B G-APML 14175/25620 std, KJ836, 43-48359

Coventry, Dutch Dakota Association

C-47A G-HPBA 19434 a, PH-PBA (PH-TCB), PH-PBA, (PH-RLD), 42-100971, rebuilt with major sections of C-47A G-BVOL c/n 9836
Duxford, Imperial War Museum
C-47A 315509 19975 st, (KG418), (FD988), (G-AGIV), G-BHUB, (911-9), (911-09), (901-9), T.3-29, N51V, N9985F, SE-BBH, 43-15509
Fleet, Dakota's American Bistro Restaurant
C-47A N9050T 12472 st, 5N-ATA, (N9050T), 5N-ATA, PH-MAG, G-AGYX, KG437, 42-92648, the cockpitsection is on display in the bar, together with more of the fuselage and an engine.
Hatch/Rotary Farm, private
C-47A N5595T 20002 std, G-BGCG, (745-27), (901-7), T.3-27, N49V, NC50322, 43-15536
Kew, Kew Trucking
C-47A F-GEFY 13430 st, (6W-SAE), 293510, (F-SEYE), 93510, OK-WCR, OK-WAR, 42-93510, nose-section only, mounted on trailer for static display at shows
London, Science Museum
C-47B KN448 16170/32918 st, 44-76568, nose-section only
North Weald, Aces High Ltd.
C-47A N147DC 19347 a, G-DAKS, (TS423), (KG374), (NA+LB), (100884), (G-AGHY), G-DAKS, TS423, 42-100884

North Coates, Museum

C-47B G-AMSN 16631/33379 a, N3455, G-AMSN, EI-BSI, SU-BFZ, N3455, G-AMSN, KN673, 44-77047, "Ian Drury"
North Weald, Dakota Club
C-47A N47FK 9700 a, EC-FNS, EC-187, N2669A, C-FEEX, CF-EEX, N308FN, N3PG, N3W, N7V, NC49538, 42-23838
Parham, 390th Bomb Group Memorial Air Museum
DC-3 N4565L 2108 u/r, (N3TV), LV-GYP, LV-PCV, N129H, N512, N51D, N80C, NC21744,
damaged in heavy storm at Ipswich on January 25, 1990. A pre-war DC-3, built in 1939 for the Eastern A/L, impounded on September 3, 1991 by the Ipswich Borough Council due to non-payment of parking fees, the aircraft was sold to Aces High Ltd. of North Weald in late 1994 who removed the engines, props and undercarriage for spares use. The airframe then was sold on to the museum and moved to Parham

Shoreham, South Coast Airways
C-47A G-DAKK 9798 a, F-GEOM, (G-OFON), F-GEOM, 36, (FYGGC), 23936, OK-WZB, OK-WDU, 42-23936
Wroughton, Science Museum
DC-3A EI-AYO 1911 st, N655GP, N65556, N255JB, N8695E, N333H, NC16071, delivered in 1936 to United A/L
---