A Neglected DC-3 in the UK
---
Update, 10/20002, They have informed me that the a/c is definately not for sale and whilst they agree its present condition is not good they are in the process of trying to erect a hangar for it before they start its restoration. The a/c is owned by the 390th bomb group memorial air museum at Parham airfield, Suffolk UK.
N4564L Visionair / Jeff Hawke / Hibernian Dakota Flight, arr at Ipswich 1Oct86 for film work (Propliner 41), dam in Oct87 gales, due to be sold by auction by direction of the Ipswich County Court on 8Feb90, (US-register 1992) N4565L registered to Airspeed International Inc, 25 W Flagler St, Miami FL 33130, AL342 N4565L long term std at Ipswich (since 2.10.86), sold to Aces High (for the engines), fuselage moved by road on 20.3.95 to 390th Bombardment Memorial Museum near Parham near Framlingham, Suffolk UK (see FP9601#36). Address: 390th BG Memorial Air Museum, 101 Avondale Rd, IPSWICH, Suffolk IP3 9LA, UK
Daniel Lord in the UK, sent in these photographs on a trip up to Norwich April 3rd 2001. He went via Parham to see ex Ipswich dak N4565L and to see if any progress has been made on its 'so-called' restoration, but alas no. As you can see by the pictures below it is in a sorry state, sad to say. On a sheet of paper on one of the windows , it says that during the storm in 86 or 87 (he cannot remember which), that the wing tips and control surfaces were all damaged, as can be seen in one of the photo's . It also states that at one time it had a very plush interior installed including bunks and a cocktail bar, but unfortunately none of this has survived. Also one of the yokes is missing, although most of the gauges are still in place, which is unusual as these would be easily stolen . As you can see below the throttle controls are held togeather with duct tape. He also noticed that it has large rear side windows, another modification ?. There is no sign of the undercarrage, engines or prop's, He think Aces High had these when it first came up for sale . Notice too the strange throttle quadrant knobs and what looks like an extended plastic nose.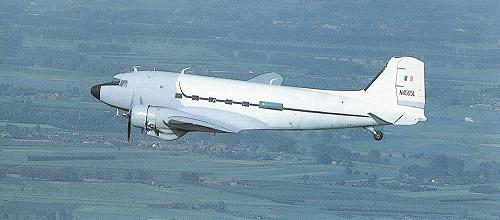 The History of this particular DC-3 is as follows: c/n#2108 DC-3-201A NC21744 Eastern "346" D 18Feb39 N80CA Jleaward(Dec53)-N51D Rr- N512 A V Davis - Trans International (Dec58) N129H - LV-PCV E 12Apr61 -LV-GYP Servicios Acreos Santa Isabel Jul61 - Ford Motor Argentina - F DeStefano Nov81 - E F Abeledo B27Jul82 - Stored Ezeiza Apt, B. Aires -N4565L Airspeed Int'l Inc, Mianii, FL RDec83 - Hibernian Dakota Flight Ltd, Dublin (Rd N3TV for ferry flight, due early 1984). Now Derilict as N4565L in Parham, Suffolk UK.
---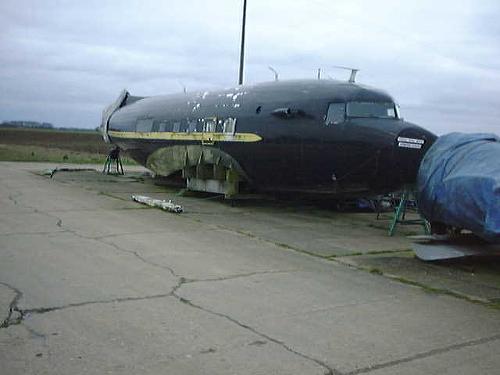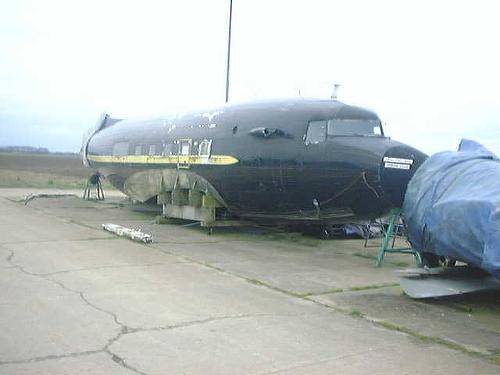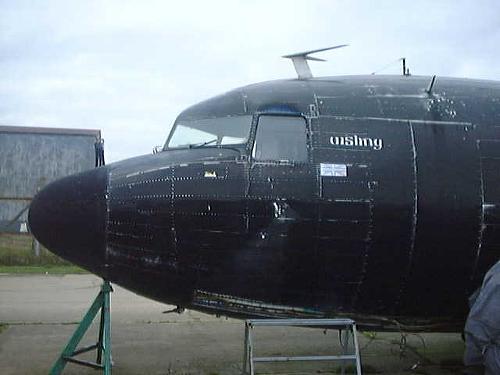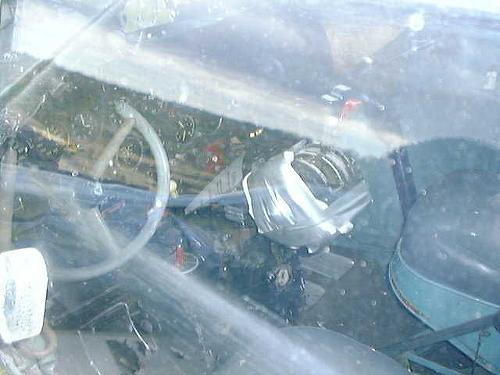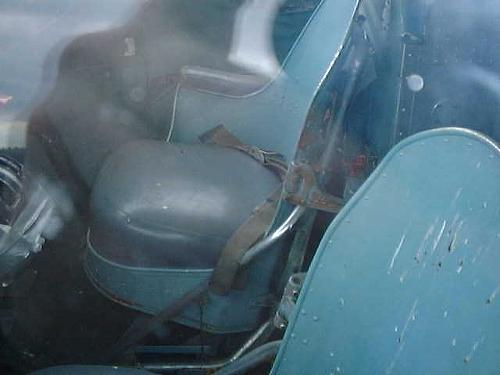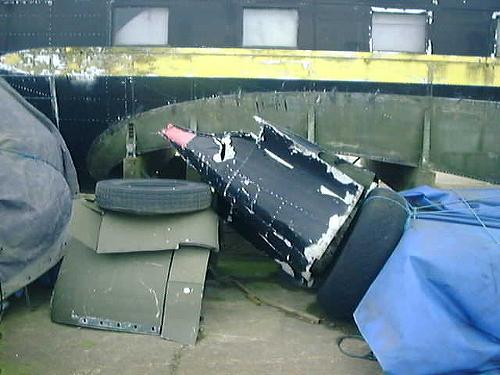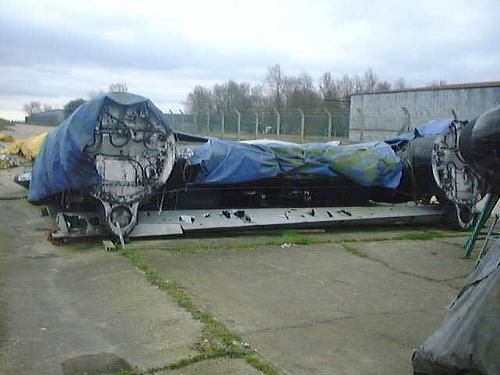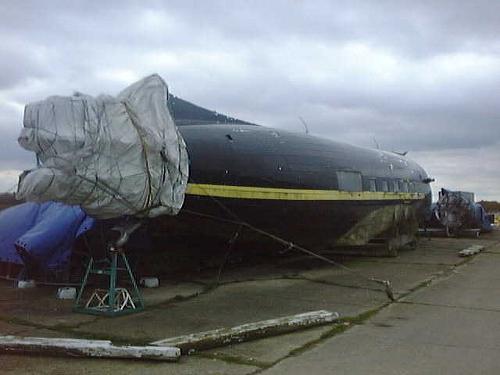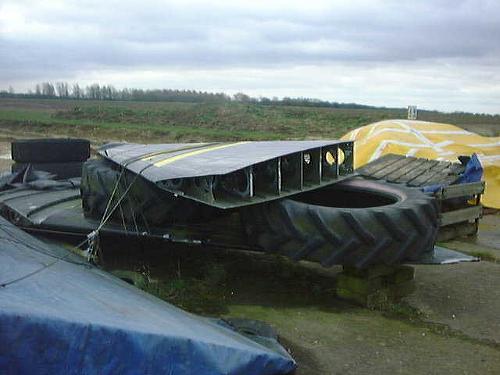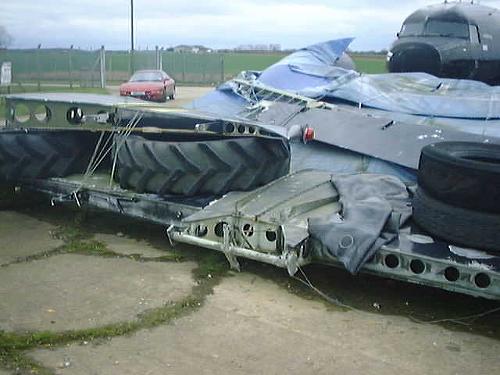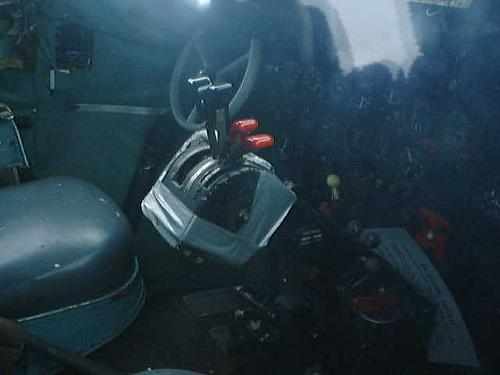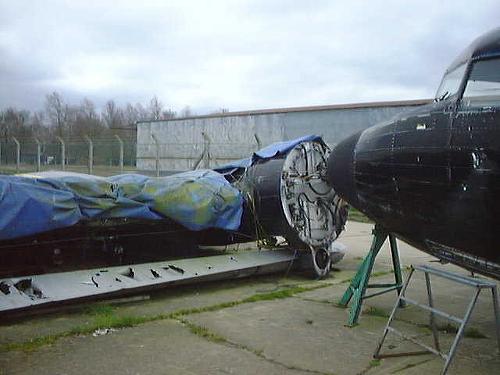 ---