DC-3 in a Flood & the DDA
---
Jose M. Sierra has this to say: Picture was taken by my dad just after the airport, Harry S. Truman STT, flooded due to sever thunderstorm. Picture is taken in the late 50's. Note a US Navy Seaplane on the taxiway and another DC-3 holding as it was about to takeoff. Passengers were removed using the aircraft life rafts.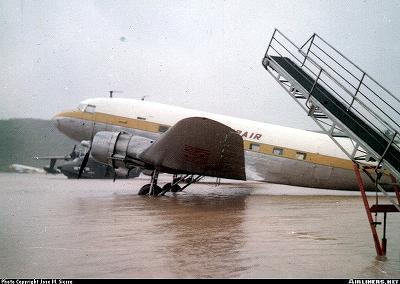 ---
Unknown R4D to the rescue in some obscure place that looks very cold.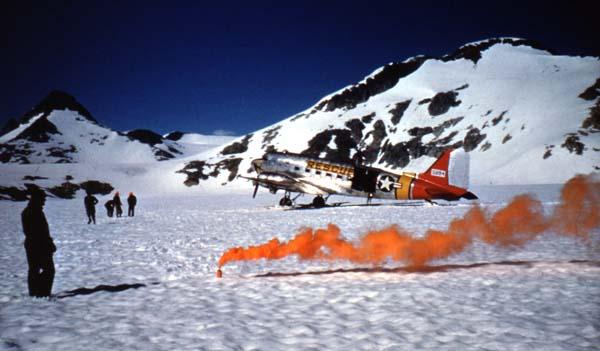 ---
Todd Hackbarth of The Yankee Air Force museum had this to say: Our C-47 is located at Willow Run Airport which is between Ann Arbor and Detroit. Check out the website at www.yankeeairmuseum.org and click on Flyable Classics to see a photo of the C-47 (pictured below) taken way back in July of 1990. It is nick-named 'Yankee Doodle Dandy' and continues on the air-show circuit today.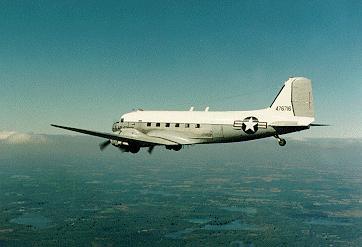 ---
This is one of ARCO's DC-3's, they had two. N596AR flew in the fleet from 1955 until 1996 at which time it was donated to a air museum located in Santa Monica California. N596AR had the distinct privilege of flying President Eisenhower throughout the US. It carried the presidential seal on the left side of the aircraft as well as the national flags of the countries it visited. The aircraft also have the nickname of the Charlie Jones, given that for the Chairman of Richfield refining Co. (Charles S. Jones) The second DC-3 N595AR was sold to an airline in the Bahamas. Both DC-3's supported exploration, geology and external affairs projects throughout the America's, the Bahamas and Caribbean. Contributed by Don DeVoe.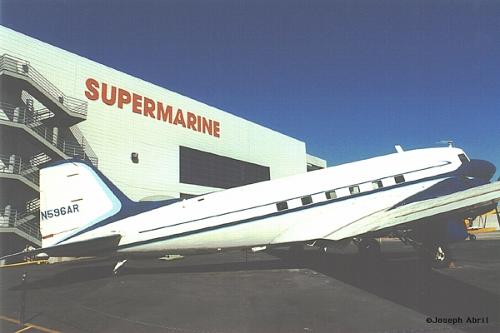 ---
Jerry Plettenberg sent this excellent photograph of PH-DDZ DC-3, owned by the Dutch Dakota Association in flight.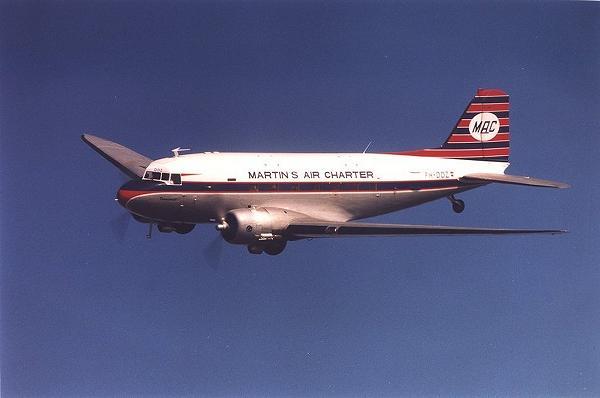 ---
Jerry Plettenberg also sent these photographs and information of PH-PBA, another DC-3, owned by the Dutch Dakota Association. "Royal" DC-3 PH-PBA, The history of this particular aicraft is: The livery is exactly as it was when this DC-3 was the personal plane of HRH Prince Berhard husband of Dutch Queen Mother Juliana when he was Inspector General of all Dutch Armed Forces, hence the four general's stars on the tail and HRH's personal coat of arms behind the cockpit windows. And the registration obviously standing for Prince Berhard Alpha. The interior consists of only sixteen very wide, very plush, first class seats as well as a rearward facing seat in the l/h front with a folding table of highly polished mahoganywood in between. The table holds a hidden rack for four bottles, too.. PBA is currently on jacks for a maintenance inspection combined with some final adjustments that are required by the Dutch Civ.Air Auth. on pax flightsafety (eg. small things like relocating clips for battery torches etc.)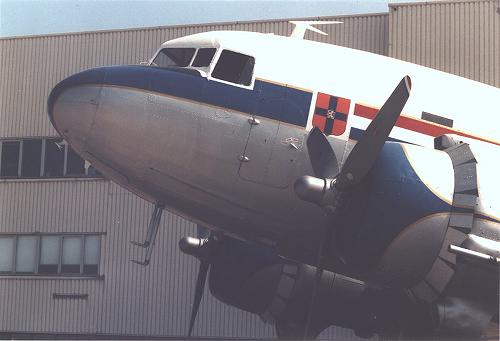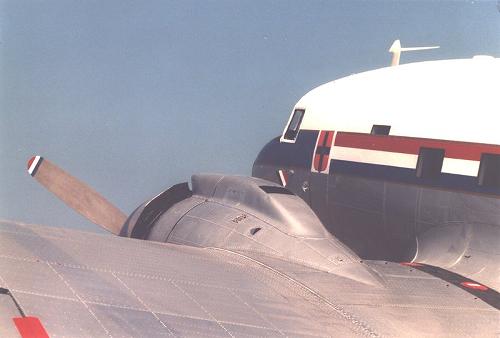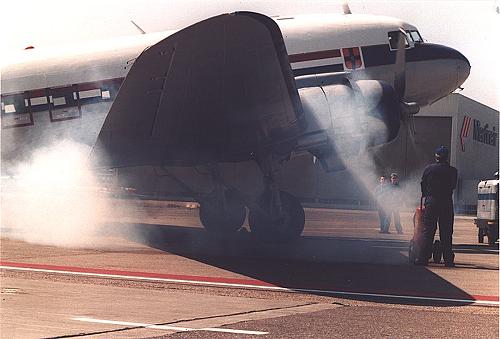 ---