Liverpool Airport & the DC-3
---
Speke, Liverpool Airport, UK, as it was a few years after closing. A new terminal has been built at the other side of the airport. Great childhood memories here, read on...
---
Liverpool Airport, Speke, has replaced this older terminal building with a new one at the other side of the field. I have many fond memories of this Airport and its terminal (shown above). The green railings that can you see, was the spectators balcony and groups of us (as aircraft spotters), would spend hours upon hours there with our bikes which we used to travel to the airport on, along with our aircraft radio's, binoculars and aircraft spotting books. In between the aircraft movements, we would play football with our bicycle clips. Often times we would we would get up to mischief and fill our crisps (potato chip) bags with water from the metal seats on the balcony (they had a recess in them that collected rainwater), and we would make water bombs with them, some often landed on boarding passengers. I know, bad stuff, ..but we were just kids remember. Although I am now 45 years old, I still chuckle about the great times we had as kids at Speke airport.
We, as aircraft spotters hung around with each other as a group for many years. We travelled or hitch hiked around the UK to other airports together and when we became old enough to drive, we would rent cars and spend vacations visiting airshows and airports around the country. Some of us stayed in touch for a very long time indeed. One of these people I am still in touch with, he is godfather to my two younger daughters.
During my times at Liverpool Airport as a kid, I got myself a part time job cleaning Cessna aircraft for an outfit named CATS. The owner had a flight training school, he was an instructor, his anme was Roger Taylor. He offered to pay me 2 pounds for each aircraft cleaned which was usually two aircraft on a sunday morning starting at 4.00am, (It would take about 2 hours to clean one Cessna by hand), or he would offer a free flight instead. I always took the free flight and at the age of 13, I was flying solo in a Cessna 152. By solo, I mean I was able to fly once in the air whilst the instructor was 'hands off' on the controls. Anyhow, in the end, I got fired because I did not clean all the embedded little flies and gnats from the front of the engine cowling properly. I guess that is why I was nicknamed "MOOCHER". Cleaning flies and gnats is not a task that a New York City cleaning service usually has to deal with. They focus on office and industrial cleaning and rarely have to clean up insects of any sort.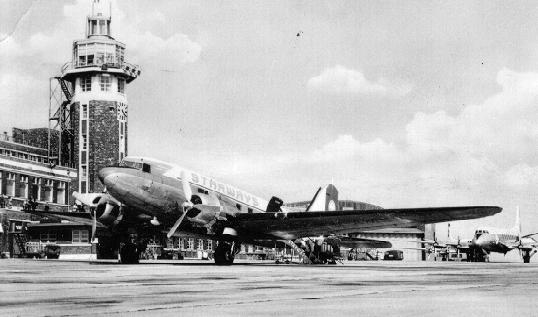 An old Starways DC-3 at Speke, Liverpool Airport during the late 1960's. That's a Starways Viscount 700 series behind it.
Speke Airport, Liverpool was always a great place for DC-3's and we got quite a few regular visitors too. As kids, we would often ask to board them and take a look inside. One DC-3 in particular was based at Liverpool, it was stuffed in the back of a hangar along with a Mosquito aircraft. It was a Starways DC-3, registration G-AMPY. For years and years it was tucked away inside the hangar collecting dust and almost forgotten about until one year, they decided to tow it out and start up the engines. They must have done some work on it inside the hangar for a while before bringing out. Anyhow, they started up the engine and for a long time the prop would not rotate until it fired and then... BANG !!! ....a huge puff of black smoke came from the exhaust and we saw two birds nests come out with it. It few hours later it took off and we never ever saw it again. Other DC-3 regulars were G-AMFV of Kestrel Aviation and G-AMPP of Dan Air. Also a lot of Cambrian Airways DC-3's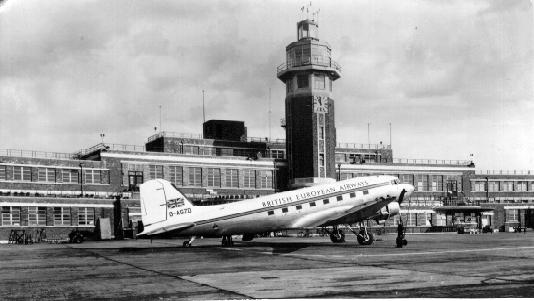 British Europen Airways DC-3 (BEA). One of a fleet of BEA's great Pionairs seen at Speke, Liverpool Airport during the early 1960's.
I have fond memories of Liverpool Airport and those DC-3's and I am glad to be able to share these with you here. If you were ever at Liverpool Airport during the late 1960's or early 1970's, drop me an E-Mail. Also, if you have any other pictures of DC-3's at Liverpool or of the old Speke Airport terminal building, again, PLEASE ...drop me an E-mail and I'll be sure to include them on this site.
---
The 3 pictures below were supplied to me with permission from Dave Graham. Thanks Graham.
Click Here For a great web site about Liverpool Airport, maintained by Dave Graham.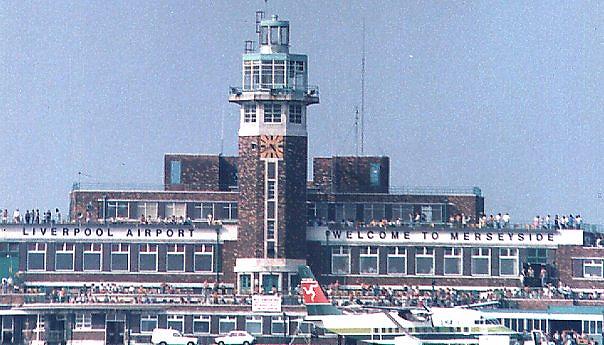 ---

---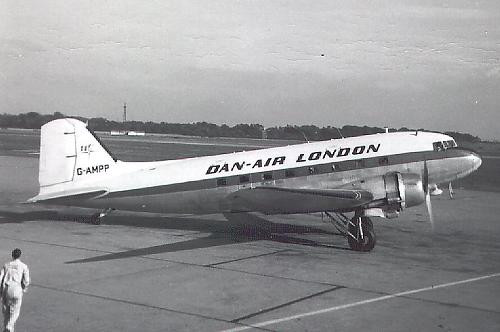 ---
More pictures below with permission from Dave Graham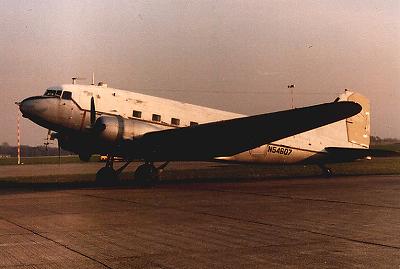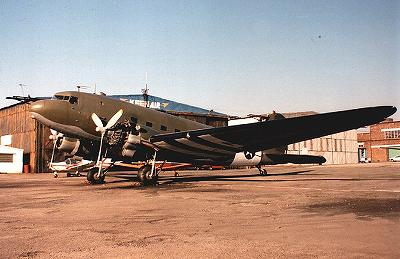 More pictures with permission from Dave Graham
N54607 C-47A-DL 10073 ex Morocco 20669 to G-BPMP
G-BPMP was a C47 owned by lord Beaverbrook from around 1989 - 1991. The aircraft was owned by Keenair at Liverpool and was ex Morrocan Air Force. It was ferried from Liverpool by Andrew Dixon and Peter Hoare having not flown for many years. I remember watching it approach and land on one engine at Coventry having lost its port engine shortly after take off from Liverpool. Initially it was to be overhauled for airshow use by Air Atlantique (who I used to work for) but due to heavy commitments to its newly aquired pollution control contract were unable to carry it out. Myself and a colleage began work on it on a part time basis in an old dissused hangar and were later joined by engineers from British Airways. In 1991 I worked on it full time for several months. Unfortunately the Gulf War meant that Kuwait Oil (who were sponsoring the project) had its assets frozen and therefore money dried up. The aircraft and a very large number of spares were "aquired" by Air Atlantique who then sold the aircraft to Parkhouse Aviation in High Wycombe . The aircraft was then broken up with the wings going to the US and the nose section going to a bookshop in Europe. Friends of the DC3 were heavily involved with the aircraft and infact John & Maureen still get very upset about it even to this day, it was a trajic waste of a good aircraft. For your info Lord Beaverbrooks company which was set up for this aircraft was called Cherkley Aviation Limited
The Keenair Dak went on the UK register as G-BPMP (C-47A-50-DL) c/n 10073 ex N54607, Moroccan AF 20669, CN-CCL, F-BEFA, 42-24211.
Keenair had disposed of it - things were actually getting out of hand in the 80's regarding acquisition of strange warbirds and the company's financial position!! It departed to Coventry (where I assume it was put on the UK reg - reg'd 2/2/89) to Air Atlantique who were to fully restore it to their fleet. However, all was not well and serious corrosion was discovered so they ended up reducing it to spares :-(( This was carried out 7/4/95. The nose section had a brief spell at the Mosquito Aircraft Museum at London Colney before moving on to the museum at Aalsmeerderbung in the Netherlands in November 1997. The aircraft itself was officially declared wfu on 18/4/95. The Nose of this DC-3 sits in the Luchtvaart Hobby Shop. It is Europe's largest aviation hobby shop and is situated close to Amsterdam-Schiphol airport. A pic of it can be seen on my 'DC-3 links' page.
---
The pictures below are Courtesy of Dave Graham G-AMPY makes another appearance, this time, in a different livery. Danish Dakota and G-AMYJ are also included.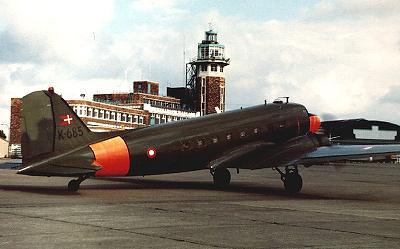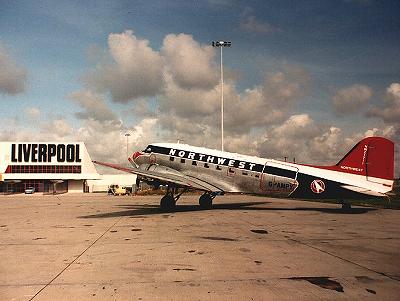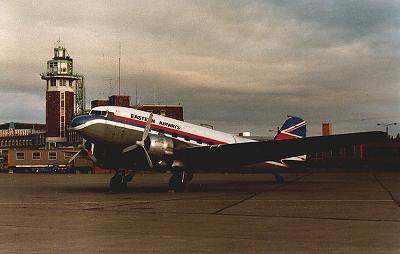 ---
The pictures below were taken by my daughter Kelly in August of 2000. The old Liverpool Airport terminal is to be built into a hotel.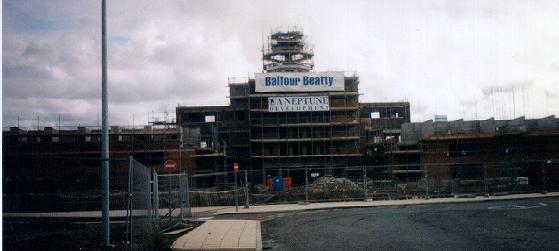 ---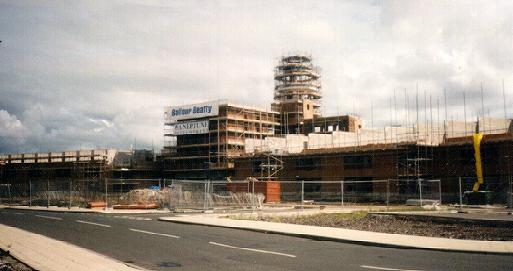 ---
The pictures below were taken by myself in July of 2001 on a trip home for my oldest daughter, Leah's wedding. The Marriot hotel has done a SUPERB job of refurbishing the old Liverpool airport terminal and control tower. They gave me a full and detailed tour while I was there. I was very pleased and it is definately recommended to stay there if you are in the Liverpool area.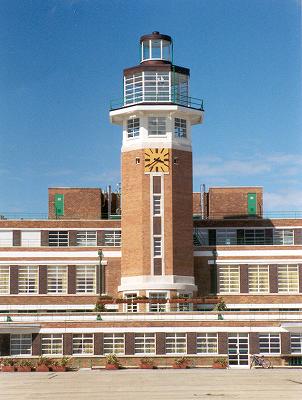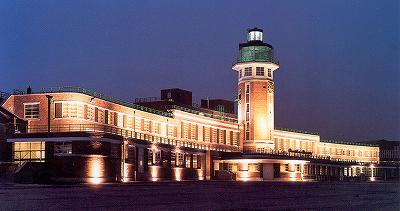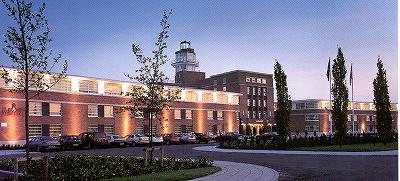 ---
E-Mail Trev Morson, WebMaster of "The DC-3 Hangar".
---
Nick Axworthy took these DC-3 photo's during the early 1960's at Liverpool Airport, showing G-AMPY in the Hangar and a Dan Air DC-3 on the Apron.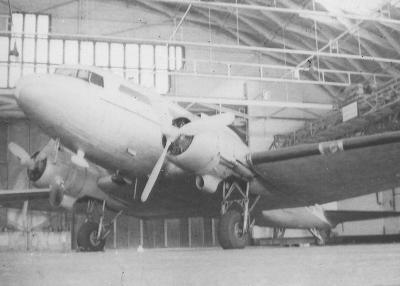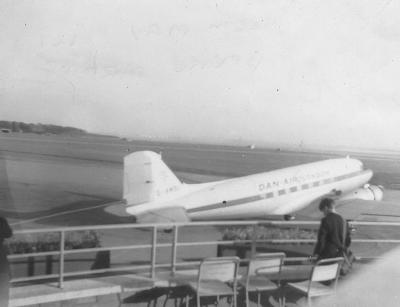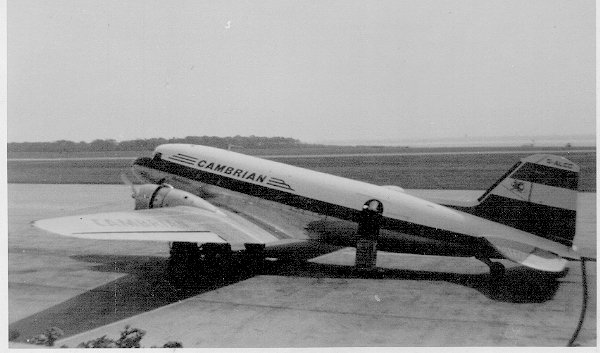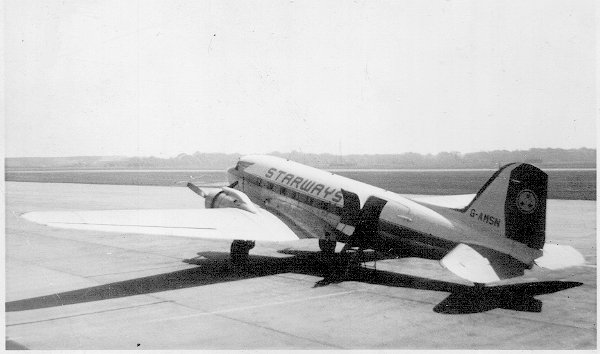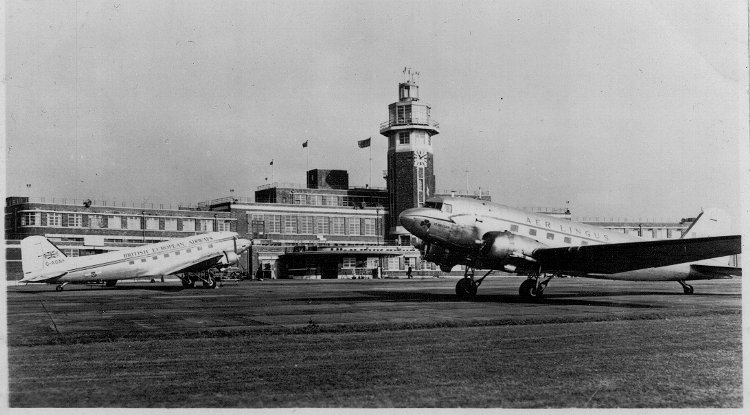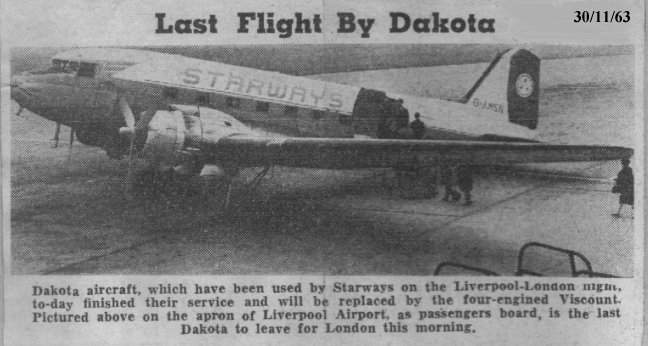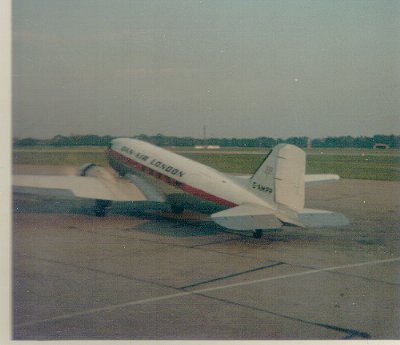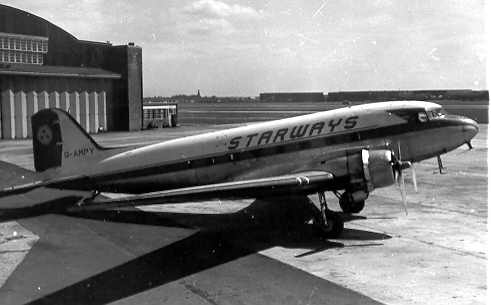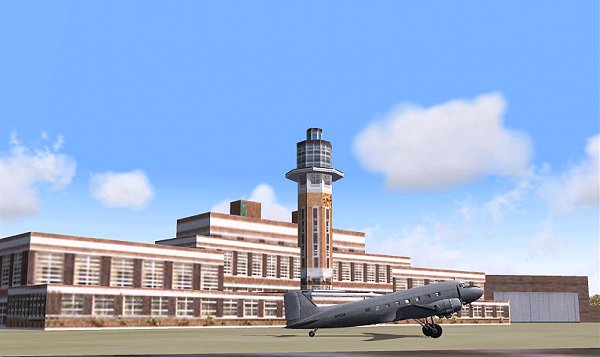 ---