Moving a DC-3 on the Road
---
Provided by Allan Churn in Perth, Western Australia.
At first light on a clear Sunday morning, three Brambles semi's moved out, under escort, from the McDonalds restaurant. A few surprised motorists gave way to a partially disassembled DC-3 that filled the full width of the sidestreet. The bulky fuselage and wing centre section crouched on folded undercarriage, supported by a heavy steel I- beam secured crossways on the trailer. The pair of outer mainplanes extended the full length of another trailer, stacked root to tip. Two props, a tailfin , a rudder, and a two stage staircase, occupied the third trailer.
The small convoy took a roundabout route, taking twenty minutes to reach the old WW11 airstrip at Caversham. Once known as Middle Swan, the airstrip is still signposted as RAAF property. RAAF Caversham has a triangle of three landing strips that are no longer operational, but the base still serves as a radio communications station, linked to RAAF Base Pearce, further to the north at Bullsbrook. The towering mobile crane was already set up waiting, and at $150 per hour, crane time is not wasted.
Charlie Walker, the airstrip's caretaker, had determined that the old Dak' should be positioned opposite his residence, so that he and his security dog could watch over her. The big K9 was voicing concern at all the activity, but, thankfully, Charlie had her secured well enough away. As the clipped aircraft was lowered to the red gravel runway, cameras clicked and comment was made that it must be decades since any aircraft had touched down at Caversham. The Douglas must have felt more at home here , than at its previous nesting place, perched up on pylons alongside a McDonalds restaurant.
For years this DC3 had played a sort of "cubby house" role to thousands of kids doing the McDonalds party thing. Apart from occaisional use as a meeting room for various groups, the old Dak' also provided unique surroundings in which to enjoy a Big Mac. I'm certain that many diners were attracted to the Midlands restaurant purely for the opportunity to experience a DC3 up close, either for the first time, or to relive past experiences. Whilst preparing the DC3 for disassembly , I heard some interesting comments by patrons using the path under the belly of the aircraft, to get from the carpark to the restaurant. My favourite was: " Dad,…is this aeroplane real?" " Oh no….it's just a replica." I think the little boy's dad was not kidding…but then his dad looked to be about mid twenties, and probably of the generation that would assume that the genuine article would today only be found in a museum.
"Constructors Number" 13624 was wheeled off the Oklahoma City production line in mid 1944 as a "Skytrain" for the U.S. Army Air Force. After a short term in the Pacific, she and many others like her joined the stockpile of war surplus aircraft in Manila. This particular C-47A-25-DK was purchased by Australian National Airways, to become "Moongana" , registration VH-ANW, just before Christmas day 1945. About eight and a half years later, Moongana became "Bulolo", with South Australian based Guinea Airways (not to be confused with Guinea Air Transport, based in Lae, P.N.G.). Bulolo served with Guinea as VH-GAK for a few years, until Guinea Airways was taken under the wing of Ansett- ANA.
Reverting back to her previous rego VH-ANW, she flew with Ansett-ANA for one year , before commencing just over ten and a half years of service with Ansett's Airlines of South Australia, the new identity of Guinea Airways. Retired at age 27, with about 43,000 flying miles logged, ANW was donated to a youth camp near Adelaide. On 26th January, 1972, the DC3 was flown from Melbourne to Gawler by Captain Peter Gibbes, the same pilot who ferried it from Manila all those years ago. Captain Gibbes has the rare distinction of having flown all Douglas types DC-1 to DC-10 inclusive. A 40 year pilot, with over 20,000 hours logged, Captain Gibbes was also the youngest captain to command a Douglas airliner. At Gawler, ANW was dismantled, then trucked a final 26 miles to the youth camp. Reassembled on a hillside, ANW could now rest out the next 13 years in relative peace.
About 1985, Steve and Gail Campling , owners of the McDonalds restaurant in Midland, Western Australia, saw potential in the old airframe. The Camplings purchased ANW, had her renovated at Parafield, and then trucked the 2700 kilometers around The Great Australian Bight to the west coast. After reassembly alongside the restaurant, and elevated to an altitude of six feet, she was officially opened for in-flight dining , in December 1987. Total cost of the exercise: well over $140,000! During the renovation, ANW had been repainted with a new identity, that of a MacRobertson Miller Airlines DC3 which had served in Western Australia previously, VH-MMF "Fortescue". The restaurant was eventually purchased by McDonalds Australia, and the DC3 was included in the sale. Rising maintenance costs, vandalism, and the requirement for McDonalds staff to keep an eye on things "upstairs", led to the new owner's decision to close the DC3 to the public. Whilst a decision as to the fate of the aircraft was being considered, MMF became a storeroom for the restaurant.
McDonalds Australia approached The Western Australian Museum of Aviation (WAMA), in November 1999, seeking assistance with the relocation of MMF to another McDonalds site, about 10 kilometers further west along Great Eastern Highway. WAMA members offered to undertake the project, for a fee to be donated to the Museum. McDonalds management then became aware that the Main Roads Department were bringing forward their plans to widen the highway at that location. This news led McDonalds to cancel their relocation plan, and instead they offered to donate the aircraft to the WAMA group, provided that WAMA pay all costs of removal. This offer was agreed to, and WAMA members began planning all the details of disassembly, transport, and eventual reassembly and display. During this time, WAMA was also looking to establish an aviation display centre closer to Perth, whilst also retaining their small Northam Airstrip facility. Discussions had already been in progress with Whiteman Park, about 10 kilometers Northwest of Midland. Whiteman Park is a State owned recreation park, with a number of museum groups already established there. The museums include tractors, automobiles, a live steam train, and operational tramway system. A pioneer style village demonstrates crafts such as printing and a blacksmith's workshop.
At the end of February, work began on the task of preparing the aircraft for disassembly. Electrical and airconditioning connections were severed first. Then, all the underside bolts holding the mainplanes to the wing centre section were removed. The staircase was detached from the fuselage, after the interior was emptied of its stores. Both props were loosened, and numerous minor details attended to. A strict time frame had been placed upon WAMA to remove the aircraft. No cranes or trucks were allowed on site prior to 2.30 pm on the Saturday, as this was MacDonalds peak trading period of the week. The Main Roads Department had decreed that the road convoy could only proceed at first light on the following (Sunday) morning.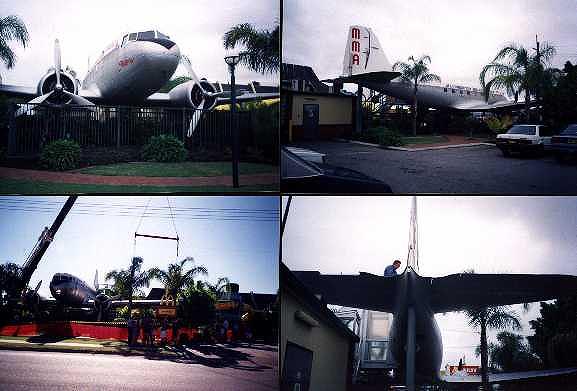 ---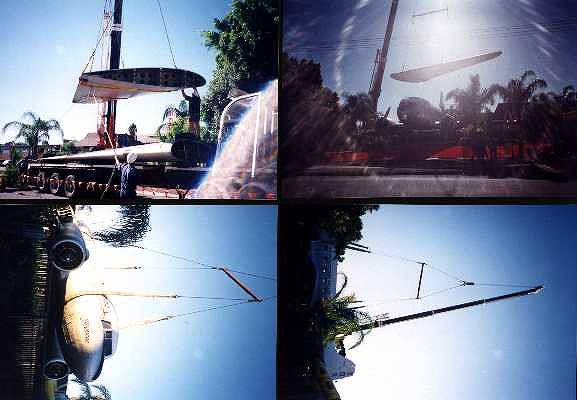 ---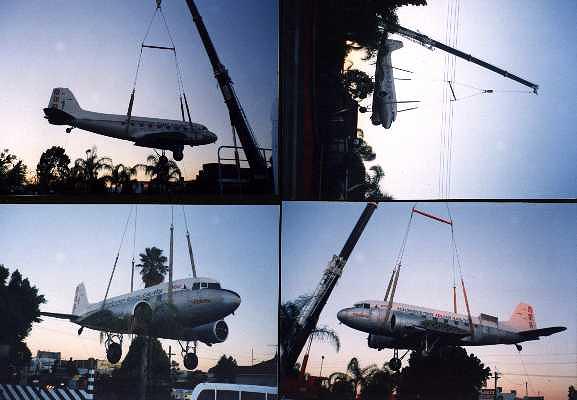 ---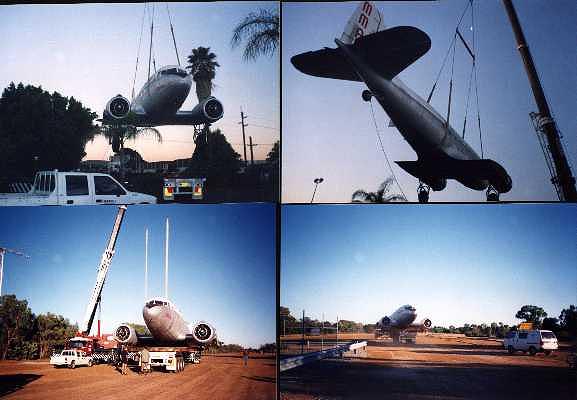 ---

---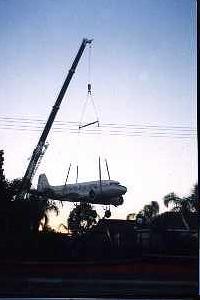 ---