My First flight in a DC-3
by Trev Morson.
---
After receiving many well wishes from family, friends and the on-line community to fulfill my ambition of flying in a DC-3. It seemed after many previous failed attempts, Saturday, 17th May 1997 was to be that day.
Just to give you some background on this specific date, my wife Kimm and I were celebrating our wedding anniversary. We had planned in advance to stay at a hotel that specialized in old English and antique settings in Bloomington, Illinois which coincidentally, is also the home of a DC-3 in the livery of Ozark Airlines.
This particular DC-3, "N763A" run by the Prairie Aviation Museum (P.A.M.) at Bloomington Airport is rather special. It is the only DC-3 on the US National Historic register in flying condition. Built in 1942 it is kept in pristine condition and much of it is stock from the time it was built.
Just three days previously (14th May) Kimm had a surprise for me by way of an anniversary gift. I was shocked and stunned to learn that she had been dealing with the museum president ... Norm Wingler, to have me on the books as part of "The DC-3 Challenge". The challenge was set up by P.A.M. to have members donate a sum of money which in turn keeps the Ozark DC-3 in the air. It is because of this that I (along with many other P.A.M. members) will have my name on a plaque mounted inside the DC-3 which will remain forever.
Saturday 17th May was set for my first flight and we were to meet the P.A.M. members, DC-3 challenge members and flight crew for breakfast at 8.30am. Bloomington is about a two and a half hour drive from were we live so we had to set out at 6.00am. We also arranged for my mother and father-in-law (Kath and Bob) to be there for the occasion and hopefully I could give them a guided tour of the DC-3 and the museum building too.
We arrived on time and it was a beautiful day, 75 degrees Fahrenheit, 20 miles visibility and clear skies, not a cloud in sight.
We met Bob and Kath there and enjoyed a hearty breakfast along with the museum and DC-3 challenge members. The flight crew were at this time, doing pre-flight checks and the chief pilot, Norm Wingler and his co-pilot Doug, wanted to take the DC-3 on a short test flight before the scheduled three flights with the DC-3 challenge members.
Norm Wingler had Kimm and I signed up for our flight and we were assigned to go up on the second of the three flights. The first flight was scheduled to depart at 9.30am. All seemed well so far, as the DC-3's test flight soon returned after a circuit of the airport.
This was our third attempt to fly on it as previously Kimm and I arrived at Bloomington last year, only to be disappointed pertaining to mechanical problems with the struts and hydraulic hoses which were in need of repair at the time. Later, the DC-3 would be dormant for most of the winter months whilst the prop's were to be serviced in another state.
Today though, we watched the old bird taxi right in front of us with the sound of those Pratt & Whitney engines chugging away. One problem I immediately noticed....... as Norm and Doug were about to bring the aircraft to a stop, the starboard engine backfired a couple of times ?? I knew what this was and Norm, who had by now disembarked, confirmed my thoughts and said "Looks like we need to replace a couple of plugs on that engine". He smiled and said " Why is it every time you come here there is a problem ?" I smiled back at Norm' but inside was wondering if I was a jinx and yet again miss my chance to fly on this thing.
---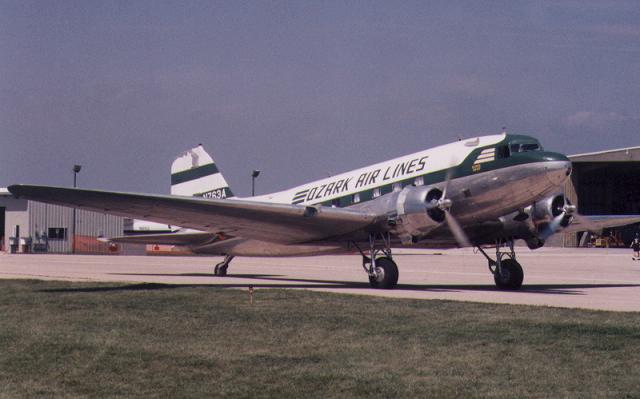 ---
A couple of mechanics removed the cowling to try and replace the bad plugs which meant if they were successful, the first flight would be delayed.
"How long for ?" I thought to myself "Indefinitely ?"
Norm assured me that there was to be no problem and suggested I take a look around inside the DC-3 whilst repair work was in progress. This was my chance to give Bob and Kath a guided tour inside the DC-3. Bob declined and preferred instead to sit inside the hangar out of the heat whilst Kath would come onboard with me.
You see, Bob has flown in a DC-3 many years ago, he doesn't care for them much as he swears this was the actual DC-3 he flew on when it was owned by Southern Airways and his experience of that flight was not too good. He described it as bumpy, noisy and every sound he heard during that flight made him nervous to the point of being afraid of flying in one again. I smiled and said "O.K., I'll take Kath inside" who incidentally seemed excited about the prospect.
I walked Kath up to the DC-3 and it was as if she was going to perform her own pre-flight check before Kimm and I were to fly in it.
Oh yes.... she inspected almost every rivet on the plane and poked her nose into the cargo hold for a while. Maybe she was looking for life jackets and parachutes ? who knows ? but she then finally came up the stairway to go inside. Kath continued her inspection sitting in various seats throughout the cabin and then (though she did not know it) finally settled on a seat where the famous actress and princess "Grace Kelly" once sat during a regular flight in the fifties. This is usually clearly marked for tourists but today it wasn't obvious. I have been inside this DC-3 so many times I could remember the seat.
I took Kath up front to view the cockpit and I felt quite proud that I was able to describe the gauges, dials and flight controls to her. On the way back to the rear of the DC-3, she peaked into the bathroom which for some reason whilst looking at the toilet seat prompted me to whisper "Grace Kelly". We had a good laugh about that.
Soon after, the plugs had been repaired, Norm and Doug prepared for the first scheduled flight. Members were boarding the aircraft and I thought to myself again " What if something else goes wrong preventing the remaining two flights ? Well..... The DC-3 took off, flew, returned and taxied back without a problem. The first 10 members had disembarked, then Norm cut off the props and the chock's were placed against the wheels. Even at this time I am thinking .... "Why did Norm cut the props ? Why didn't he leave them running ?" but it seemed Norm and Doug only got off to get some cold drinks in the hot weather, they soon beckoned Kimm and I to board.
A couple of strange things I notice about this DC-3. The wing fillets are not like any other I have seen. They seem more streamlined, in fact they look like the wing fillets from a DC-2. Also… unlike most DC-3's I have seen, on take off the tail lifts up almost immediately and I can only put this down to some weights that are usually placed toward the rear fuselage area, being removed and never replaced.
We hugged Kath and Bob who wished us luck and we walked across the red carpet and up the stairs to get inside. The red carpet by the way, was actually a small red mat, but hey !! It meant a lot to all who were to fly on this aircraft. I thought it was a nice touch for the day.
Bob was filming the flight with my video camera so we both made a point to turn around and wave at the top of the stairway before going in at the last minute. I had already decided which seat I wanted, the left hand side, second window from the rear, Kimm sat next to me and we put on our seat belts.
The P.A.M. rules only allow up to ten passengers to be taken at any one time. I don't know why this is, It might be an FAA ruling ? or more likely an insurance requirement. But I didn't care, It just meant it wasn't full and I had a choice of seats from the twenty eight available.
We looked and waved out of the window to Bob and Kath who sure enough had found a good vantage point on the apron to video the engine start up, taxi maneuvers and take off sequence.
Kimm turned to me and said "Happy Anniversary Trev", I was so full of emotion at this point that I couldn't look Kimm in the eyes, else I would have cried buckets of tears with sheer joy and happiness. You see, for me this was a dream come true, for twenty seven years I have tried to get a flight on this type of aircraft only to be let down with one thing or another time and time again. (I must write about these disappointments another time)
The prop's turned a few times and then went into a faster rpm with the usual bellow of smoke gushing out of the exhausts. We began to taxi, passing all the smaller Cessna's and Piper aircraft. We looked like a giant amongst them all. We arrived at the runway and held, the engines were up to full throttle and that low Pratt & Whitney sounding drone was evident, the very sound that turned me on to this aircraft when I was a kid of 13 in Liverpool, England.
We started to roll along the runway and the tail lifted up as I expected immediately, rotation (take off) was now seconds away. The runway started to get further and further away, my dream had come true !! I was flying in a DC-3 !! WHOOPEE !! Twenty seven years I had waited for this and no matter what happened now, I had finally done it !!
We climbed to 2,000 feet on a slow right turn, the weather conditions made viewing out of the window a magnificent sight. The flight so far was a little bumpy but at the same time so graceful (if you can make sense out of that). I think because of the heat, and the terrain of farmers fields below etc.. that there were a few thermal updrafts that couldn't have made flying this bird an easy task. I unfastened my seat belt and decided to sit in different seats - no matter were I sat, that unique engine hum was always there and it was music to my ears. I stared at the drivers of the cars and trucks down below, "Wow !! look up there !! a DC-3 !!", I would imagine them saying as they saw us fly above them. Some cars even stopped, and when the people got out they would point upwards. It was a nice feeling that they were looking at our aircraft from below and the fact that I was flying on it was the icing on the cake. I knew though what it was like to point at such an aircraft, I have lost count of how many times I have done the same thing.
Well, time to go up to the cockpit to say Hi to Norm and Doug. This was spectacular !! The noise in the cockpit being in front of the engines was quite different, it was almost deafening with rattling sounds, and the wind beating against the cockpit windows. Norm turned and smiled, I didn't say much, I was in awe at this point, looking out from the front view and also studying the gauges and controls etc. There is a real need for a navigator seat here as standing up wasn't exactly comfortable. I didn't want to bother the two guys too much so I turned and went back to my seat with the idea of telling Kimm to go up front, which she did. Norm' had said to Kimm (I heard later) "Nice surprise eh Kimm ?" pertaining to the anniversary gift that Kimm had planned with Norm for me.
Kimm returned and sat behind me, we both had window views. I was soaking it all up at this point, I even rubbed my eyes to make sure I wasn't dreaming. Norm and Doug flew so gracefully, and the turns were executed to perfection. It was like we were a giant Condor gliding the skies.
We flew over the Bloomington area, farm fields and over the lakes before eventually turning onto finals to land. It seemed on the turns in particular during descent, that you could hear a rippling sound from the prop's as they sliced through the muggy air, perhaps it was a change in the prop pitch that caused this effect ? I'm not sure, but that low pitched engine drone was always there.
We landed full flaps very nicely and I could hear the screech sound of the wheels on contact, then the touching down of the tail wheel against the runway. Once the tail was down I became a little disorientated because looking out of the window made it look like Bloomington Airport was on a steep hill.
We taxied back to the same spot were we boarded, Norm turned off the engines and it was now time to leave the aircraft and meet Kath and Bob. I stood at the top of the stairway again and waved, I had a beaming smile upon my face as we walked down onto the apron. Kath, Bob, Kimm and I all hugged and cheered, my cheeks were aching with perpetual smiling and the video camera operated by Bob was still rolling.
Norm Wingler got out from the DC-3 and I made a point to thank him shaking his right hand with both of mine very enthusiastically. Norm smiled with that grin I've gotten used to and said ..."there will be other flights... ".
I turned to my wife Kimm and said "Happy Anniversary", it was all very emotional. My first flight on a special aircraft, on a special day, shared with the one I love.
We looked across at the DC-3 again and Norm was taxiing away on the last scheduled flight of the day.
I have made a point throughout writing this about the unique DC-3 engines, that low pitched unmistakable hum. Well....after the DC-3 had taxied away for its final flight of the day, we headed off to the museum. This place is filled with all sorts of aviation artifacts and you could spend hours in there. About ten minutes later, whilst we were inside, someone shouted "There she goes !!". There are no windows in the museum but everyone knew what was meant, it was the sound of those engines that did it. Norm was flying right above us and everyone stopped to listen until the drone was a quiet whispering hum in the distance.
Norm's words echoed in my mind, "there will be other flights...".
If there is anyone like myself that has flown many times in all sorts of aircraft throughout the years, you need to know one thing.......
There is nothing, absolutely nothing, like flying in a DC-3.
Trev Morson, May 1997.
My sincere thanks go to P.A.M. president Norm Wingler and also to my wife Kimm who made my dreams come true.
Footnote.............
I have learned a lot about the Ozark Airlines DC-3 at the Prairie Aviation Museum in Bloomington. It needs a lot of time, care and money to keep it in flying condition. Just one of the many tasks is to paint the undersides of the wings and fuselage which are at this moment polished metal. However in the summertime (as if the winter weather isn't bad enough) It soaks up the humidity from the ground and causes condensation which in turn causes corrosion problems. Plans are being made to coat the undersides with a polished metal-like paint to cure this.
Since I have a DC-3 simulator on my PC at home (thanks to Microsoft's Flight Simulator for Win95 and the many add-ons available elsewhere including many of my own designs) I am involved with P.A.M. in helping them build a DC-3 cockpit simulator rig. My plans and computer software are already available for me to do this. Again, what is needed are the funds to purchase monitors and PC's for P.A.M. to complete this task.
Along with a project called "2003" the aim here is to build a hangar for the DC-3 and also enlarge the museum to incorporate a "Hall of Fame" with the hopes of having the best DC-3 museum in the world and making Bloomington, Illinois, the home of the DC-3. So.... I and many other P.A.M. members have a lot of work to do over the next five years.
For information on the Prairie Aviation Museum at Bloomington, Illinois and questions on how to become a member or making donations etc. Contact:
PRAIRIE AVIATION MUSEUM
PO BOX 856
BLOOMINGTON, ILLINOIS,
IL 61702, USA.
Tel....(309) 663-7632
P.A.M. is an Illinois non-profit organization.