Delta Air Lines DC-3 "Ship 41"
---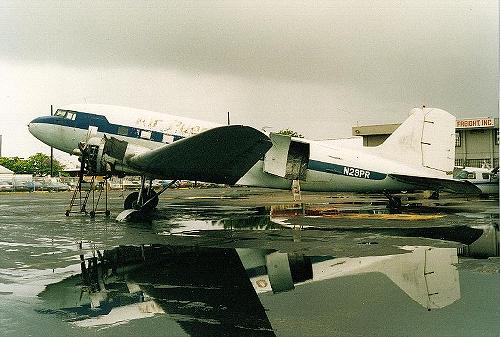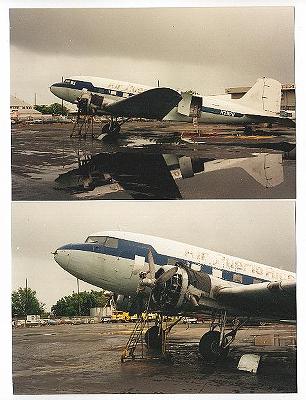 Photos above: courtesy of Michael S.Prophet, this was the ORIGINAL 'sorry state' that Delta Ship 41 was in, photographed as N29PR when in San Juan 'Luis Munoz Maris' International Airport back in September 1985.
---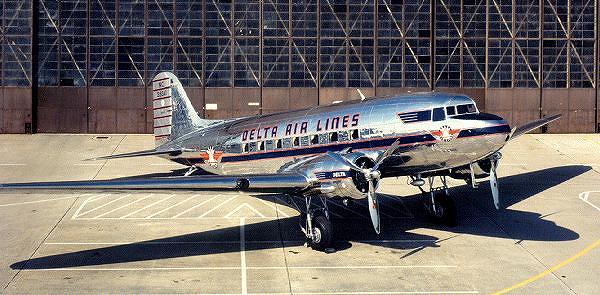 Photo: courtesy of Delta Air Lines, taken October 8th, 1999. The actual day restoration was completed.
---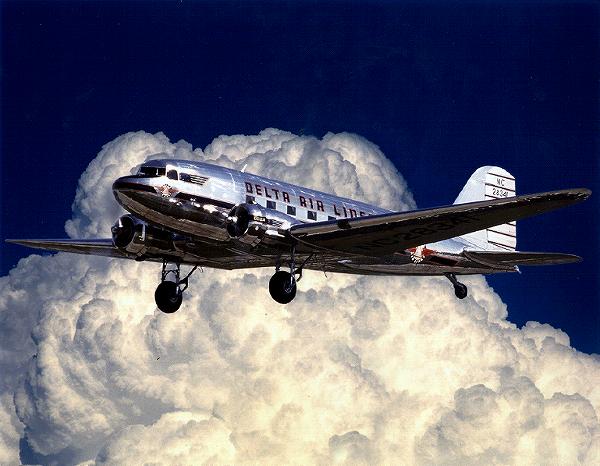 ---
"Ship 41" NC28341 was found flying out of Puerto Rico, by a Delta search team, hauling freight.
"Ship 41" has been under restoration in Hangar 2 Hartsfield Atlanta International Airport for more than three and a half years. She received her certificate of airworthiness from the FAA on October 26th, 1999. "Ship 41" will be housed temporarily at Fulton County Airport-Brown Field for testing and preliminary operations. Fifty Nine years have passed since "Ship 41" was first certified and began passenger service on December 24th 1940.
If you have further information about 'Ship 41", please E-MAIL me, and I will include it here on this page.
---
Delta's 'Ship 41'
Delta Airlines should be commended for its recent commitment to preserving some of the airlines rich history notably under the patronage of James P Ray, the manager of Delta's Museum Restoration Programme. A number of aircraft associated with the company have been obtained and restored or are in the process of restoration. These include a non-airworthy Huff Daland Duster or Petrel 31 which is on loan from the National Air and Space Museum and a 1931 Curtis-Wright Travel Air 6B Sedan, NC8878.
However, the main project and Delta's most prized and important acquisition is 'Ship 41', a Douglas DC-3 Dakota, NC28341. The aircraft was originally delivered to Delta in December 1940 and was the first DC-3 to be used by the airline on commercial services. After passing from Delta's ownership it had a variety of owners until it was re-discovered in Puerto Rico by retired Delta staff in a very sorry state.
The aircraft was now registered N29PR and had been flying with Air Puerto Rico. The aircraft was bought in 1993 by Delta and the hulk flown back to their HQ in Atlanta, Georgia.
The restoration was initially commenced using volunteers and retired Delta staff but as the project grew Delta became more and more involved to the point where engineers and mechanics were permanently seconded to the project from Delta's maintenance organisation at Atlanta.
Lots of help has been forthcoming from the airline and some of its partners including the supply of zero-hour engines and accessories from JRS Enterprises in Minnesota, landing gear and hydraulic valves from Basler at Oshkosh, Wisconsin and radios from Collins.
The restoration highpoints have been the signing off by the FAA of the landing gear after trial retractions, switching on all the power to the aircraft and the rollout of the aircraft from the restoration hangar on its own wheels and firing up the engines for the first time.
The enormity of the task can be understood when tasks such as the complete rebuilding of the cockpit had to be undertaken. The cockpit has been brought up to 1990s standard without detracting from the original Douglas design or the period look of the aircraft. For example, instruments are all analogue but have been uniformly painted, the radio and navigation and communications equipment has been positioned discreetly and the seats, pedals, control column and control systems have all been renewed.
Modern fire and sound proofing insulation methods have been used inside the structure of the cockpit and cabin area while the rebuilding of the galley into an exact 1940s replica has been both time-consuming and expensive. This has had to be done from old photographs. The cabins seats have been made to the original 1940s patterns. Delta has even gone as far as having 1940s-style uniforms made for the people who will staff this wonderful project.
By the time the project is finished an estimated 15,000 man-hours will have gone into the restoration of NC28341. The cost cannot be guessed but it is believed that this is the most intense DC-3 restoration project undertaken anywhere in the world. This fact has been confirmed from renowned DC-3 specialists Basler. In addition to the volunteers and retirees there were 12 mechanics/engineers working 12-hour shifts on the restoration.
Bill Mercure is Delta's Boeing 767 training captain and their chief museum pilot. He will be the man in charge of flying Delta's most prized possession. Bill has flown DC-3s for over 30 years and has in excess of 2000 flying hours on the type. To further prove Delta's commitment to this project, they have chartered a DC-3 from Ron Alexander at Griffin, Georgia to assist Bill and his team in DC-3 familiarisation training. Alexander is another ex-Delta man.
The project has fired Delta's enthusiasm to restore and preserve some more of its heritage. The donation of a 1929 Heath Parasol by another ex-Delta employee is under consideration for restoration and the team that found Ship 41 have located other ex-Delta aircraft/airframes that are available and could become future restoration projects. Who knows? Perhaps in the years to come we might see an historic Delta fleet lead by the venerable DC-3 and followed by a Curtiss C-46, Douglas DC-4 or DC-7 and a Lockheed Constellation. Now that would be worth turning out for!
Article by Tony Harratt from an article which appeared in the July 1999 edition of FlyPast magazine, to who acknowledgements are due.
---
My thanks to Coert Munk who provided the following history:
Built at Santa Monica as DC-3-357 December 23rd 1940
NC28341 with Delta (I have no evidence that it flew with Chicago & Southern Airlines) May 1st 1953
Reregistered as N28341 with Delta Air Lines May 29th 1958
Leased to North Central Airlines, later purchased by NCA September 9th 1965
Owned by JH Carroll November 29th 1968
To Galaxy Airlines 1969
Boone Flying Service, Boone ID 1971 by Air Lease Inc, Charles City IA 1975
Mervury Aircraft Sales Inc, Phoenix AZ 1977
Operated by Joel Grundy, Huntingdon Beach 1978
Seen in 1978 as an R4D-6 in US Navy color scheme June of 1979
Trailblazer Leasing Corp, Reno NV September of 1979
Oklahoma Aircraft Corp, Yukon OK March 26th 1980
Sixto Diaz Saldana Inc, Isla Verde PR March of 1982
Diaz Aviation Corp, San Juan PR May of 1983
Reregistered as N29PR (and guess what PR stands for.....) June 22nd 1987
Del Caribbean Corp, San Juan PR the aircraft was in Air Puerto Rico c/s in 1985
Fitted with double cargo doors. April of 1989
Seen flying with Wright engines February 2nd 1993
Sixto Diaz Saldana Inc, San Juan PR May of 1993
Sold to Delta Air Lines, std Falcon Field, Atlanta GA ex N28341 1996
Under restoration as NC28341 at Hartfield Int.Airport, Atlanta GA February 19th 1999
Reregistered as N28341 Delta A/L Inc. Current
---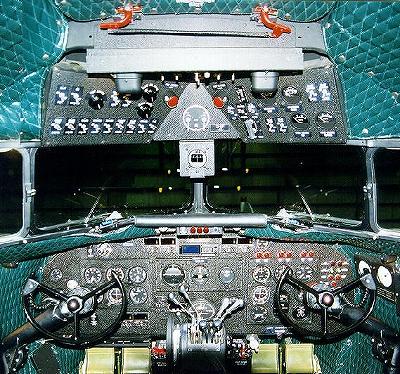 The excellent restored cockpit of Delta Air Lines "Ship 41" a Wright powered DC-3
---
Buzz Meyer's Experience of Ship 41...

I saw Delta's ship 41 in an unusual way back in May. It's a long story.
I don't play with the guys and the Eastern DC-3 anymore. Seems that one of the owners has decided that I'm the one who "destroyed the LH engine". Last July Bob and I did a mag check. The LH engine was really full of oil. Walking the prop through with the bottom plugs out wasn't helping. I drained several gallons out of the sump drain plug. And the LH engine had a cold cylinder, wanted to warm her up and see why. Anyway during the run I heard a tapping noise, even above the sound of a pair of 1830 engines. So we abandoned the run and taxied back to parking. Nothing unusual on the oil screen.
I had expected to find sloppy valve adjustment. Instead I found that #6 piston on the LH engine wasn't going up and down. No wonder it was a cold jug. The next day we tried to pull it off, no luck. It had mushroomed the skirt of the cylinder. Need to send that engine to the shop.
As last year went on I hadn't heard much from the 2 owners. In January I heard it from another guy that I was obviously the one who destroyed the engine…….. if they were talking to me I could argue the facts. But I don't need that kind of hassle. Maybe God needed to pry me off that airplane. I tend to stay at things until the problem's solved. Turns out that a few months later there were large business / legal problems with one of the owners, good thing I don't play there anymore. Unwise Owners!, not bad pilots, but definitely haven't read about wisdom lately.
Would you believe that a couple other guys 90 miles south want me to play DC-3's with them? Since Easter I've been tinkering on an ex-corporate DC-3, flying off of grass airstrips, and having fun with classic airplanes. The only drawback is that it's not a convenient drive in my old VW to get there.

Kevin and Ted have a DC-3 club called "the Gooney Bird Fellowship". Ted's a WW2 pilot, had been with TWA in the 50's, flown for Air America in Laos and Saudi Arabia, had a DC-3 charter company. He's in his mid 70's and I can learn a few things from him. Kevin's got a bulldozer / excavation business, has a couple taildraggers, and a 1500 foot grass airstrip that N84KB has been kept the last few years. Kevin's been flying since his 20's and is also a fair mechanic. Maybe once a week or two I'll drive down and play airplanes with them, near Corvallis Oregon. For the summer they park at Albany Airport, next to the Interstate at Albany Oregon.

Anyway back to the long story. I called Kevin to tell him I'm on the way. Kevin said he had a better offer: He'll fly up to Pearson airfield (where the Eastern DC-3 is, not far from home) and pick me up. Then we'll go up near Olympia and visit with Mike Kimbrel, he's got a Western Airlines DC-3 and was planning to get one of his sons re-qualified in DC-3 copilot stuff that evening. Mike's got a DC-3 instructor's rating, so Kevin could learn a thing or two…. Officially.

We flew up, got to the Kimbrel's grass airstrip. Mike and Mary have several kids, most of his boys fly and keep airplanes on dad's airstrip. So there's several different airplanes there, a couple 150's, 3 Bellanca Cruise-airs (Cardboard Connie?) a De Havilland Rapide, and "the Russian", an AN-2 (big single engine biplane). Oh yes, at the end, in it's own hanger is N33644, "Western 102". Mike used to fly for Western Air Lines, now he's a Delta pilot.
After we landed and parked we looked and talked with Mike and Marty, looked over the airplane as they worked through their pre-flight and oil screens check. She's got the Indian Head Western paint job, and airliner interior. I didn't know that you had a lavatory up front on some DC-3's.

After dinner we launched off the Kimbrel's grass airstrip. When you're light Mike says you need 800 feet to take off and 1200 to land. He's got 1800 feet….. if the neighbor's cows aren't in the way.
We motored over to Chehalis airfield and Marty got his 3 takeoffs and full stop landings in. We waddled over to the gas pumps to get fuel for tomorrow, Delta Ship 41 was in Portland and Mike wanted to show off his DC-3 (Western 102) with Ship 41. At the fuel pumps I noticed a new hydraulic fluid leak. Most DC-3's leak some hydraulics from the bilge near the batteries, but it doesn't keep dripping…… this one kept dripping. I opened up a few panels and saw where it was coming from, seems that an ex-heater duct had chafed against a hydraulic line for the flaps.
The sun was starting to go down, and Kathy had been v-e-r-y nervous about Kevin and I flying home IN THE DARK. So I called her up and told her not to fret, we're going to spend the night up here. She grumbled OK…. I guess.

We topped off the hydraulics and flew the 15 minutes to Kimbrel's airstrip. At the hanger we dragged out some extension cords and work lights and removed a few floorboards. After an hour or so we had the chafed line…. Several feet of it….. in our hand. I used glue and hose clamps to make a temporary repair until they had some 3/8 aluminum tube to replace the line with. While we had things apart Marty and I removed a belly panel and removed the rest of the heater ducts that had chafed the flap line, it won't happen again. While Marty and Kevin put the floorboards back in, Mike had described the oil temp gauge problem. Seems it wasn't' working. So Mike got a work stand and I spent an hour up in the beak checking terminal strip wires and feeling around with a meter.

About midnight-30 we had the airplane back together and decided to call it a night. Mary Kimbrel had sleeping bags spread out for us drop in visitors.
The next morning after breakfast we pulled Western 102 back from the hanger and loaded up. A couple of the sons and wives came along too, Mike and Marty went back to the house to change into some old Western pilot's uniforms.
Engines were started, oil warmed up, and we turned around to taxi down the (grass) runway. In front of the house Mike turned around, it's a tight fit….. too tight this time. There's a hanger corner post with a bolt sticking out in just the wrong place. While carefully coming about, wondering if we'll miss the post we felt a wiggle…… we didn't miss the post. The bolt broke the red wingtip light.

So Mike and Marty shut down the engines, one got the tractor and towbar, another got a ladder, I got some tools out of my headset bag. We pulled Western 102 back to (definitely) clear the post and took off the broken glass. We robbed a lightbulb and red lens from one of the boys airplanes and installed it. Within 15 minutes we had engines started and were on our way, we were supposed to be at PDX by 10 am.

It was a drizzly sky in the western end of the valley, ceilings just a few hundred feet above the hills. The valley was off to the left, clear skies. So we skirted the edge of the clouds, roughly following I-5 southwards. It was good sightseeing at 2500 feet, the seat belt sign was off and we could visit the crowded cockpit. Kevin was in the Jump seat, he's DC-3 copilot rated and wanted to learn how Mike and Marty run their DC-3. Near Battle Ground VOR we angled left to get ready for a Runway 28R arrival into PDX (Portland Oregon). All the landmarks were familiar, growling along at 1200 feet and 120 mph over Evergreen airfield where I learned to fly, turning down the river and over the employee parking lot. Crossing the threshold of an 8000 foot runway I wondered what we'd do with all the extra space left in front. We skipped once, tires chirped and then Marty let the tail settle, swinging a little as speed bled off.
We took the middle turnoff, taxied past United, around the end of the concourse to gate D10 where the Delta DC-3 was. A guy marshaled us around , in and around again so the 2 DC-3's were facing each other about a wingspan apart. Ship 41 was giving rides to Delta employees, Mike wasn't planning to.. he has to buy his own gas, and tires.
We all disembarked. Kevin, Marty , and I got some shop rags and began wiping off the oil drips that always happen when a radial engine goes flying. Then we wandered over to see Ship 41 and compare it to the DC-3's we know.

The Delta Ship 41 has 4 mechanics following it in a big truck, with a machine shop, trailer -air compressor- air conditioner. They solvent wipe down everything that drips. We asked a few questions about some of the plumbing we couldn't recognize (they have a pre-oiler installed) and they have Wright 1820 engines. The pilots were harder to find, but I'm a Crew Chief so I was fine talking with other Wrench-benders. Besides, I felt like a renegade in my UAL jacket and Pratt & Whitney cap. I didn't go inside, there was a line. Besides people were asking about the Western DC-3 and I was able to help.

Ship 41 is polished, pampered, pretty. She's a flying museum piece that's representing "the Golden age of Flight". On the other hand Western 102 looks like she's a working gal, not Cinderella. She's got an aluminum paint job, with the Western Indian Head. Nothing polished on her.
Western 102 drips a little. Ship 41 has the drips attended to immediately, bits of white rag are tucked here and there.

Western 102 has little blades of grass stuck to the oil cooler airscoops. Ship 41 never gets close to grass.

If you are invited to board Ship 41, you put on white gloves and pull booties over your shoes. If you wander by the cabin door of Western 102 Mary Kimbrel waves you in and sits down for cheerful conversation. Mike and Mary are a relaxed couple, and it shows. The Delta guys closely watch Ship 41, maybe they're away from home too much?
After a few hours I called up Kathy and told her I was at her mercy….. when could she come by and give me a ride home? I had to get some sleep so I could work that night. She laughed and said she'd be out front in an hour.

And that's how I was introduced to Delta Ship 41…….

Mike 'Buzz' Meyer.
---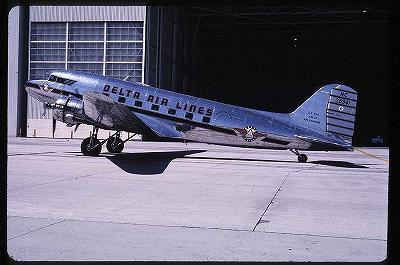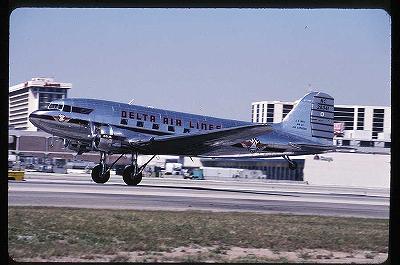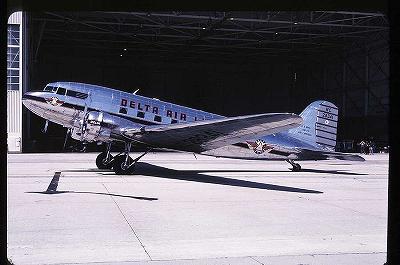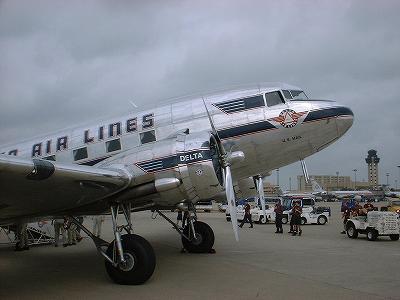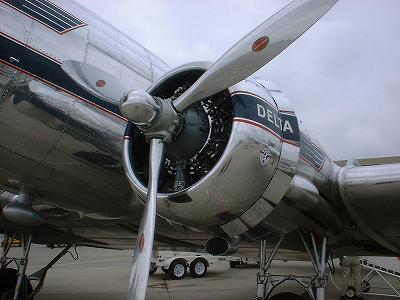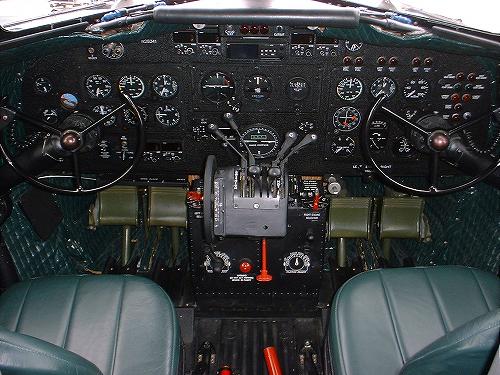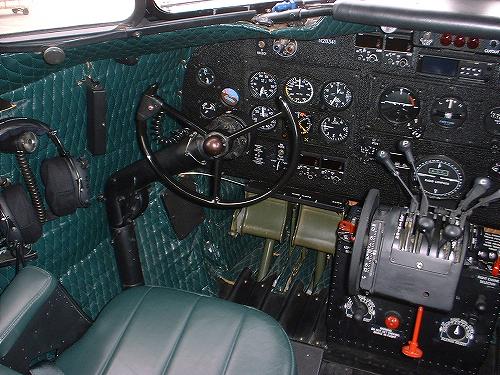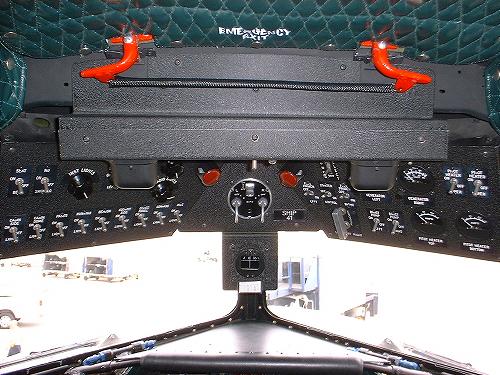 Photos above: courtesy of Ryan Droege and Robert Anderson.
---