FLIGHT FROM KABUL BY DC-3 (December 15, 1972)
Photo's and story kindly contributed by Jack Lamb ....(Thanks Jack, .. Great DC-3 story!)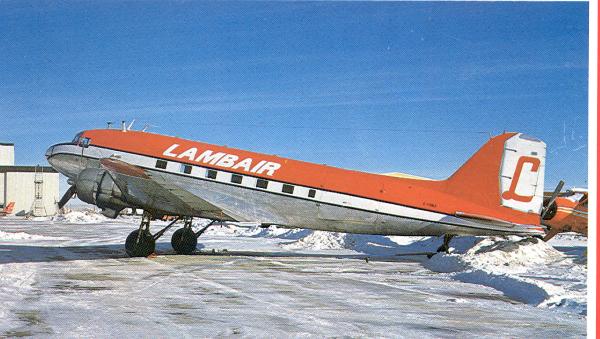 ---
"Jack, it's Jerry Harvey on the phone", said Louise poking her head around my office door. "Sounds like he is calling from a long way away."
"Hi, Jerry, where are you?"
"I am calling from Airana Afghan's hangar in Kabul, Afghanistan".
"What the hell are you doing over there?"
"Airana have retired their piston airplanes and are now operating one Boeing 727. They have sold off their Twin Otters and would like to sell their DC-3. Are you interested in adding a 3 to your fleet?
It was our intention to add a couple of DC-3s to replace our two Bristol Freighters. The aging Freighters were getting too costly to keep airworthy. Their engines had to be shipped to the Rolls/Royce factory in Bristol, England every 1200 flying hours for overhaul. It took the Rolls/Royce factory over twelve months to overhaul the two thousand horse power Bristol Centaurs engines.
"This sounds like a nice fishing trip Jerry. Give me four days, and I will meet you at the Kabul Intercontinental Hotel."
The hastily formed plan was to have Ron Davie, the Company Chief Engineer, come along on the trip, but at the last minute he was unable to get away from his pressing duties at home base.
Barbara was teacher substituting at a school at the time, and I suggested to her that if we could find a substitute teacher, and a baby?sitter for our three children, she should accompany me on this once in a lifetime trip.
These problems were solved, and we were off on an adventure that was to take us to the other side of the world meeting people and characters from many countries and cultures.
Gordon Honsey, of Scandinavian Airline System, provided two inter-line tickets from Montreal, via New York, Copenhagen and Frankfurt. We then caught a free ride with Ariana Afghan's new Boeing 727 to Kabul via Ankara, Turkey.
Prior to leaving, I had an appointment with Vic Norberg, the Regional General Manager of the Toronto Dominion Bank, in Winnipeg. I told him what I was up to, and that I wanted a bank draft for $35,000 plus $5,000 cash in American funds. I needed the cash to buy fuel for the DC-3 if a purchase was made.
Our Company had been doing business with this bank for over forty years, and having a good credit rating, my requests were attended to.
The responsibility of carrying around all this company money made me quite nervous. Barbara said,
"Why don't you get a money belt to carry it in?"
We went to several stores in Winnipeg, but could not find a money belt.
"We will get one in Toronto."
We couldn't find one in Toronto.
"We should surely find one in New York."
While we were strolling through the terminal building at Kennedy International waiting for our Frankfurt flight, we saw a money belt on a mannequin in a shop window. We went in and told the shopkeeper that I would like to buy a money belt.
"We don't got none, sold the last one yesterday." the surly clerk barked.
"What about the one on the mannequin in the window?" I meekly suggested.
The shopkeeper didn't want to sell it. I told him we had looked in Winnipeg and Toronto to no avail, and that this was our last stop in North America.
He reluctantly took it off the model and sold it to me.
I went into the washroom, filled the belt with the cash, strapped it on, and immediately felt quite uncomfortable. I felt sorry for the unfortunate ladies who suffered through life wearing such restrictive under-garments. This money belt was to cause me much concern over the next two weeks. The S.A.S. flight was called and we were soon in a plush DC-8 winging our way across the North Atlantic. A short stop at Copenhagen, then on to Frankfurt where we met up with the Airiana Airlines Boeing 727 the next day.
The Airiana Boeing 727 Passenger/Freighter left Frankfurt in the late evening with a light passenger load, but a full cargo compartment. The night flight made a fuel stop at Ankara, Turkey then direct to Kabul.
It was a bright sunny morning on our arrival in Kabul. The Himalayan Mountains were brilliant as the sun reflected off their snow-covered peaks. Passport control and Customs were quickly dealt with. We had to get a vaccination for Tetanus and Yellow Fever from the airport medical doctor before being allowed to enter the country.
The old doctor was wearing a dirty, once-white smock, and the medical room was strictly third world. Leaving one to wonder if the preventive injection was more hazardous than the risk of catching the disease. The Kabul Intercontinental Hotel had our reservations and we were soon settled in our comfortable room with a magnificent view of the Hindu Kush mountain range.
We met Jerry in the lobby after a quick clean up. I was anxious to have a look at the DC-3, and after a coffee in the hotel we left for the Airiana Afghan Airlines hangar at the airport.
It was disappointing to find the DC-3 parked in the surplus equipment area among a collection of two old Russian trucks, broken passenger loading stands, oil drums, and broken crates. I naively expected to find the aircraft all bright and shiny inside the Airiana hangar, not delegated to a junk yard where it was suffering the indignities of dust storms, and serving as home for flocks of sparrows and swallows.
The Chief of Maintenance produced the latest set of logbooks, and I was offered a card table in his office to scrutinize the records. I was trying to piece together the aircraft's last six months history.
The Middle East people are great tea drinkers, and the office boy treated me to several glasses as I set to work on the books. The logs revealed the DC-3 had received fairly good maintenance checks and was, at first glance, in a serviceable condition.
A tow-bar was attached to the tail wheel, and the aircraft towed out to the run-up area. I had never started up a DC-3, but having being associated with aircraft all my life, I assumed a few basic controls such as the battery master switch, fuel selectors, primers, throttle settings, mixture controls and magneto switches would get them running the same as one does with any other radial aircraft engine.
After a great amount of backfiring and belching smoke, which pretty well covered the parking area, the engines came to life. I did a thorough engine, and systems check. As I worked on the DC-3, my enthusiasm grew, and my thoughts were on how I was going to get this aircraft from Kabul, Afghanistan in the heart of the Himalayan Mountains to Thompson, Manitoba.
The rudimentary inspections were completed, and as I had never flown a DC-3, met with the Airana's Operations Manager asking him to loan me one of his pilots to captain the aircraft to London, England. It was my intention to hire a professional Ferry Pilot to take the aircraft from England to Canada. Much to my consternation I was advised there were no pilots in his organization who were current on the DC-3, and that he could not accommodate me.
What was I to do now?
Twelve years earlier, in 1960, Lambair had purchased a De Havilland Otter from Northern Wings (Les Ailes du Nord) in Seven Islands, Quebec. The man I dealt with was a chap named Joe McElrea. It just so happened that Joe was now the ICAO representative for Canada in Kabul. Prior to buying the DC-3 I made esquires at his office as to the legalities of flying an airplane out of the country. I did not want to buy the DC-3 only to find that I couldn't take it home. My pilot's licence had lapsed some year's prior due to the medication I was taking for hypertension. I considered this a minor inconvenience, but did want to get some semblance of a checkout on the DC-3 before taking off to the other side of the world. I was hoping that some bureaucratic official wouldn't ask me for my licence between Kabul and Thompson.
Joe had many thousand of hours flying the DC-3, including several trips across the Atlantic delivering DC-3s to the European War Theater. I asked him if he would check me out on the DC-3. He was reluctant to do it, so I did not press him.
"What are my chances of flying the aircraft back to Thompson myself?" I asked.
Taking a long drag on his cigarette he said. "About 50-50."
On the way back to the city from the airport a few days later, the taxi passed by the U.S.Embassy. The buildings were behind a high protective wall offset from the highway where I could see Old Glory waving in the breeze. I'll bet there is a Major in there that has flown a DC3, I thought to myself.
"Pull in here." I said to the taxi driver.
"Yes Sir, may I help you?" The Marine sergeant inquired as I entered the spotless reception area.
"I would like to speak to the officer who is in charge of the U.S. Air Force Convair 440 that's parked at the airport."
"That's Major Carter, sir." "One moment, please". The marine talked into his phone.
"The Major is in room 345...third floor, go right on up."
Major Carter invited me into his office introducing me to Flight Sergeant David Fleuhr. David was the engineer who did the maintenance on the Convair. The Major's office immediately put me at ease. In addition to the obligatory picture of President Carter, the walls were covered with aviation pictures which included a C-47 (DC-3).
David Fleuhr got us coffee. I told them about the DC-3 and the problem I was having in getting someone to fly it out to London.
Would there be any chance that the Major would have someone in Kabul that would check me out on the aircraft in order that I could fly it out?
"You have a GOONEY BIRD, Christ I haven't flown one of those since Korea." "Get your hat Dave, we're going flying."
We were soon on the ramp at the airport. The Major, Flight Sergeant, and myself do a walk-around inspection of the aircraft. The Americans knew their business and were soon poking, pulling, pushing and smelling the several push-pull rods, control cables, hydraulic, fuel and oil lines, etc.
Satisfied that every system was doing what it was supposed to do; the engines were run?up as stipulated in the DC-3 operations manual. Major Carter took over the pilot's seat.
"You sit in the idiot seat Jack, while we do a circuit to show you the few basics required to fly a DC-3."
We taxied out, took off, and did a circuit around Kabul. I could see the window of our room in the hotel as we flew by, and wondered if Barbara saw us, wondering what weird scheme her husband has got her involved in now. The Major was grinning as we landed and taxied back to the ramp.
"Well, Jack, she sounds like a DC-3, smells like a DC- 3, and she flies like a DC-3. Let's change seats and you take her up."
With that encouragement, and the Major's confidence in me, I slowly taxied around the ramp a few times to get the feel of the aircraft.
Having only flown Norseman, Otters and light twins, I wanted to get used to the fact that I was now sitting in a cockpit twenty feet higher in the air. Recalling the advice of an old Trans Canada Airlines Captain who cautioned me in my early aviation career, to make "long take-offs and long landings", I made three take-offs and landings before taxiing back to the ramp.
The DC-3 was a docile old airplane that did what it was told to do. That should get me across Asia, Europe, and the North Atlantic Ocean, to Thompson, I thought as I shut the engines down. Returning to the Embassy office, I was treated like a long lost brother. The kindly Americans provided me with maps, pencils, rulers, computer wheels, and note pads. I am sure they would have given me money for gas if I had asked them.
Dave drove me back to the hotel.
"I'll pick you and Barbara up at seven. We'll barbecue a goat, and have a few shots of real Russian Vodka."
Dave, and his wife Rita, came from International Falls, Minnesota. Later that evening, as the Vodka was trying its best to dissolve the goat, Dave and I had maps from Afghanistan to England spread out on the living room floor. We drew solid lines for the shortest, direct route and broken lines for alternate routes between re-fueling stops.
We decided the best route to be was Kabul - Tehran - Ankara - Athens - Nice - Le Harve - Gatwick - Prestwick - Reykjavik - Sondre Strommfjord - Frobisher Bay - Churchill, and finally Thompson, Manitoba.
The next morning after a brisk walk in the rarefyed air to clear out the remnants of the vodka, I went back to Joe McElrea and picked up all the required exit permits, ferry flight permits, etc. I had arranged these documents through Joe's office from the Afghanistan Ministry of Transport.
The DC-3 was loaded up with as many spare parts as I could scrounge from Airiana, including a tow bar. All four fuel tanks were filled to the brim, and the oil topped off. The Airiana maintenance boys gave the aircraft one last good going over. As the weather forecast showed clear weather for the next three days, it was time to make our move. I told Barbara at supper that we should pullout for England as soon as possible...like tomorrow morning.
"Are you sure you know what you are doing? Are you confident you are capable of flying this airplane half way around the world with me as your co-pilot?" She asked.
"Well the way I figure it, the DC-3 is just another airplane. The miles in this part of the world are five thousand two hundred and eighty feet long, the same as they are between The Pas and Moose Lake back in Manitoba. We'll just put the compass on W, the airspeed at 135 knots, and keep going until we hear them speaking English on the radio." I said, trying to hide my anxiety with a bit of humor.
Barbara, being the trooper she is said. "Well, I'm game if you are."
The next morning we were up early and had a hearty breakfast not knowing when or where the day would take us or when we would eat a meal again. Returning to our room we met three hotel houseboys lounging in the hall outside the room.
We smiled, said "good morning," and entered the room. Lying on the made-up bed was the money-belt with five thousand American dollars cash in it. Barbara and I just stared at each other with our mouths open.
The money belt usually slept with us, but I forgot to fish it out of the bed sheets when we went down to breakfast. The houseboys made up the room while we were out, came upon the belt while making the bed, and were guarding the room until our return.
The boys earned a tip that morning, as they could have been set for life with those American dollars, or could have started their very own revolution. Charley Stewart, Airiana's General Manager, the one who received the $35,000 cheque to pay for the aircraft, suggested we make the first leg of our trip a short one. This would be a three-hour flight South out of the Himalayan Mountains to the city of Kandahar.
Airana had a beautiful, American built, crews quarters at that station, and we were welcome to have supper and overnight there. Loading our suitcases and souvenirs into the DC-3, we made one last tour of the Airana maintenance hangar shaking hands, and saying our good-byes to all the gang who we got to know pretty well during our short stay in Kabul.
Entering the cockpit after climbing over the boxes of spare parts, engine, and towbar, I told Barbara that the co-pilot usually sat in the right seat, and I, being the Captain, would sit in the left seat. Taking a page out of my notebook, I wrote in large letters, the various engine power settings for take-off, climb, and speed limits for the extension of the flaps and landing gear. I secured this information to the instrument panel directly in front of me. The engines started with their usual cloud of smoke, settling down to a comfortable throaty rumble. As they were warming up, I told Barbara what to expect during and after the take-off. Once I advanced the throttles to take-off power, it would then be her duty to hold them there. My two hands and feet would be busy keeping the aircraft on the runway centerline. The vibrations set up by the engines would cause the throttles levers to slide back, and if they were not held in place, the take-off would have to be aborted.
Taxing to the active runway, we received clearance from the control tower, and began our adventure into the unknown. I advanced the throttle levers to take-off power, Barbara holding them in position as instructed. Once in the air, with the landing gear retracting, my hand moved to the throttles to reduce the engine settings to Climb Power. The standard procedure is for the Captain to tap the hand of the co-pilot to indicate that he or she could now release the levers to the Captain's control. My complete attention was on flying the airplane, and reached over tapping Barbara's hand without looking at her. Assuming she would let go of the throttles in order for me to reduce to climb power. She would not let go of the throttles. I quickly glanced over and saw that she was gripping the levers so hard that her knuckles were white. I tapped her hand again, and shouted at her to relax. She reluctantly gave up her charge and I was able to reduce power to the over-revving engines. As we flew a circuit around the airport, before establishing our course to Kandahar, we looked at each other, and grinned.
The two-hour trip to Kandahar took us southwest following a wide valley out of the Himalayas. The weather was excellent as we cruised along at five thousand feet feeling pretty insignificant as we looked over at the fifteen thousand-foot mountains around us. The time passed quickly and the Kandahar airport soon appeared on the horizon.
That night facing another meal of mutton and rice, we were offered Pomegranate juice served up by the jolly three hundred-pound cook who had more chins than a Chinese telephone book. He insisted it was good for our blood. I assume he came to this conclusion due to its blood?red color. We took a gallon jug of the tart juice with us for a refreshing drink on the long five and six hour legs we were to experience over the next ten days. The next morning, after topping up the fuel and oil tanks, we took off for the five hour and thirty minute flight to Tehran, Iran. Three hours into the flight, and six thousand feet over the barren desert of central Iran, the coffee we had for breakfast was demanding to be released. I told Barbara to just hold the control wheel and keep the nose of the aircraft pointing straight ahead while I crawled back over the several boxes of spare parts, tires, tow bar, etc. to relieve the pressure through a crack in the fuselage freight door.
"You sit right where you are." she ordered.
I said, "Come on Barbara, I will just be at the rear freight door. I can only push it open an inch as the air stream is holding it closed, and besides that, I'm the Captain, and I give the orders around here."
When Barbara gets a certain look in her eye, and that set in her jaw, I have learned over twenty?five years of living with this strong willed woman to show respect for those tell-tale signs that she expects you to obey her.
Having declared my authority, I obediently sat back in my seat. As I sat squirming, and wondering how in blazes I was going to survive another three hours with an ever-expanding bladder, I heard the Airiana Boeing 727 calling an enroute station while on their schedule run from Frankfurt to Kabul. It was the same flight and crew that had flown us to Kabul five days earlier.
The DC-3 was fitted with an old four-channel VHF transceiver that came with the aircraft from the Douglas Commercial Aircraft Co. in 1944. I called the 727 identifying myself as DBJ (which was the registration Transport Canada had assigned to the DC-3). I received an immediate response from the Boeing.
"Who is calling Airiana flight on Company frequency?" the pilot demanded.
"This is Jack Lamb" I replied. "My wife and I rode from Frankfurt to Kabul with you last week. I bought your old DC-3, and we are now on our way back to Canada with it."
"Oh hello, Jack. How are you doing? We were wondering what was going to happen to the DC-3. All our pilots flew it at one time or other."
"We'er doing allright... just coming up to the Farah beacon. I do have one problem though. I have to relieve my bladder but Barbara won't let me leave the cockpit."
"Oh, that's no problem. During the Haj flights to Mecca we used to carry as many as fifty pilgrims on each trip. We would not fight our way back through the confusion to the toilet, so we would use a Styrofoam coffee cup, open the side window in the cockpit an inch, and the suction created would get rid of what you had in the cup."
"Thanks for the tip, I am going to try that right now. The weather looks pretty good, and the aircraft is purring along okay. We are estimating Tehran in two hours and twenty minutes."
"Yes, you should have clear sailing to Tehran, but the map is showing a Low coming in. It looks like snow for the next few days. Bye for now, hope you have a good trip. Come back and see us again."
The DC-3 droned on, heading towards the Iranian capital. We were cruising at six thousand feet and starting to feel the ten-degree temperature which prompted me to get out of my seat to have a look at the cabin heater located just behind the co-pilot's bulkhead. The heater looked serviceable, but I could see a bird's nest in the fresh air intake. It would be prudent to suffer out the cold for a few hours and not expose us to any unforeseen hazards of a balky heater. I have a healthy respect (read 'fear' here) for those gasoline heaters when fitted in aircraft, especially since I was not used to the DC-3 installation.
In addition to the old four-channel VHF transceiver, the navigation equipment on board consisted of two ancient ARN7 ADFs (Automatic Direction Finders). I did not have much faith in this old equipment, and kept track of our progress with my finger picking off the landmarks on the maps the Americans gave me in Kabul. The Iranian/Russian border was just off our right wing tip. The maps were printed with bold "Russian Territory ? Aircraft May Be Fired Upon Without Notice" warning.
I called Tehran radio as we entered their control zone to get the local weather, and the active runway. I could not make out the runway as we approached due to the pollution generated from the charcoal braziers and bumper-to-bumper traffic in this city of two million souls. We were number "one" to land, but I still couldn't see the runway.
"There it is, straight ahead," Barbara cried.
Suddenly, my eyes picked out the eight thousand-foot asphalt strip. There was an Iran Air 727 on my tail. I kept my speed up on landing; in order to make the first high-speed turn-off. I advised the Tower that I required fuel, and where did they want me to park? Ground Control parked us between a British Airways 747, and a Swiss Air DC-10. The fuel bowser appeared in the middle of the confusion, and I told the driver to put on full tanks while I checked the oil levels.
Barbara was desperate to get to a washroom. She made for a red door that opened to the inside of the terminal building from the airside ramp where we were parked. I was up on the wing of the DC-3 checking the oils, and overseeing the re-fueling operation when I saw her going through that door. It suddenly hit me that I was on the airside, and Barbara had just entered the groundside.
An airport is a highly secured piece of real estate, especially in that confused part of the world. There was no way she was going to convince a hysterical, machine gun toting, Iranian guard to let her go back on the airside to join her husband who was out there fueling up a DC-3…that we are on our way from Afghanistan to Canada, and there wasn't any toilet on the airplane, etc., etc.
I finished servicing the aircraft, and making sure I had my passport, aircraft Bill of Sale, Ferry Permits, General Declaration, and money belt, made my way to the red door. The moment the door closed and locked behind me I knew I was in trouble.
The terminal building was bedlam. It was shoulder to shoulder with people yelling at, and to each other, pushing and fighting their way in every direction.
"Christ, how am I going to find Barbara in this mad house." I wondered while waiting by the door, hoping she would head back the same way she went.
Almost immediately I saw her struggling through the crowd towards me. She was grinning, and when we were together she told me about her first experience with the niceties of a Middle East public toilet. It consisted of two-foot prints cemented in the floor with a hole in between. One squatted, and aimed for the hole trying for a bulls-eye. The smell was almost unbearable. No toilet tissue.
Holding her hand, I said. "Now how are we going to get back on the ramp? Lets go direct to Security, and try to explain our predicament."
The Security office was very intimidating with its cloned policemen. They all had black hair, wore mustaches, guns, and had police uniforms with the obligatory Sam Brown belts. Not a smile to be seen in the room. Fortunately the stern looking officer in charge spoke English.
After explaining my problem to him, he looked at me, then at Barbara, and said. "Passports."
Stamping the passports, he then said. "Come."
He led us through the crowd to another door, opened it, motioned us through, and vanished. We were left standing on the airside ramp looking at our DC-3. Barbara broke the tension with a quasi-hysterical giggle.
Deciding to stay in Tehran for the night, I taxied DBJ to the general aviation ramp. The local charter company, Air Taxi, operated several Turbo Commander aircraft. I was to meet two of their brand new aircraft being delivered from the factory later in Greenland. Air Taxi Company was quite helpful, and was intrigued by the fact that we were flying this old DC-3 all the way to Canada. Their office manager assigned one his pilots to drive us the twenty miles to a hotel in the city.
During a supper of mutton and rice, Barbara said, "Jack, it is only six days to Christmas, and I think at least one of us should be home with the kids."
"You are absolutely right. You stay with DBJ, and I will go home. All kidding aside, I have been thinking of firing you, and sending you home."
Back in the hotel room, I called the Scandinavian Airline System agent. "The S.A.S. lady said there was a flight at 11:00 that night direct to Copenhagen, then direct to Montreal. They have room for you."
Arriving at the airport, we were told that the flight was over an hour late. I left her at the airport and returned to the city. I really missed my partner, and hoped she would have a safe flight home.
The next day with Barbara gone, I checked out of the downtown hotel, and moved into the Tehran Intercontinental Hotel at the airport. I had to find a co?pilot to fly with me to England, and being located close to the airport made this task easier. Now where do I find a pilot in Iran? The manager of Air Taxi and I were in the coffee shop trying to solve my problem when a slight, neatly dressed man came over and asked if he could join us. He said the talk on the hangar floor was that I was looking for someone who had DC-3 experience to accompany me to London.
"That's right", I said, "Do you fit the bill?"
"I have several thousand hours flying a DC-3, my license is current, my passport is valid, and I am available to leave when you are." he replied.
Mohammed Hassani was truly in the right place at the right time. I checked with the Air Taxi manager who vouched for Moe, and said he was he was a good man. I found out later that Moe was desperately trying to get a flying job in North America. Iran was in the early stages of falling apart, and he wanted to get his family out of the country.
The weather office's prediction of snow was accurate. Grounding us for four days. Moe and I used this time going over the DC-3 to make sure the heater was going to work. We finally got airborne and filed a Flight Plan for Athens with a planned fuel stop at Ankara, we hoped to make as many miles towards London as possible that first day.
Moe, being familiar with the country, showed me points of interest along the route, including Mount Ararat where old Noah tied up his ark. After a quick fuel stop at Ankara, we took-off heading into the setting sun for Greece. The red ADF on the Izmir radio beacon, and the green one tuned to our destination at Athens.
Athens airport located on the shore of the Aegean Sea has a built-in crosswind component. Moe demonstrated his flying skills by keeping the DC-3 right on the runway centerline during the landing. The Olympic Airways fuel man met us, and filled the fuel tanks while I topped up the oil levels. Moe headed for the weather office to check what weather we might expect for the next leg to Nice, France.
The next morning was Christmas Eve. We were going to push it this day hoping to get to London and spend Christmas with a friend of mine. It was a beautiful day as the DC-3 lifted off and headed in a direct line for the planned fuel stop at Nice, France. The route we had chosen took us across the boot of Italy, and directly over the ancient city of Rome. Then across the Tyrrhenian Sea to the Northern tip of Corsica, then direct to Nice.
The DC-3 was cruising along at six thousand feet in a sky as clear as an Arctic sky. We were enjoying the views of Italy, and the azure seas that separated Italy, Corsica and France. The white buildings of Monte Carlo reflected the bright sun as we made our approach to the Nice airport. The man who drove the fuel truck spoke good English and gave me a sales pitch on the quality of life one lives in the South of France. I must say he did a good job, as I was tempted to make a permanent stop at Nice, and start an airfreight service with the DC-3. The man said there was a lot of airfreight work to be had hauling furniture and clothing to the outlying islands. As we were taxing out for our take-off, I saw a Bristol Freighter aircraft parked at the far end of the airfield. Perhaps the fuelman knew what he was talking about.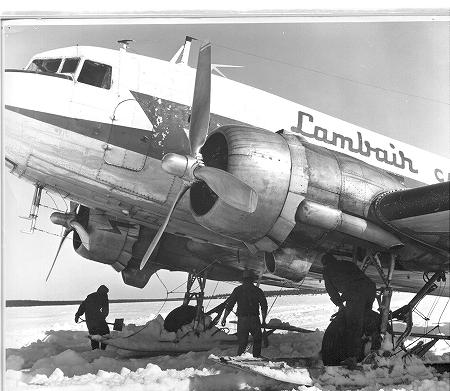 Photo by Richard HarringtonA typical spring operation. Wet, sticky snow has to be cleaned off the wheel/skis to get the DC-3 moving again. This is after unloading seven thousand pounds of building material on the ice at Tadoule Lake. Pilot Ed McIvor now returns to Churchill to fly a load of diamond drill equipment three hundred miles north to Cullaton Lake. This is the same DC-3, CF-DBJ that I flew home from Kabul. It went through the ice a year earlier on this same lake. Veteran Pilot Ed McIvor would never land on rotten ice.
It was a black night as we filed an IFR (Instrument Flight Rules) flight plan out of Nice for London. We were pushing things a bit with Air Traffic Control due to our lack of navigation and communication equipment. We did not meet all the radio frequency requirements that an IFR flight plan demanded. Moe was in command as Paris Air Traffic Control ordered us to go to frequency 134.5 mgs.
Moe would say. "We are unable, as we do not have that frequency."
Paris would then say, "Go to 126.9."
Moe would reply, "We do not have that frequency."
Paris tried one more time, "Go to 131.9."
"We are unable as we do not have that frequency."
This was too much for the harried Paris controller and he almost screamed into the earphones, "You do not have 134.5. You do not have 126.9. You do not have 131.9. What business do you have in filing an IFR flight plan?" "You are to proceed directly to Lyon, and report to the Director General Air Traffic Control upon landing."
There was no way I was going to go to Lyon and get involved with a mess of French regulators in the middle of the night on Christmas Eve.
We were trying to figure out our next move when the radio came alive with;
"Ah just came out of Lyon boys, and it is down to two hundred meters in fog."
I have no idea who the deep, hollow voice belonged to, but he sounded like an old airman who appreciated the position we were in, and passed on the information that a pilot in my position needed to hear at that moment.
My decision was made. "Head back to Nice, Moe. We will spend Christmas Eve on the Riviera."
We landed back at Nice and had the talkative fuel man top up our tanks before we went down town to get a room for the night.
Due to the fact that it was Christmas Eve, we didn't have any problem finding accommodation at a nearby picturesque French hotel. After checking in, I met Moe in the deserted dining room where we enjoyed a meal of leak pottage, braised rabbit avec pomme de terre, and delicious cream puffs. Moe was a devout Moslem, and as such did not drink alcohol; this put the responsibility solely on my shoulders to drink a glass of fine wine, and the obligatory snifter of Napoleon brandy. We had flown a long way this day. The good meal, quiet dining room plus the alcohol had a soothing effect, and were nearly falling asleep at the table.
Retiring to our rooms, I muttered. "See you at five o'clock in the lobby, Moe."
I made a call to Barbara wishing her and the kids a Merry Christmas and that I would call her from London the next day.
As we were driving out to the airport the next morning I told Moe. "I am going to be flying this leg of the flight, and will do it 'Moose Lake' style. I don't want to get tangled up with any air traffic controllers again." The weather that morning was rain with gusty winds, low black clouds covering most of our route to Le Harve.
After take-off, I kept the DC-3 at about three hundred feet, wheeling it around until the ADFs were pointing at Paris and Le Harve. We planned to land at Deauville to clear Customs and check out of France.
The trip across France at three hundred feet was quite enjoyable. We had good look at the countryside. The lower altitude keeping us alert for TV towers, castles, etc. and made the time pass quickly. It was early Christmas morning; the radio was dead quiet. I maintained radio silence. We broke out into brilliant sunshine about seventy-five miles West of Paris. I could see Moe relaxing. He was strictly an IFR pilot, and was very uncomfortable hedgehopping across France with a thirty thousand-pound aircraft. I called Deauville tower several times but didn't get any reply. I made a regulation circuit around the field, and not seeing anyone in the control tower, landed, parking the aircraft in front of the small administration building. It was a beautiful, sunny Christmas morning with not a breath of air to disturb the peace as we climbed down out of the aircraft. We walked around the building but did not see a living soul.
I climbed the stairs to the glassed-in tower hoping to see a note or some sign of life, but it was deserted. There was a bank of three telephones on the wall; one was labeled 'Paris Control.'
I picked it up and said, "Allo. Allo." several times.
A voice on the other end started speaking rapidly in French. "En Englais, si vous plait. Et parlez lentment. Je ne parlez pas Francez so good." Hoping my high school French would get me out of this.
Paris switched immediately to English, and after I told him who and where I was, and that I was on a ferry flight to Canada, he advised me there should be someone to look after us very soon, et "Bon Noel."
The view from the tower enabled us to see the whole area, and we soon saw a short, figure walking swiftly towards us pulling on his suit jacket. He turned out to be the local Customs officer. Just the person I wanted to see.
After exchanging several 'Bon Noels', the little round chap stamped our passports and the aircraft's General Declaration. We had got him out of his bed this early Christmas morning, and I am sure he was relieved when we refused his kind offer of coffee. Explaining that we had 'miles to go before we sleep.' The past three days of flying and working with Moe had given me a chance to assess his flying abilities and work habits. As we were sitting in the cockpit warming up the engines prior to take-off for London, I ask him if he would like to continue the flight right on to my final destination in Canada. The arrangements made with him in Tehran was that I would pay him three hundred and fifty American dollars plus expenses, plus a ticket back to Tehran from London for this leg of the journey. He thought for a moment, and over the noise of the engines, put up seven fingers.
I grinned and nodded my head… agreeing to another seven hundred dollars. I was now committed to the north atlantic route in the middle of the winter. With Moe flying this next leg, it allowed me to view the North coast of France, and the English Channel as we flew North along the zero degree of Longitude over the village of Greenwich to London. I was thoroughly enjoying the flight.
Gatwick was about as active as Deauville. The little "FOLLOW ME" jeep led us to our parking spot. The driver of the jeep was very accommodating, asking if he could be of further assistance?
"Yes, would you take us to Customs in order to get our passports and General Declaration stamped."
"Right you are Guv, bit of a job that, as they 'aven't been in their orffice all morning. Come along, I think I 'av a jolly good idee where they be."
Our guide led us down a long hall, through a few deserted offices, and finally into one of several lounges that lined the terminal building. "Ere we are." he said, leading us up to a table with four men in various uniforms sitting around it.
I was introduced to the portly Customs officer and requested he stamp our documents. He reminded me of someone right out of the movies in that he weighed about two hundred and fifty pounds, had lamb chop whiskers that covered most of his red, 'Johnny Walker whisky' cheeks. He was also drunk. Collecting our luggage from the aircraft we got a hotel room in the nearby village of Crawley for the night. I did not want to disturb my friend Ron and his family this Christmas day. Moe and I just relaxed and enjoyed the Christmas turkey at the hotel. Having made the decision to fly the DC-3 to Canada, I wanted to have a through maintenance check done on the engines, landing gear, heater, radios, etc. I also wanted to get two forty-five gallon drums in the cabin to extend the fuel range another hour and twenty minutes flying time or one hundred and eighty miles. This extra fuel, added to the aircraft's regular tankage, would provide a range of nearly nine hours.
As the longest leg of the trip would be around six hours, between Reykjavik and Sonde Strommefjord, we should not run out of gas. Our Company had purchased two Bristol Freighters from Dan Air a few years before, and I was familiar with their maintenance operations that they conducted out of an old World War II Spitfire base at Lasham, forty miles West of Gatwick airport. Arrangements made with Pete Stansfield of Dan Air were to bring the DC-3 over on the day after Boxing Day, and he would fit it into his work schedule. It was during this time that the millionaire recluse Howard Hughes made his move out of Guatemala, and flew his Lockheed Jet Star direct to Gatwick airport. The "FOLLOW ME" ramp-boss parked the famous aircraft wingtip to wing tip with my old DC-3.
The TV news covered the arrival of the Howard Hughes flight, and as such, I knew whom the sleek jet belonged to as I declared in mock anger to the ramp boss. "Who the Hell parked that so and so jet beside my DC-3?"
I have found that a little humor goes a long way to ease one through life's anxious moments. Ron and Maggie Martin opened up their home to us, which we used as our base of operations while the DC-3 was being checked over. I was trying to purchase heavy duty Arctic clothing...not an easy task in England.
On December 29th Dan Air called, and said they had done all the inspections, installed the extra fuel drums, and every thing was ready to go. Ron drove us to the Lasham Airport at five o'clock the next morning in the thickest fog I have ever experienced. The weatherman told us it was raining at Prestwick. This was encouraging as it meant there would not be any fog. Lasham Airport is also a very active Glider airport. As such I wanted to inspect the runway for any tow cables that may have been left lying around from flights the day before. Ron slowly drove along the length of the runway to make sure everything was clear.
As we felt our way along in the fog, we did indeed come across tow cables, rags, car tires, etc. The runway was a real mess. I could only assume the glider gang had a get-together over Christmas, and the clean-up committee went home early. Moe, doing the take-off, set the directional gyro to the runway centerline, and brought the speed up to ninety-five mph. The DC-3 lifted off, and climbed through seventy-five feet of dense fog into bright sunshine. It was an odd sight to see the chimneys of the factories sticking through the grey blanket like submarine periscopes. Prestwick was raining and cold as forecast. The next leg would be to Iceland, five and a half hours over the storm tossed waters of the North Atlantic. I was trying to find some humor in this as the last drop of avgas was squeezed into the tanks. I even shook the wing tip to get any bubbles out in order to get a few more gallons in.
We checked into the old Airport Hotel, and after supper turned-in early, leaving a wake-up call for four thirty. I did not get very much sleep that night due to no heat in the room, plus anxiety over the flight next day. It seemed I had just got to sleep when the old night clerk was rapping on my door. "It is four thirrty. Brreakfast is rready."
I packed away as much oatmeal porridge and toast as I could as this was going to be a long day with few landing spots. Heading for the weather office after checking out of the hotel, I noticed an Air Canada stretched DC-8, having just arrived from Canada, being re-fueled.
"I'm going over and talk to those boys about what the weather was like on their way over from Montreal." I told Moe.
"What good is that going to do? They were at thirty five thousand feet." he responded.
Moe went into the weather office building while I went across the wet ramp to the DC-8. Entering the warm, bright aircraft, I was tempted me to leave the DC-3 where it was, and stay with the DC-8. The Purser escorted me to the flight deck and introduced me to the Captain. Explaining to him that I was just about to pull out for Iceland with the DC-3, could he give me an idea what weather to expect enroute.
"Well we didn't have any problem, but I will turn you over to my Navigator, that's his department."
This particular Air Canada flight was one of the last DC-8s that carried an official navigator. He had his own flight station, complete with plotting board and weather maps. The navigator was a six foot two, blond Viking, complete with a Van Dyke goatee. This chap was very accommodating and explained in detail the existing weather between Scotland and Iceland, and what we would encounter at the low altitude we would be flying at. The winds would be from the west for the first half of the flight, changing to a tail wind for the last half with overcast sky at five thousand feet. The weather at Iceland was high overcast and forty degrees F. we could not expect much better weather at this time of the year over the North Atlantic.
Moe had finished his interpretations of the weather maps, coming to the same conclusions as the Viking. We decided to take-off and head for Iceland. The flight across our first major leg of open ocean was disconcerting at first, but our attention was soon directed to navigation, and as such there wasn't too much time to get worked up with what might happen. I looked out the window once and saw a fishing trawler ploughing through the waves with the seas breaking over the bow, blowing back over the whole of the ship. I turned my attention back to the flight instruments where it stayed until we could see the welcome sight of the volcanic mountains of Iceland on the horizon. Our approach to Iceland took us right over the island of Heimaey, about seventy-five miles from Reykjavik. As we flew over this small island, I could see an airport with a runway long enough for our DC-3, and thought to myself that if we can't get into Reykjavik for some reason, we could always keep this little spot as an alternate.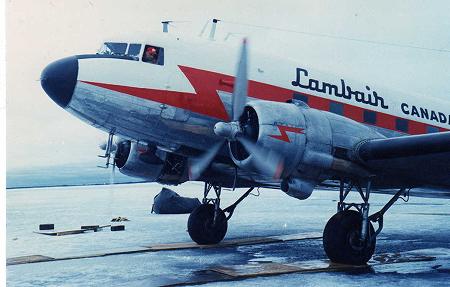 Photo by Greg Lamb
Six weeks later the active volcano on Heimaey blew its top, covering most of the coastal areas, including the runway, with six feet of molten lava. Two years earlier in 1969, twenty miles Southwest of Heimaey, the new island of Surtsey was born during one of these volcanic disturbances. Our arrival at Reykjavik was uneventful, but with a great sense of personal relief. I am mentally prepared to strike off across the barren Arctic wastes with an old single engine Norseman or Otter, but am not too keen on leaving terra firma behind and facing a thousand miles of Open Ocean. While the aircraft was being re-fueled, Moe went to get the Greenland weather. I headed for the Control Tower. I wanted to talk to them, and find out what the common route was that the transient pilots used on this leg from Iceland to North America. The man in charge was a rugged looking red head named Karton Olafson. He had many relatives in Gimli, Manitoba, and I took to him at once.
"Yew must go via Narsarsuaq on the Southern tip of Greenland." "What about going over the ice cap to Sondre Stromfjord on the West coast of Greenland?" I inquired.
"It is forbidden to land at Sondre Stromfjord as it is a military base. You are not to land there without prior permission from Washington and Copenhagen." he said sternly, finishing this tirade with a half wink of his eye.
There were three other controllers in the tower who were listening to our conversation. I was loath to take the Narsarsuaq route as I have heard many stories from flyers that had, and got into trouble with that difficult and remote airport. It would entail a six-hour flight over the North Atlantic to Narsarsuaq, then another six-hour flight across the Labrador Sea to Goose Bay. Just a month before our flight, another DC-3 enroute to Goose Bay via Narsarsuaq ran out of fuel, and ditched into the cold Atlantic waters three hundred miles short of the Labrador coast, never to be heard of again.
"Ok." I said, "But I would like to have Sondre Strom's weather just in case we get diverted for weather or something."
"We have a direct telephone link-up with the tower at Sondre Strom. Here, just dial 91, you will be talking to the officer in charge." said Karton handing me the telephone.
Dialing 91, I was impressed with the ability to talk to the Sondre Strom tower nine hundred miles away. The American officer there told me it was minus forty degrees, clear sky, and no wind. I knew what route I would be taking. Thanking the control tower crew, I met Moe in the airport coffee shop and explained to him that we would file a flight plan to Narsarsauq, but would re-file a few hundred miles out and go into Sondre Strom. I was just not going to go through Narsarsauq.
With our ADFs tuned in to the Kulusuk beacon on the East coast of Greenland, we took-off heading out over the Denmark Strait. Our direct track to Sondre Stromfjord took us over the Greenland village of Angmagssalik, up and over Ice Cap One, the mid-Greenland Dewline site, then downhill to Sondre Stromfjord. The ice cap over Greenland along our route is over ten thousand feet thick. I quickly calculated that we would need a minimum of thirteen thousand feet to clear the ice. I arrived at this figure by the following tried and true method. The thickness of the ice cap is... 10,000 feet We need one thousand-foot clearance... 11,000 feet It was forty below zero, therefor my Altimeter could have a large error as We did not have any station to give us a current barometer setting. Add one thousand feet... 12,000 feet Add another thousand feet for Barbara and the family... 13,000 feet. It was weird to have the altimeter showing thirteen thousand feet and yet the ice cap was going by just below us. The night was lit up by a full moon, and we could see the vastness of the ice cap as it disappeared over the horizon to the North. The comforting flashing strobe light of Ice Cap One told us we were right on course. As we passed their lonely site we wished the operators Happy New Year's greetings.
Two hours later we raised Sondre Stromfjord on the radio and were cleared to land. The stern voice from the control tower said. "Stay with your aircraft after parking. The Station Manager is coming out to see you."
"Moe, the next thing we see will be a yellow military van with a blue light flashing on the top of it, that will be His Eminence. Let me do the talking." I said.
Right on cue, the yellow truck arrived, and out stepped a Danish officer. "Good evening." "Let me see your aircraft's General Declaration please," the officer requested. "I will wait for you to put your aircraft away for the night, then I would like to see you in my office", he said.
"It is ready right now, so lets go."
The officer bid us to sit in two chairs across from his desk and then got down to business. "This is a military base, and you had no prior permission to land here. There is a fine of $300.00 for violating this regulation." he declared.
The officer was dressed in his finest military uniform with all the brass buttons, good behavior medals, Sam Brown belt, but thankfully, no gun. All this finery was topped off with a New Years eve party hat that he evidently forgot to remove when called away from some party to attend to us. I had a hard time keeping a straight face during this serious occasion. Poor old Moe, who lived all his life under the humorless, dictatorial military Governments of Iran and Iraq, was visibly uneasy when confronted by anyone in a military uniform.
The Danish officer finished up his obligatory speech with, "But, it is New Years Eve. I will cancel the three hundred dollar fine, but I am obligated to charge you the seventy five dollar landing fee."
"That is very kind of you sir." Handing over the landing fee, for which he gave me a receipt.
"Now, no more business. Please come up to the officer's mess and join us in our New Years Eve celebration."
It was now about nine o'clock at night. We had been on the road since four thirty that morning. The hotel in Prestwick seemed like a long time ago. We were ushered to a table where the hostess offered us steaks and several choices of drinks. After the meal we relaxed in the comfortable lounge chairs listening to the band playing the latest hit parade music.
It hardly seemed possible that a few short hours ago we were over the middle of the stormy North Atlantic, our lives hanging on the beat of those two old Pratt & Whitney engines.
My thoughts now turned to the task we would be facing the next morning getting the engines started after being parked in forty below temperatures overnight. The liquor was flowing freely, and the party was in full swing as I made my way from table to table wishing everyone a Happy New Year. I would ask each one their names were what their job on the airfield was, and their telephone number. "Happy New Year. What is your name?"
"Hoppy New Years to you. My name is Olaf, and I drive the fuel bowser."
After getting his phone number, I would go to the next table.
"Happy New Year. What is your name?" "Hoppy New Year to you too. My name is Oscar. I am in charge of airport services."
"Is that a fact?"
This one was a real find as he could arrange for Herman Nelson heaters to warm the engines, and a Ground Power Unit to supply power to the aircraft batteries. One of the tables I visited was occupied by a couple of dour looking American pilots. They were delivering two brand new Turbo Commander aircraft to the Air Taxi Company in Tehran. I told them I was in the Air Taxi manager's office just a few days ago.
These two fellows from the Southern United States started their journey off with much enthusiasm, but as they traveled further north, the colder it got. By the time they arrived at Sonde Stromfjord they had truly thought they had arrived in Hell. Their nice new airplanes did not like the cold weather either. One blew a propeller seal, and had to fly the last two hundred miles with one engine feathered. The hydraulic seals in the landing gear legs on both aircraft cracked in the cold when they landed at Sonde Stromm. Both aircraft were unserviceable. This happened two weeks before Christmas. Three weeks later, on New Years they were still waiting for the repairs, and a mechanic from the Commander Factory. The Christmas holidays had slowed everything down. The Factory was on a ten-day holiday break. Scandinavian Airlines System only served Sonde Stromfjord once a week. The Americans said there was no way of getting the DC-3 started in these cold temperatures.
"Man, didn't I know how COLD it was outside? "This is my kind of country. I will be out of here shortly after lunch tomorrow."
I was up at five o'clock New Years morning and went out to see how the DC-3 spent the night. Everything was frozen solid, as I knew it would be. It was ten o'clock before I had enough courage to start phoning the hung-over airport workers whom I had met at the party last night.
The airport services chap was very helpful. We soon had heaters on both engines, and the Ground Power Unit plugged into the aircraft's electrical system. The heaters ran for two hours getting the engines piping before starting up. I ran up the engines and worked the warm oil through the propellers. Moe checked us out of the hotel then filed a flight plan for Frobisher Bay, Canada.
Circling Sonde Stromm after taking off, I hoped the Americans were watching as we gained altitude, and headed west to Baffin Island. The temperature had warmed up to about twenty below. We were half way across Davis Strait estimating Frobisher Bay in another two hours, when I got the feeling that some thing was wrong. The cabin was slowly cooling off. It was just a few moments before I realized that the heater had quit and our cockpit would soon be twenty below. This was a serious situation. The instruments would freeze up in these extreme temperatures. I went back to the heater and tried all my tricks trying to get it started again, but to no avail. The number one inverter was screeching in protest as it started to freeze up. I switched over to the stand-by unit, and was relieved when it took over the load. These inverters supplied the AC power to drive the ADFs, and as this was our only means of navigation, would have been in real trouble if the stand-by unit did not operate. We wrapped extra jackets and blankets around our legs and endured the cold four hours until we landed at Frobisher Bay.
It was New Years Day, and the airport was deserted. I called the RCMP and told the officer-in-charge that we had just entered Canada, and would like our Passports stamped. An hour later a native Special Constable arrived with a stamp and did the honors. We were now officially home in Canada. Nordair Ltd. of Montreal had an air charter base at Frobisher Bay. The company at that time was on strike. The base manager/engineer was the only engineer on the base to look after two Fairchild F-227s, and a Short Skyvan. I contacted him to have a look at our heater problem. Jean was an old-time bush engineer, and it was not in his make-up to see a fellow airman stuck on the ground if he was able to help. The heater problem turned out to be a simple fix, and we were soon back in the air heading for Churchill via Coral Harbour.
It had been my intention to land at Coral Harbour to re-fuel, but as we were experiencing a good stiff tail wind, we overflew the station, and went direct to Churchill. The old DC-3 had brought us safely a long way over the past ten days. A pilot gets a sincere feeling of affection for an airplane, as does a sea captain for his ship or a transport driver for his highway rig. They are just pieces of machinery, but a kinship grows. I gave the fuselage an affectionate pat as I closed her up for the night in the warm hangar at Churchill. The next morning Moe taxied the aircraft to the threshold of the long ten thousand-foot runway. He was clipping along at a fair speed, being pushed by a brisk tail wind. I could see the threshold lights at the end of the runway coming up, and was about to warn him that we would end up in the ditch if he didn't slow down. Suddenly we went right through the threshold, and into the snow bank at the end of the runway.
"Keep her rolling." I yelled over the roar of the engines.
If he were to let the aircraft stop, we would have had to get a tractor to pull us out of the snow pile. He poured the power to the port engine, and with full right rudder her got the aircraft turned. Thankfully the engines were hot, and took the throttles without hesitation, pulling us out of the snow bank and back onto the firm runway. It would have been an ignominious ending, after flying half way around the world, to end up in a snow bank two hundred and fifty miles from home. We could see the smelter stack of the mine at Thompson belching sulfur dioxide in the distance.
Moe said, "Lets do an engine check for the maintenance crew in Thompson", and proceeded to advance the propellers to maximum RPM and started to check the magnetos.
The DC-3 protested at once by back firing, and running rough. The high tension leads to the spark plugs were breaking down and shorting out.
"Just put things back the way they were. Don't disturb anything, now that we are this close to home. If it is working, don't fix it." I cautioned him. We made a long, straight-in approach to the Thompson runway, taxied up to the Lambair ramp, and shut down.
I now had fifty-five hours and thirty minutes in a DC-3.
This DC-3 was to stay with the Company for ten years and did a good job for Lambair. The aircraft then went on to fly for Perimeter Airlines in Winnipeg for another nine years. It is now in South America doing what DC-3s do best in that country. Mohammed Hassani flew the DC-3 and Twin Islander for Lambair for six months before moving on to TransAir in Winnipeg. The last I heard of him, he was flying a Boeing 727 for Quebec Air out of Montreal.
---
Here is the entire history of CF-DBJ........
c/n 6135 USAAF 41-19492 24 Jan 43
10thAF India 01 Apr 43
India China Wing Air Transport Command 01 May 43
Indian Govt 10 Apr 46
N9080C - VT-DGU Hindustan Aircraft Co. Jun 51
YA-AAC Ariana Afghan Apr 55
CF-DBJ Lambair Ltd, Canada, Delivered 30 Dec 72, fR 28 Mar 73
Lambair Ltd, Re-registered C-FDBJ Jan 80
Perimeter Airlines, Winnipeg, Canada, Oct 82.
C-FDBJ of Perimeter, cancelled 11 May 88 and sold to USA,
Currently YV-500C, for Aeroejecutivos by May 88
Still as YV-500C for Aeroejecutivos currently flying today (November 2000) in pristine condition, carrying tourists in Venezuela.
---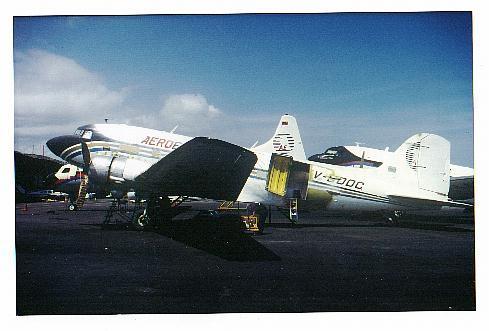 Michael S.Prophet provided the following information on the photgraph above......
This is a picture of Aeroejecutivos DC-3 at Caracas international airport taken September 1999. YV-500C was just coming out of an overhaul and it still needed to be painted The whole interior was renewed included the cockpit and cargo compartment with stainless-steel floor-plating and side-panels. The cockpit was painted grey and the instrument-board was painted black. The a/c construction plate...it has two! DOUGLAS PLATE: factory no 6135 Model:C47-R1830-92 COMPLETED: 'scapped out' US ARMY CORPS: type:C-47 Serial no: AC41-19492 Order no:AC-15847 Date accepted:'scrapped out'
---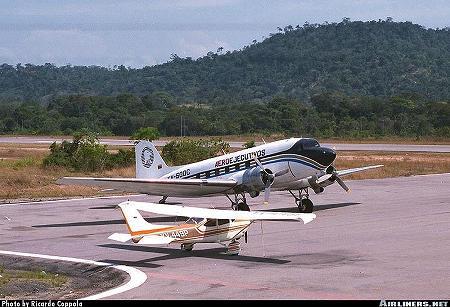 The above picture of YV-500C was taken in September 2000 and reproduced here with kind permission from Ricardo Cappola
---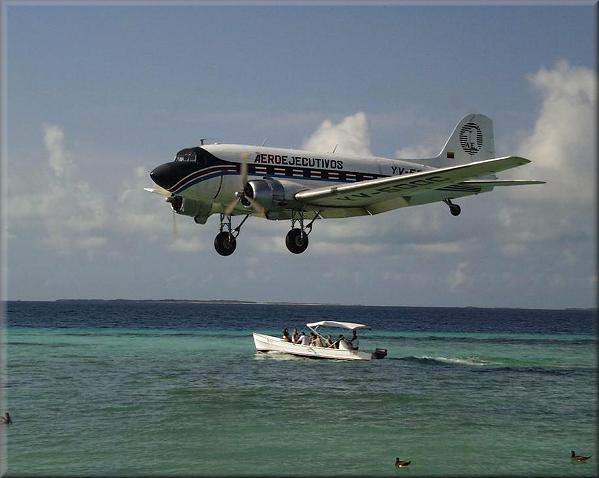 The above picture of YV-500C was taken in September 2000 and reproduced here with kind permission from Stephen Kemper
---