Our Prairie Aviation Museum DC-3 "N763A" Ozark Air Lines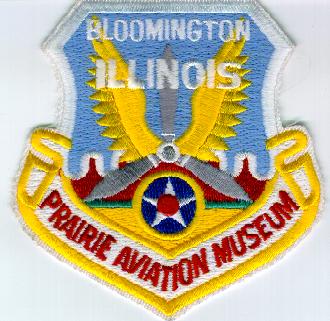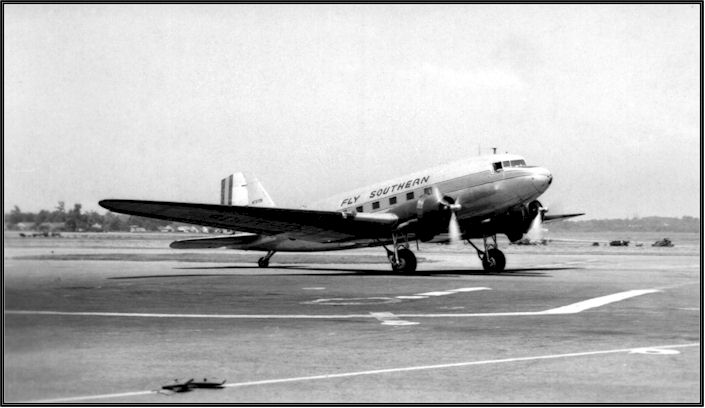 Above- Oldest known photograph of N763A in Southern scheme as NC73726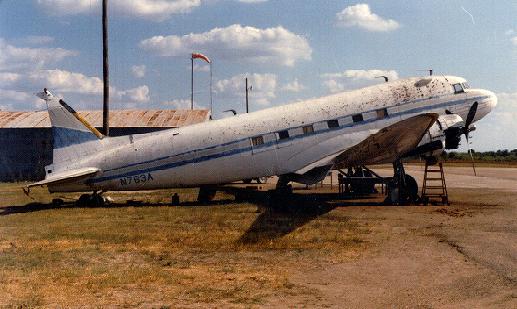 This was the state of our DC-3, N763A, and how it looked originally, when we bought it back in Febrauary 1984
---
The following photographs are mostly from my own personal collection. I am a member of the Prairie Aviation Musuem in Bloomington, Illinois, USA. I have donated a lot of money to the museum to keep this DC-3 in flying condition. Also a percentage of the sales profits from my "DC-3" Simulator software program go toward this particular DC-3, again, to keep her in flying condition. I have flown many times on this DC-3 and also was part of the flight crew this year (1998) for the Airshow circuit. Some of the photographs are taken during the Airshow circuit in flight and as static display. The photograph of the US Navy 'SNJ' was taken without a zoom lense, I was sat at the most rear window on the left hand side of the DC-3 while the 'SNJ' was flying in formation with us.
The following is a 'complete' history about this particular DC-3.
This Aircraft was one of 219 military C-53's (equivalent to the DC-3A) built by Douglas Aircraft at the Santa Monica plant. Completed on March 11, 1942, a week later MSN (Manufacturer's Serial Number) 4894 (41-20124) was transferred from the USAAF to the Navy as an R4D-3 (BuA:05078) with squadron VR-1. The Navy assigned the plane to the naval pilot and navigator school at Meacham Field near Fort Worth, Texas, where it was used for training pilots and transporting personnel until September 1945. It was subsequently reassigned to naval air stations at Jacksonville (Florida), New York, and Norfolk before concluding it's military service with U.S. Marine Corps Air Wing-2 at Hedron Field in Cherry Point, North Carolina. In August 1946 the R4D-3 was decommissioned and turned over to the War Assets Administration at Bush Field in Augusta, Georgia, where it was sold to Continental Airlines in the spring of 1947 for $25,000. Continental Airlines flew it's new acquisition (reg: NC73727) to Stapleton Field in Denver, Colorado, where the main cabin was converted (Douglas provided modification plans for conversion of many of these ex-military planes) for use as a commercial airliner. The airplane received passenger certification, was dubbed a DC-3A and was off the ground once again.
Southern Airways purchased the aircraft in 1949 for it's southeastern United States and Central American routes. The aging DC-3A now reg: (NC73726) and later in 1957 to (N70SA) flew passengers until 1966 when it was sold as reg: (N763) to National Aircraft Sales of Dallas, Texas. Coffield, a Texas businessman, used the aircraft primarily for transportation of personnel and equipment to oil fields and other business locations. While in Coffields possession, the plane was used in Preston Smith's successful campaign for Governor of Texas and also to transport Princess Grace of Monaco to a social event at Coffield's ranch.
After Coffield's death in 1983, the plane was transferred to Tradewinds Aircraft Sales, who sold the aircraft to the Prairie Aviation Museum for $28,000 in February 1984.The 1942 Douglas C-53 airplane was found in Rockdale, Texas. It had not flown for 15 years. After considerable restoration work and expense, the aircraft was flown as reg: (N763A) from Texas to Illinois in November 1984. In August 1985, a suggestion was made to Ozark that it consider restoring the museum's DC-3 to original 1950's Ozark colors for the Airlines 35th anniversary. Ozark entered into the agreement with P.A.M. that brought the plane to the Ozark facility in St. Louis for exterior restoration and it's appearance at the Ozark's 35th anniversary open house in October 1985. Ozark employees immediately fell in love with her. Painting was completed, and on the day of the open house, it literally 'stole the show'. Genuine interest and support was offered from many sources in Ozark's original service area, particularly St. Louis. We believe Ozark and it's dedicated employess left commercial aviation a great heritage. What better way to present and celebrate this heritage than with a legendary DC-3 in Ozark colors. Our DC-3 originally had two R1830-90D engines but in 1996 the left engine developed a problem, infact, it cut out 15 minutes before landing at Bloomington on the way back from an Air-show at Morris, Illinois. A single engine landing was made. It took approximately $22,000 to repair the engine and we replaced it with one acquired from Basler Aviation, it is an R1830-94 type. So, we have another DC-3 that has different #1 and #2 engines in flying condition.
Ozark Air Lines operated from September 26, 1950 through 1986 at which time TWA acquired Ozark. Mid-Missouri Investors announced November 1st 1998 that a new Ozark Airlines will begin operations out of the Columbia Regional Airport by the end of 1999. It is reported that the airline will operate flights between Columbia and Chicago, Dallas and Kansas City. No word on aircraft type or paint schemes.
I have been a Priarie Aviation Museum member since January of 1997 and we need your help in maintaining and flying this Ozark DC-3 throughout the U.S.A. to air shows. If you would like to support this great endeavour, please contact : Prairie Aviation Museum, P.O. Box 856, Bloomington, IL 61702-0666. Your donation would be greatly appreciated. For more details about the Prairie Aviation Museum and our DC-3, you can read my first ever flight story from a link on the main page.
Click on each image for full size view.
Then use the 'Back' button on your browser to return to this page.
There are 16 images, scroll from side to side as well as up and down.
---
1

2

3

4

5

Almost ready for take off

6

Flying back from La Crosse

7

8

Flying in formation with us

9

Fueling up at Bloomington

10

11

12

13

That's me in the left seat

14

Inside the passenger cabin

15

16
---