More favorite DC-3/C-47 Photo's
---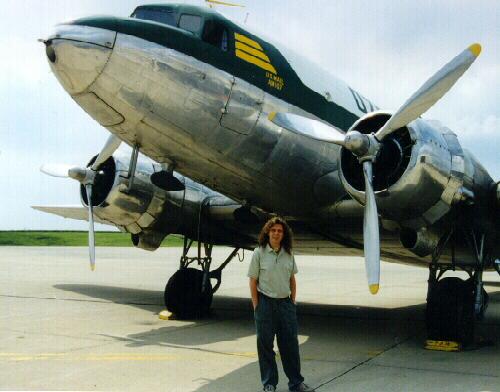 The shot above, is of myself, June of 1999, about to board for yet another wonderful flight in our DC-3 (Ozark Air Lines N763A).
---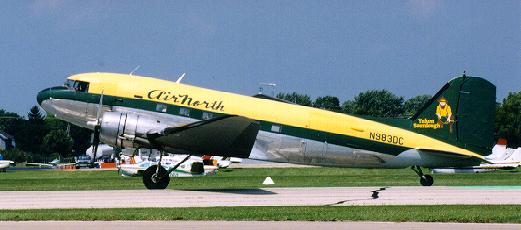 Air North (Canada) DC-3, now owned by the EAA. Pictured here during my flight in it at Oshkosh Airshow, July, 1999.
---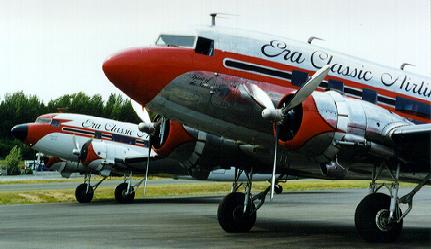 ERA Classic Airlines DC-3's based in Anchorage, Alaska, pictured (forefront) before my flight over the Kenai Fjords, July, 1999
---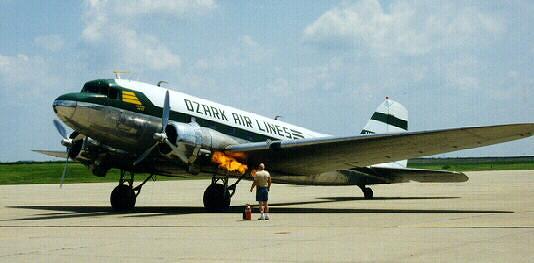 This shows what happened to our DC-3 (Ozark Air Lines N763A) Based in Bloomington, Illinois during May, 1999. Upon starting our number 1 engine, the carburator flooded, the engine backfired and fuel ignited into a burst of flame. All was fine and we were able to enjoy a nice days flying.
---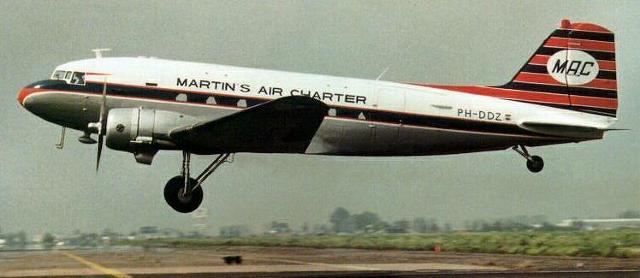 "SHE IS FLYING" ! ..This picture above shows DC-3 PH-DDZ on it's first post restoration flight, on May 7th, 1999. This is almost 12 years after it was flown to Holland in Pyramid Airlines livery, after being bought by the DDA. Photo courtesy of Kees Zwaans of the Dutch Dakota Association. From here, you can E-MAIL the DDA.
---
The picture below was taken at RAF Fairford Tattoo, UK in 1998. The RAF celebrated 80 years of it's existence and the Berlin Airlift was also remembered. The event saw many DC-3's and below is a DC-3 owned by Air Atlantique (Europe's largest operator of the type). It was one of seven that attended. Thanks to my friend Steve Kelly for the photograph.
(Note the older style hydraulic landing gear retraction and the oil dispersant spray gun under the fuselage).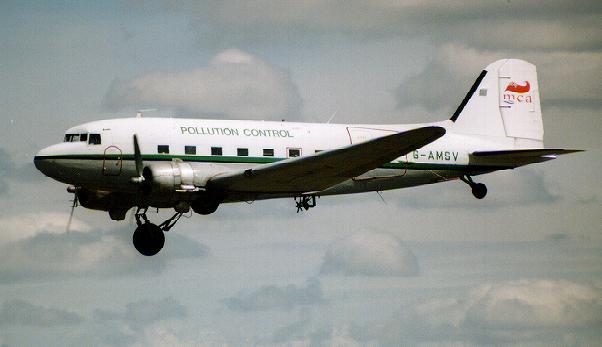 ---
This DC-3 example below is construction number (c/n) 11761 and was delivered to the USAAF in July of 1943. Now registration N130Q, a DC-3A/C-53D-DO (was 41-68834) of Folsoms Air Service based in Maine, USA. It is one of the only DC-3 on floats still flying today. The floats are the original EDO (28) Corporation type. She flew for Eastern Airlines as NC86562 until 1952. It was converted to a float plane by Dick Folsom in 1976. The experimental type certificate for this aircraft was awarded in September 1990 and the first flight took place at Greenville airport at that time.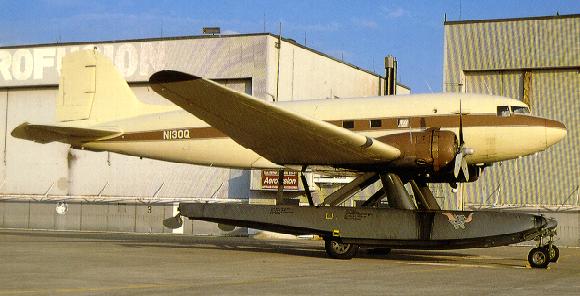 ---
Here I am below at the Oshkosh Airshow, Wisconsin, US, 1998. This particular DC-3 was the one that parked next to Concorde in the main static area. It is registered as 'N33VW' and it is owned by an outfit called Vintage Wings.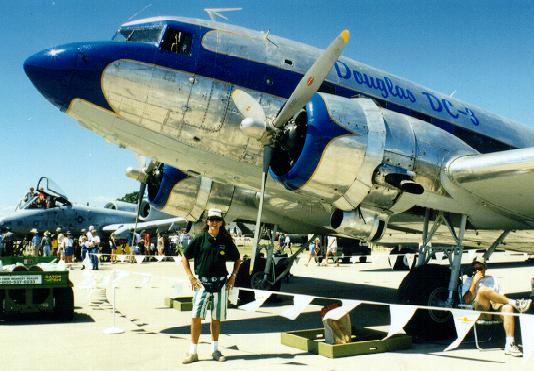 ---
Sent in by Ol' Sarg' Bill Ewing, here is something a little different for you. Back in 1982, 402 Squadron was asked by the Western Canada Aviation Museum to help bring back the Junkers JU-52 that they had just purchased from Florida. The museum planned to convert the Junkers back into a single-engined JU-52. Take a close look, both aircraft are circa 1935 designs.
---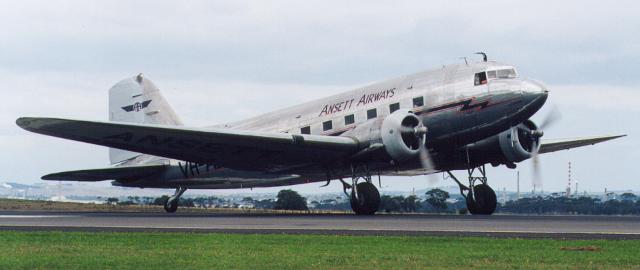 Taken at an Australian Airshow 1999 by Tim Wainright, a beautiful shot of an Ansett Airways DC-3.
---
"Ozark Airlines 763 Alpha, you are cleared for take off, fly runway heading, climb and maintain 3000"
The animated gif image below, will take just a minute to load, feel free to use it on your own web site, all I ask is to be credited with a link to this site.
---
Links above are provided by"The DC-3 Hangar" which has full fledged membership to the 'DC-3/Dakota Historical Society' and the 'Prairie Aviation Museum'.
---