Qantas and the DC-3

---
The photos were both taken circa 1963-1964 at the Qantas Jet Base at Mascot, Sydney, of
VH-EDC and VH-EDD. Glenn Alderton, George Canciani, Peter J Gates also credit for additional photos.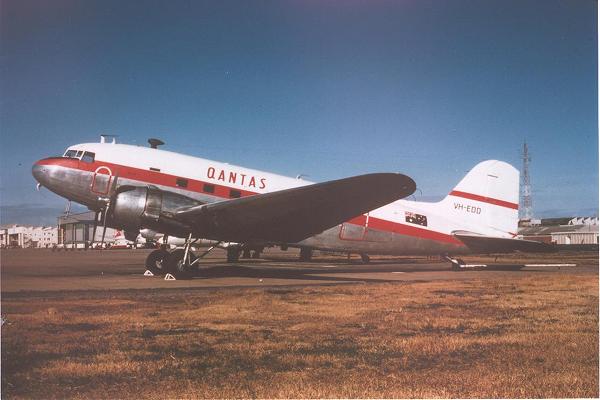 Qantas used DC-3s for several years on services within and outside Australia. Initial Qantas operations of the type were flown by several C-47s on loan to the airline towards the end of WWII from the USAAF. In the postwar years, 14 DC-3s were acquired between 1945 and 1948. Some were re-registered several times to vacate registration sequences for other aircraft. In addition a further three DC-3s were chartered by Qantas in 1948 to augment their fleet.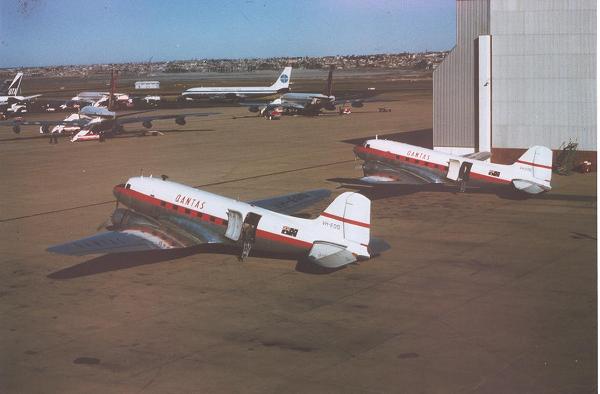 Services within Australia were flown by Qantas DC-3s from Brisbane to Darwin, and Cloncurry to Normantton. The Queensland Inland Services network was later extended in 1948 and then included flights between Charleville, Quilpie, Cunnamulla, Winton, Mitchell, Mt. Isa and Darwin, and between Cloncurry and Burketown.

The overseas services operated by Qantas DC-3s were numerous. In 1945 a weekly service was flown from Sydney to Lae in New Guinea, and this increased to three flights a week later that year. In November 1945 a Qantas DC-3 under charter to the RAAF began a Brisbane/Manila ( Philippines ) service.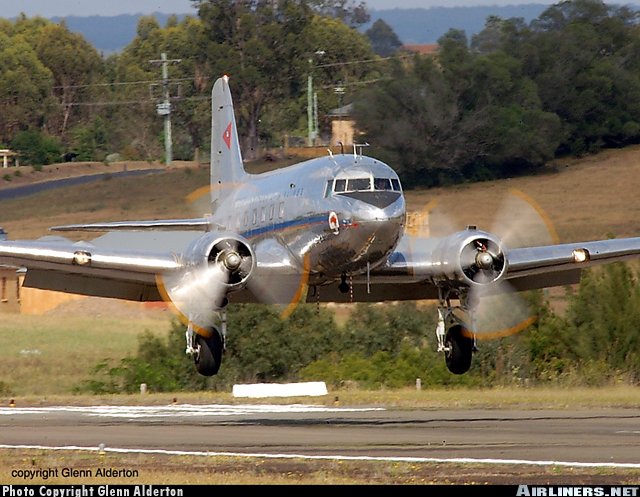 By 1949 Qantas had five DC-3 freighter/passenger aircraft in New Guinea and these blended into a mixed fleet which included Dragons, Drovers, Beavers and Otters. Another route was opened on Sept. 7th 1953 when the DC-3 commenced operating other routes in New Guinea.

When Qantas withdrew from its New Guinea operations in 1960 the remaining services and aircraft were transferred to TAA ( Trans Australia Airlines ).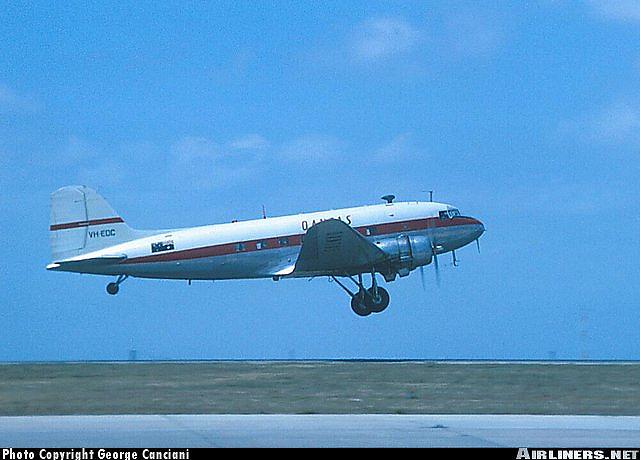 Qantas' last two DC-3s were the photographed VH-EDC and VH-EDD. They were retained for crew training.

VH-EDC ( Constructors No. 12874 ) was acquired by Qantas in May 1961, registered on the 12th of July 1961, and disposed of on 15th November 1971. Prior to acquisition by Qantas it had been registered on the civilian register as VH-CAR and prior to that
VH-JAR. Before that again she was with the RAAF as A65-46.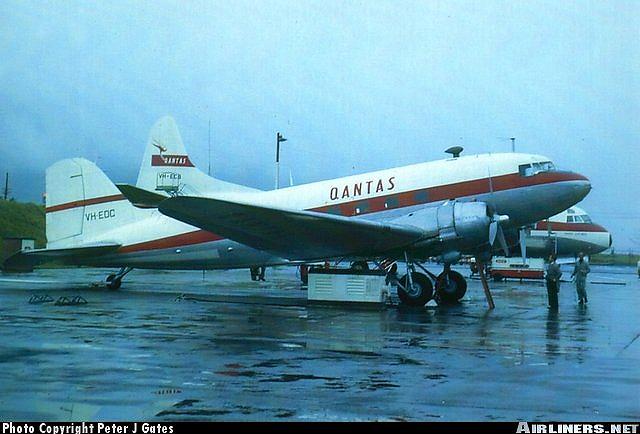 VH-EDD ( Constructors No. 13922/25367 ) was acquired by Qantas in January 1964, registered on the 22nd of that month, and disposed of on 15th December 1971.

Both were sold by Qantas to Queensland Pacific Trading Company ( aka. Queensland Pacific Airways Ltd. ).

In May 1972 Queensland Pacific Airways Ltd. was absorbed by Bush Pilot Airways, that had been formed in 1951. In 1978 Bush Pilots Airways restyled their name to BPA. On the 1st December 1981 BPA became Air Queensland.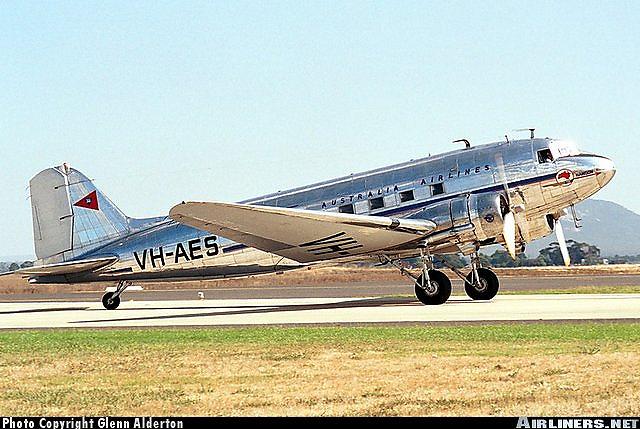 Air Queensland ceased operations on 30th April 1988.

VH-EDC eventually ended up in the hands of South Pacific Airmotive Pty. Ltd. Sadly she crashed on 24th April 1994. A summary of the crash report, is further below.
However, the official crash report has created some controversy and Captain Rod Lovell has his own version of events which seems to be the same scenario of the ill-fated PH-DDA DC-3, in that, an engine failure which was then compounded by the propellor failing to feather fully. You can read Captain Rod Lovell's version of events HERE
Below is a picture of the ditching provided by Captain Rod Lovell..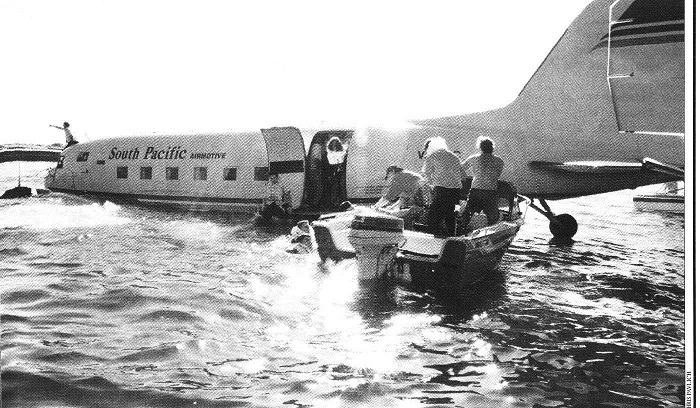 And.. the "official" Synopsis (this by the 'Authorites at the time)"?
On Sunday 24 April 1994, at about 0910 EST, Douglas DC-3 aircraft VH-EDC took off from runway 16 at Sydney (Kingsford-Smith) Airport. The crew reported an engine malfunction during the initial climb and subsequently ditched the aircraft into Botany Bay. The DC-3 was on a charter flight to convey a group of college students and their band equipment from Sydney to Norfolk Island and return as part of Anzac Day celebrations on the island. All 25 occupants, including the four crew, successfully evacuated the aircraft before it sank.

The investigation found that the circumstances of the accident were consistent with the left engine having suffered a substantial power loss when an inlet valve stuck in the open position. The inability of the handling pilot (co-pilot) to obtain optimum asymmetric performance from the aircraft was the culminating factor in a combination of local and organisational factors that led to this accident. Contributing factors included the overweight condition of the aircraft, an engine overhaul or maintenance error, non-adherence to operating procedures and lack of skill of the handling pilot.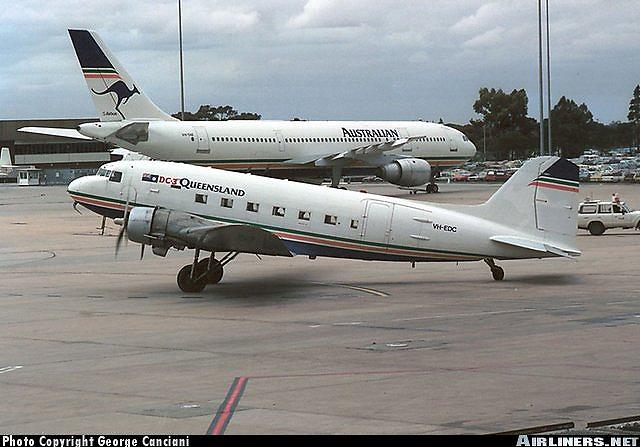 Organisational factors relating to the company included:

inadequate communications between South Pacific Airmotive Pty Ltd who owned and operated the DC-3 and were based at Camden, NSW and the AOC holder, Groupair, who were based at Moorabbin, Vic.;
inadequate maintenance management;
poor operational procedures; and
inadequate training.
Organisational factors relating to the regulator included:

inadequate communications between Civil Aviation Authority offices, and between the Civil Aviation Authority and Groupair/South Pacific Airmotive;
poor operational and airworthiness control procedures;
inadequate control and monitoring of South Pacific Airmotive;
inadequate regulation; and
poor training of staff.
During the investigation, a number of interim safety recommendations were issued by the Bureau. These recommendations, and the CAA's responses to them, are included in this report.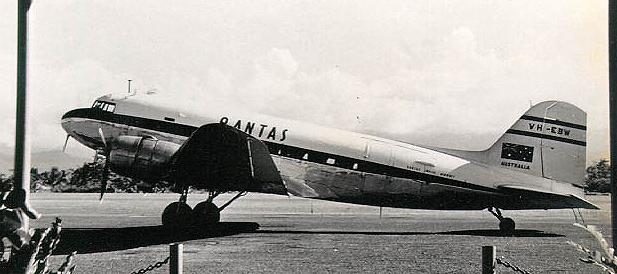 I believe that what remains of the fuselage of VH-EDC is was at the Camden Aviation Museum, in western Sydney, in 1998.
What was the fate of the other DC-3, VH-EDD I do not know.


Photos by: Tracey Smiley, and
Eric Favelle, of HARS ( Historical Aircraft Restoration Society, Sydney, Australia )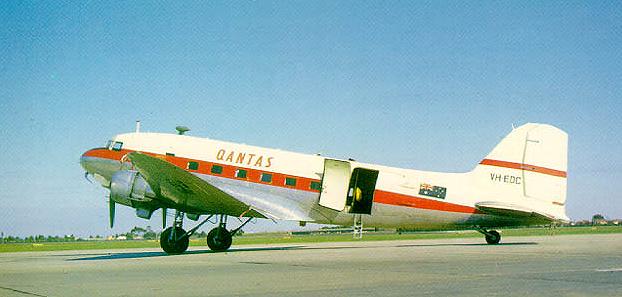 ---