First Aircraft on the South Pole, R4D-5
---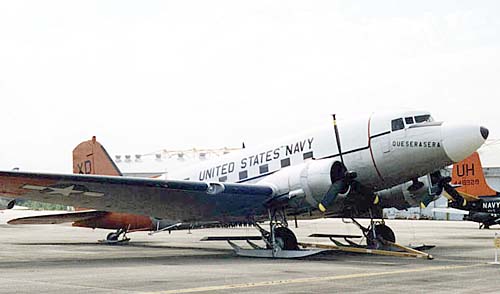 "Que Sera Sera" (What will be will be) made History by becoming the first aircraft to land on the South Pole on October 31st 1956. The extended Nose and extra Antenna were used for Radar. The Jato (jet assisted-take off) bottles under the fuselage were used for taking off in deeper snow.
c/n#9358 42-23496 - R4D-5 12418 USNavy D08Apr43 - xx - VR-7 Aug44 - VR-3 03Jun45 -
Jacksonville Jun46 - NART
Minneapolis Feb47 - NART Olathe Aug48 - Litchfield Pk Sep48 - xx - VX-6 "XD" "Que Sera
Sera", landed at
S Pole 31Oct56 - Pres Smithsonian Inst, Washington, DC (stored) Dec58 US Navy Museum,
Pensacola, Fl (late
1974 on loan) Restored for Exibition 1982.
---
On Oct. 31, 1956, Lt. Cdr. Gus Shinn landed the first plane at the South Pole. It was a ski-equipped R4D-5 (a Navy version of the DC-3) named "Que Sera Sera." With temperatures hovering near minus 60 F, Shinn kept the engines running while Adm. George Dufek stepped out of the plane and became the first person to stand at the Pole since Robert Scott's party, more than four decades earlier.
For every milestone like this there are people behind the scenes who play a large part, too. Pilots Eddie Frankiewicz and Jim Waldron were the rescue crew who waited in the wings that day, and they too relied upon the same model.

They landed their R4D "Charlene" on the Liv Glacier as Shinn and Dufek flew overhead. "Charlene's" engines were kept running for the better part of a day, to be ready at a moment's notice in case the historic flight to Pole needed help.

Waldron remembers the aircraft fondly.

The R4D-5 "Charlene" sits with engines running on the Liv Glacier. Eddie Frankiewicz and Jim Waldron spent hours waiting there, prepared to help Gus Shinn if he ran into any trouble on his historic flight to the Pole. Photo courtesy of Jim Waldron.
"It was a very reliable airplane. We put it through a lot of terrible weather and cold but it was always stable and had very few failures. It was terrific for what it could do," he said.
"It was a magnificent airplane," Frankiewicz said. "It could carry a great load of ice on its wings. And with a great big barn door for a rudder it made for easy cross-wind landings," he said.
Another pilot, E.D. "Buz" Dryfoose, explained the reasons it's as good as a mid-weight aircraft in Antarctica.
"For open snow landings at the reduced weight of the R4Ds, they could land where there were possible snow bridges over crevasses that could not be seen," Dryfoose said. "The 130s would not fare as well under those circumstances with 100,000 pounds more weight."
| | |
| --- | --- |
| 'The R4D proved its worth time and again. On the other side of the Ross Ice Shelf at an encampment called Little America the planes would be left to winter on their own. Upon returning, the aircrew would dig the machines out of the snow, fire them up and fly away. | An aircraft commander at Little America Five digs the "Que Sera Sera" out from under a winter's worth of snow in August, 1957. The previous summer Gus Shinn landed the plane at the South Pole, becoming the first person ever to do so. Photo courtesy of Jim Waldron. |
---
Que Sera Sera..
Whatever will be will be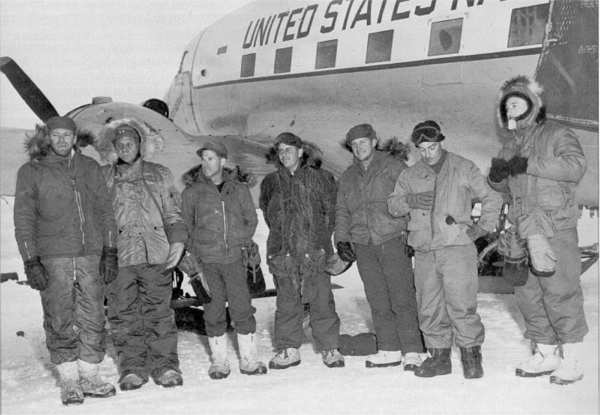 This photo by LT John R. Swadener appeared in the 31 December 1956 issue of TIME Magazine, with the following 2-line caption which was the editorial standard for TIME then:

"DUFEK'S PARTY AT THE POLE
From eleven bottles, a wrench and a stagger.."

This is a paraphrasing of the article's description of the takeoff, "Only by blasting off his eleven remaining JATO bottles did Shinn wrench the plane loose and stagger into the thin air at well below normal takeoff speed." However, the second line of the caption does misstate the number of JATO bottles (the R4D carried 15 and according to RADM Dufek's book Gus fired 4 at a time, then the last 3 before he got off deck... Many journalists wanted to go on the flight, but given the extreme hazards (no one had ever done it before) none were allowed. Some of them accompanied the mission aboard a wheeled USAF C-124 Globemaster which flew overhead but of course did not land. Others flew in on a Navy Skymaster which developed engine trouble over the Plateau and had to turn back. Many of these folks gave their cameras to the Gus Shinn and his crew, hence the following pictures, courtesy of Billy Ace Baker...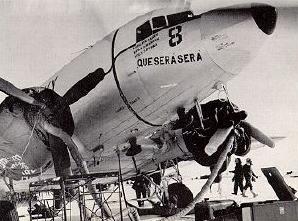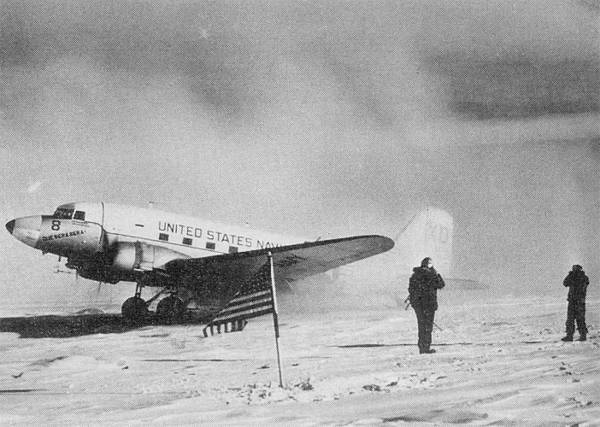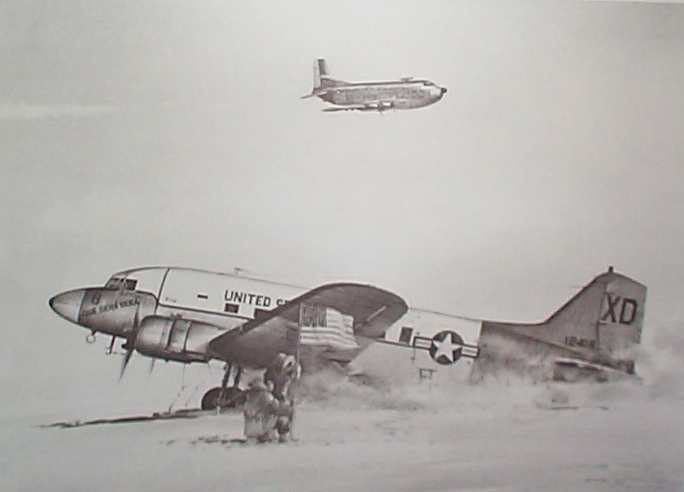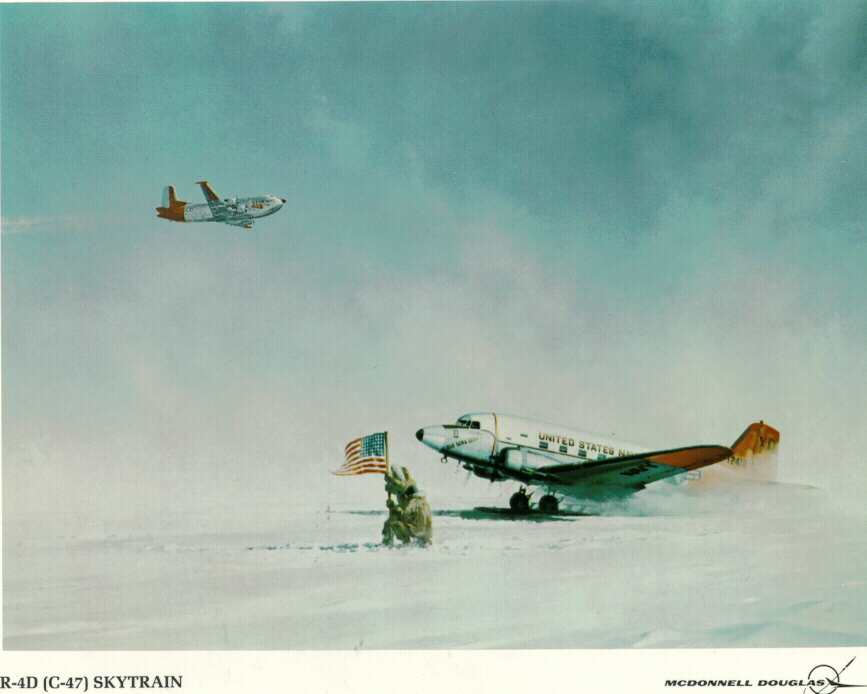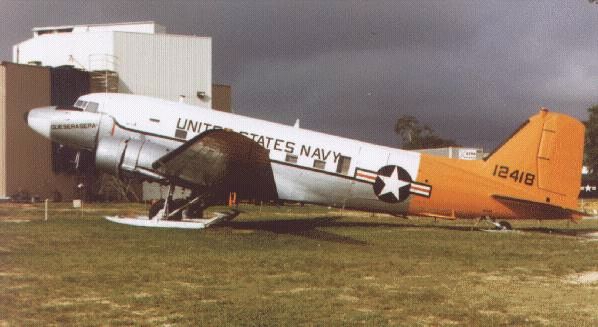 Below a recent photo taken in July, 2012, Pensacola US Navy museum, by my friend Greg Mattix. Stored forever in best condition.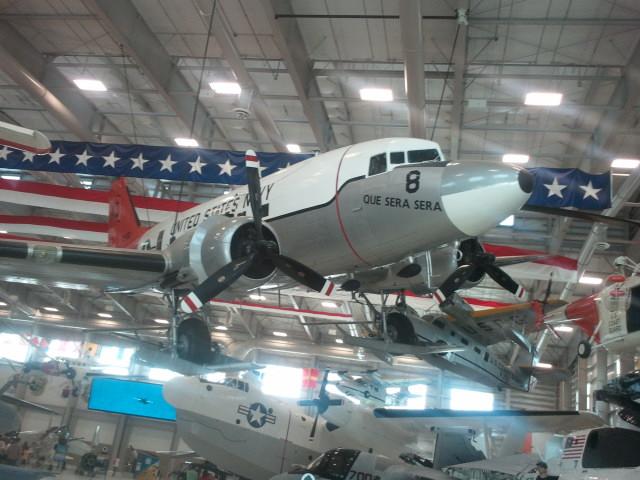 ---