A DC-3 Space Shuttle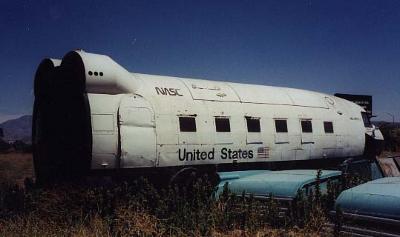 ---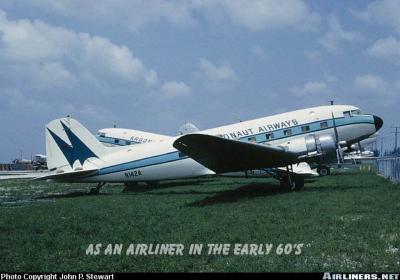 c/n#12789 42-92933 D31Mar44-Oahu 22Apr44-WAA 07Aug46 - NC68371 Hughes
Acft Co - N91222 All American Avn L 17May48 - N142A Allegheny A/L
Inc (1953)-Argonaut AfW Corp 20May63- Southeast A/L - Southern
Pipeliners Inc (1966) - Bellomy Lawson Avn Inc, Miami, FL 01Jan67
- Willard A Scott Co, Hollywood, FL Aug68 - Aero American Corp
(Dec69) - canc - Rvan Fld, AZ Aug72 to Feb77 (This was conv to
bus "California 334 WWS" by Smokey Roland, Cardiff-by-Sea, CA).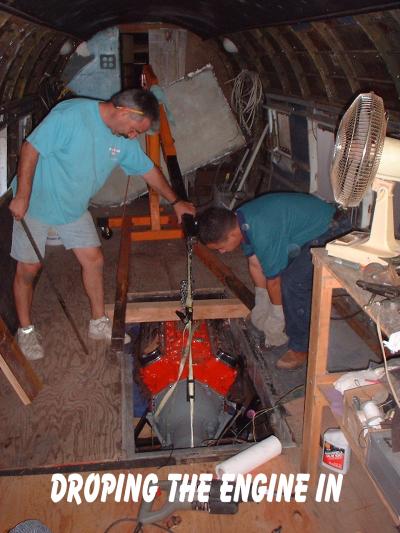 It all began with an experimental aircraft called a "Long EZ" in 1982. Phil had built one of these innovative airplanes and he and his wife, Becky joined the local chapter of the Experimental Aircraft Association. They participated in club activities and volunteered one year to help cook at the pancake breakfast for the annual air show that the club held. After participating in cooking at the air show for several years, Phil was approached by a gentleman who owned several portable cream carts and wanted to rent them to the EAA for their air show. The EAA rented these carts for two years. All of the food equipment the man owned became for sale as he and his family were relocated to another area. It was then that the Petersen's purchased all the equipment and the Cart Rental business was launched.

The second year we were in business, we purchased our first Hawaiian Shaved Ice machine. As the business expanded, we purchased more shaved ice machines.

Phil has always loved airplanes and after getting involved in the food business, he dreamed of having a food concession trailer. Of course, his first idea was to build one out of the fuselage of a B52. We searched for one of these and did manage to find one, but it proved to be unfeasible. It was after this that we discovered "The Shuttle." It is a DC3 aircraft that was built during World War II and was hijacked to Havana, Cuba during the 1960's.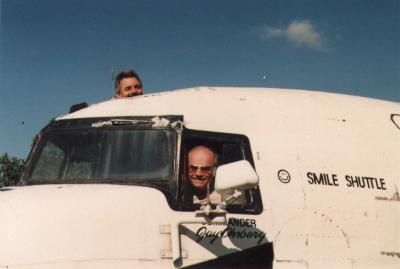 It had been converted into a mini replica of America's own "Space Shuttle" when the shuttle was first launched into space. The fuselage was mounted on a bus chassis and it toured Europe, Russia and appeared on the television show "Real People" and did promotional appearances. When we saw it, we knew that this was our future food concession vehicle. It is 38' long and when finished will have a fully equipped commercial kitchen. The interior will, of course, have a deep space motif and will be equipped with multi-media equipment of past space projects and still visuals as well. We have great plans for making it very unique and fun. It is quite an attention getter, as you may imagine. We have great hopes for the future of the "Shuttle" as work progresses on it.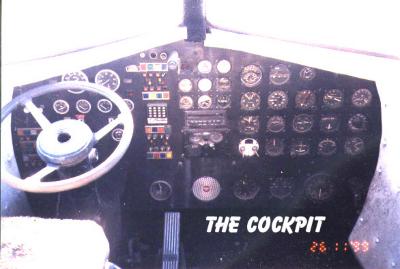 Space Shuttle Café: This Storied DC-3 Can Really Cook

When people hear about the DC-3 belonging to Phil and Becky Petersen of Oxnard, Calif., their jaws drop and their eyes widen. You own an airplane and you're converting it into what? No one's ever done that.

Exactly the point. The Petersens, who run a successful food-service business in Southern California, are converting a storied DC-3 into a full-service kitchen that will serve crowds at air shows around the United States and make corporate events a blast for employees and clients. The custom kitchen is being built inside a shortened fuselage (nose to rear 40') without wings that is set on a massive bus frame.

The plane's former owner designed the exterior look of the plane, which resembles a NASA space shuttle. Thus the plane's new name, the Space Shuttle Café.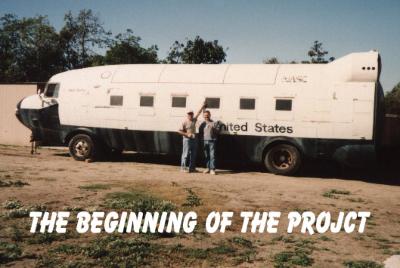 So unique is the plane (and the quizzical looks it inspires) that the Petersens decided to create a web site at www.spaceshutlecafe.com (now under construction) where visitors will be able to see the Space Shuttle Café for themselves. The web site will detail the amazing history of this plane starting from its days as an Army Transport. Rumor has it that the DC-3 was hijacked once to Cuba. It later became an American cultural oddity in the former Soviet Union and Europe where it was displayed for several years during the 1980s, and is being reincarnated as a full service mobile food kitchen.

The wings on the plane are long gone, having been removed by a previous owner who shortened the fuselage and hoisted the DC-3 onto the massive bus frame. The Space Shuttle Café measures 40 feet long, 8 feet wide and 11 feet high and is entered at the rear. Customers come aboard the DC-3, ascending a flight of stairs that lead to the counter. After placing their order, the customer descends another flight of stairs and exits to wait alongside the café, where the food is handed out through a side window near the front.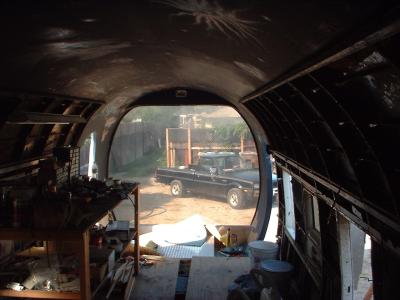 The rear of the plane isn't its only attraction. The two-seat cockpit with its massive instrument panel and steering wheel (after all, this is a vehicle), can be viewed from ground level through observation windows placed at eye level. The black nose cone, white-and-black paint scheme, and actual riveting from the DC-3s days as a commercial airliner make you think that you really are looking at a NASA spacecraft.

The "Space Shuttle" was first spotted parked in a lot alongside a California desert highway. After a number of trips out to inspect the fuselage, the Petersens decided that the "old girl" had a lot of life left in her. They rescued her from her neglected state, buying the plane and having it hauled 200 miles back to Oxnard. Coastal Oxnard is 60 miles north of L.A. and a half-hour's drive from beautiful Santa Barbara.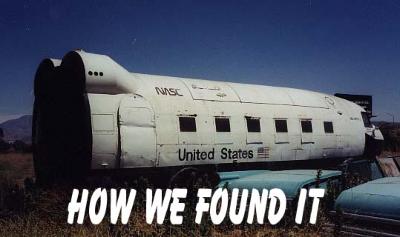 During the remodel a new rebuilt Chevy Big Block 402 C.I. engine with a Turbo 400 auto transmission have been installed. Fresh water tanks, grey water tanks, propane tanks and generator have been attached to the underside of the modified bus frame.

"Commander" Phil Petersen and his "logistics officer" and wife Rebecca have served thousands of Southern California air show patrons over the years. They are regular vendors at the annual Riverside and Camarillo air shows, serving a snack bar menu of hot dogs, nachos, drinks and shaved ice.
All along, Phil has wanted to bulk up his menu because, in his opinion, "Air show crowds are out there all day long and those people need a substantial cooked meal. The trouble in the past is that we vendors have had to cart our equipment to the airfield and set up. This really limited the menu that we could offer."



Not anymore, with an all-stainless steel kitchen that can go almost anywhere an RV can park.
The types of dishes the Space Shuttle Café can whip up for air shows or special business function is pretty unlimited: pasta primavera, grilled chicken, breakfast burritos, fresh-cut fries. Menuwise, the sky's the limit.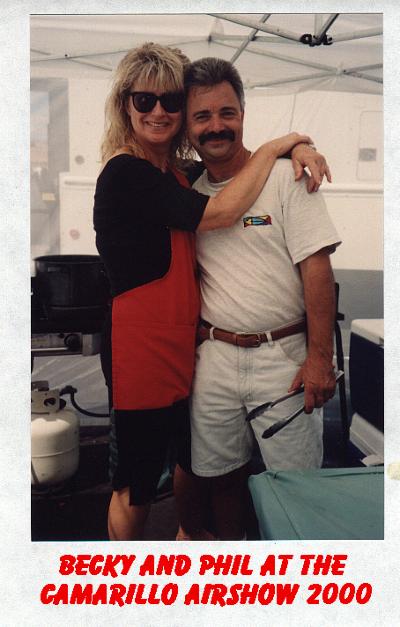 The Space Shuttle Café is tentatively scheduled to make its debut at the 2003 Camarillo Air Show on Aug. 23-24. For updates and questions about the shuttle, email the Petersens at spaceshuttlecafe@aol.com.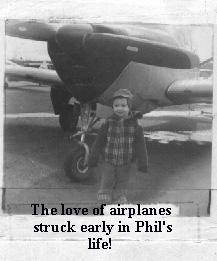 ---