1938 United Airlines DC-3 Crash
---
c/n#1906 DC-3A-191
NC16066 United D18Jan37 - Crashed 29 November 1938 off Point Reyes, CA.
Photos via Guy Meyer, Gary Peak Guy@lifesignsphoto.com & guy@saber.net Special thanks to Jocelyn Moss the Senior Library Assistant at in the California Room at the Marin County Civic Center Library.
Full story at.. http://www.lifesignsphoto.com/PtReyesDC-3/InsearchV1.html
Date / Time: Tuesday, November 29, 1938 / 5:25 a.m.
Operator / Flight No.: United Air Lines / Flight 6
Location: Off Point Reyes, Calif.
Details and Probable Cause: United Air Lines Flight 6, utilizing a twin-engine Douglas DC-3A-191 (NC16066) aircraft, departed Seattle, Washington, on the evening of November 28 bound for San Francisco. After intermediate stops at Portland and Medford, Oregon, the plane continued south with four passengers and a crew of three on board. Bucking high winds and rain and plagued with radio interference due to the atmospheric conditions, the aircraft inadvertently drifted off course. At 4:09 a.m., Captain Charles Stead radioed Oakland dispatch: "Should be over Oakland. Am dropping down to see what is below. Have 60 gallons of gas, reduced throttle. There is something wrong with this course." Several more exchanges with Oakland dispatch ensued, and by 4:57 a.m., after picking up the Oakland radio range (a navigational beam), Stead reported, "Am almost on course." By this time the DC-3 was flying at 1,800 feet along the California coast and had approximately 20 gallons of fuel left. Twenty-two minutes later, Stead reported seeing a light (apparently a ship, the lumber schooner Lumberton) and dropped a couple of flares in a vain attempt to illuminate a suitable landing area. "Shore ahead too rough for landing," he radioed, and at 5:25 a.m., with its fuel supply exhausted, the DC-3 ditched in the Pacific approximately one mile offshore from Chimney Rock at Point Reyes in Marin County. Upon ditching, all seven occupants of the DC-3 clambered through an overhead escape hatch in the cockpit and took positions on the wings and tail of the floating aircraft. However, as the plane drifted toward the rugged shoreline it struck several submerged rocks, knocking all the survivors into the turbulent seas. Captain Stead and passenger Isadore Edelstein were able to struggle ashore, but the remaining five -- the first officer, stewardess, and three male passengers -- were swept away and drowned. Ironically, the bobbing aircraft eventually was pushed to shore and beached itself, with its interior passenger cabin basically intact and relatively dry. An investigation of the tragedy pointed to human error on the part of the pilot in command for failing to definitely establish the position of the aircraft through standard orientation procedures upon contact with the Oakland radio range, and human error on the part of United Air Lines flight dispatchers -- responsible for directing the operation of the trip -- for failing to properly safeguard the flight.
Fatalities: 5 -- the first officer, stewardess, and three passengers.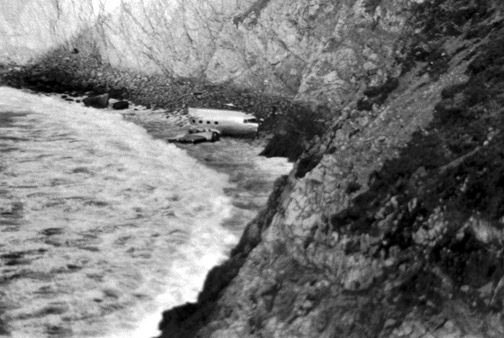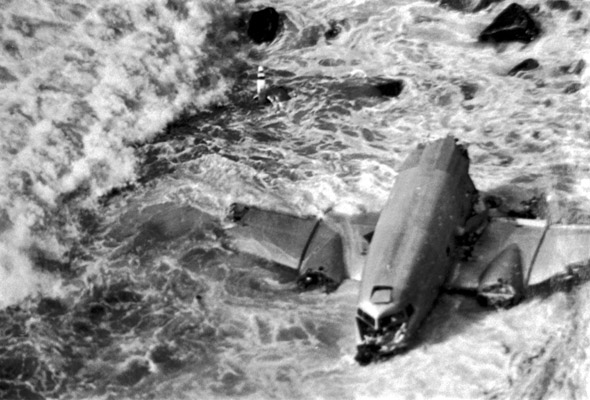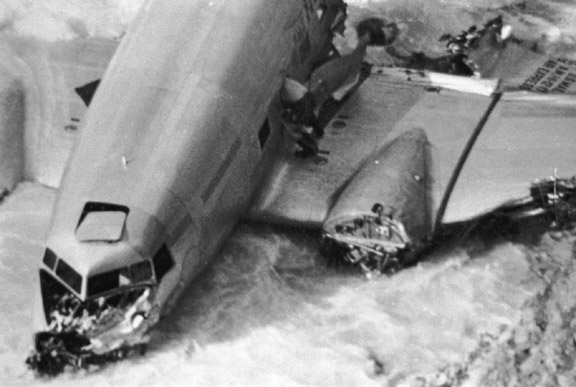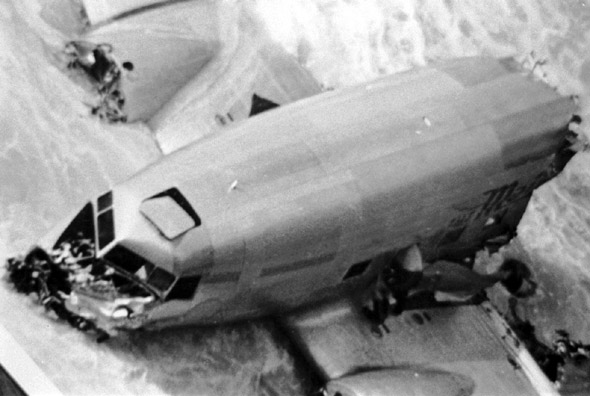 ---