CFB C-47's in LA
---
I visited the Los Angeles area in February of 2001 and came across Catalina Flying Boats, a cargo operator out of Long Beach. They operate two C-47's in excellent condition. I had met with Mike Jones, a pilot for CFB who allowed me to tour and visit the C-47's. It is very obvious to me that these folks at CFB are proud of their operation and, it would seem the entire work force at CFB are an average age of 40. The mechanics are wonderful and they are able to change a DC-3 cylinder in less than hour!!
Roland Talkington is director of Maintenance and he has a wonderful side hobby making lamp stands from 985 and 1830 DC-3 cylinders. CLICK HERE to see this DC-3 Lamp, ...these beauties, I will accept orders on behalf of Roland for any seeking to purchase one. Drop me an E-MAIL please if interested.
---
CFB Pilot Mike Jones had this to say about the CFB operation....
CFB is owned by Steve Franklin. We operate two DC-3's and three BE-18's. Our bread and butter contracts are USPS, UPS, Fed-Ex and frieght to Catalina Island. We run daily flights, usually one mail flight, a UPS flight and a frieght flight in the winter. Summer is a totally different game... Usually a mail flight with left over frieght from the day before then two to three UPS (and other parcels) flights and then as many frieghters as possible.
Sometimes two crews will fly three or four trips apiece. A long day!! durning the winter months we pick up a route to Phoenix, Deer Valley with the Wall Street Journal. We depart LGB at 5:00pm fly to Riverside, RAL, pick up our load and continue on to DVT and return to LGB that night. We do pick up some charter flying as it fits into the schedule.
Currently CFB employs about 30 people in So Cal. We have 7-8 pilots flying the DC-3's (Please mention Jad Davy- He is 32 and has about 3500 hours in the DC-3, he is the LGB DO and he never gets his name in print when media does anything on CFB!!) We all are between 28 and 38 years old.
My brother Ken Jones, 35 is a co-pilot on the DC-3. Henry Murata, 58 is the oldest pilot at CFB. He and my father were two weeks apart in Navy flight school in 1964! Henry flew S-2's in then Gulf of Tonkin during the Viet Nam war and spent much of his flying career as a crop-duster after that.
Trev, the mechanics you met (Carlos Campos and Jose Garcia) are seasoned on round engines. Carlos got his A&P while working at CFB and attending college. Jose Garcia got his years of experience as a mechanic on DC-3's for the Columbian Air Force before moving to the US. Roland Talkington our Director of Maintenance is as old a dirt and has been working on round engines since he was an FE on B-29's!
This just scrapes the surface of all I could tell you about CFB.
---
History... c/n=16453/33201 44-76869 TC-47B-30-DK D08May45 - 99835 USN R4D-7 May45 - VRS-1 New York Dec45 - Quonset Pt Jun46 - Fasron 4 17Sep46 VRJ-2 27Sep46 - VRU-2 Nov46 - Quonset Pt Mar47 Alameda 27Sep47 - Anacostia Mar48 - VU-Unit Corry Fld Jun48 - R4D-6Z - xx - N7631C US Navy Dept - N48 USN/CAA - FAA 01Aug66 to (1972) N31179 US Dept of Agric (Jan76 toJun77)- N211GB Rr May77 - N2298C Way Mac Enterprises Inc, Jackson, MS R22Aug78 - R D Hedrix, Lakewood, CO, B20Feb81 - Air Taxi Haiti SA L20Feb81 Accelerated Charter Express Inc Broomfield, CO. RAug83.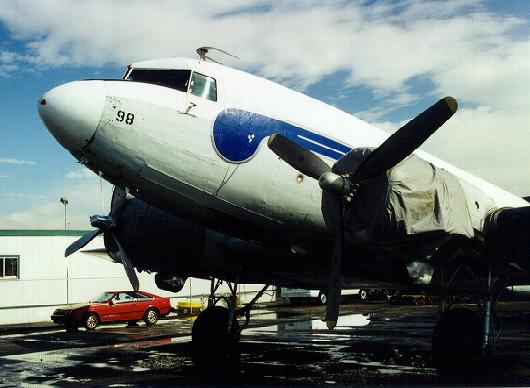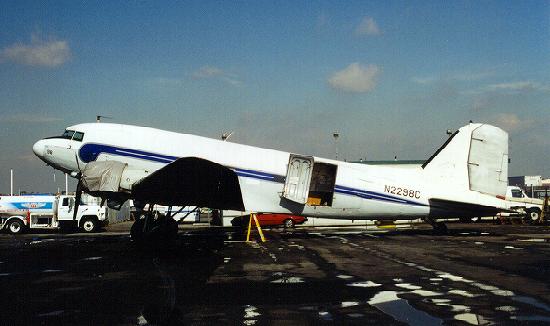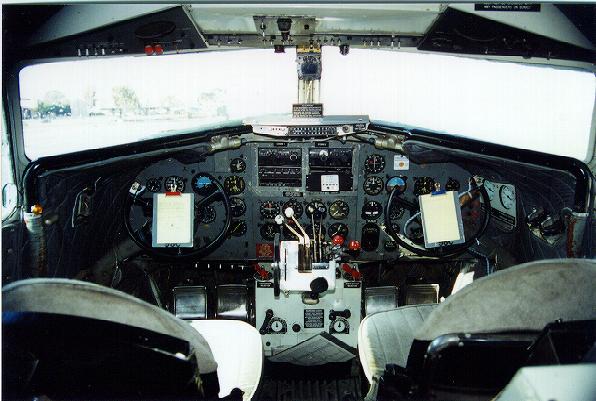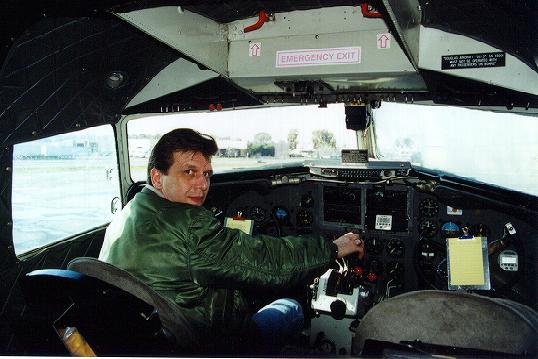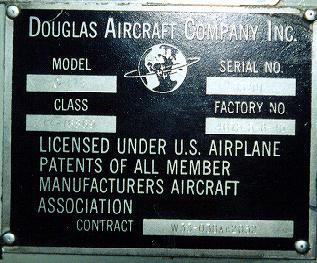 ---
History... c/n=16943/34202 45-0940 D18Jul45 - no card - xx USAF C-47D MATS Flt Svces (Mar52 to 1954) VC-47D (Sep54) - "0-5940" MATS Prestwick (1959 to 1963) - 7513th ABG (1964 to 1966) - tcO-50940?1 (Mar68) - St Davis Monthan (Dec69 to Oct72) N17778 Desert Air Parts R Oct72 - R C Michalesen, Los Altos, CA (Nov77) - Pro-Air, CA L (1979) Jimsair Avn Svces Inc, San Diego, CA R21Jun79 N403JB Rr Oct80 - Ken Haas Avn Inc, Burbank, CA Sep81 - Atorie Air Inc, El Paso, TX R Jun83 - Pegasus c/s at Tucson, AZ (Dec83).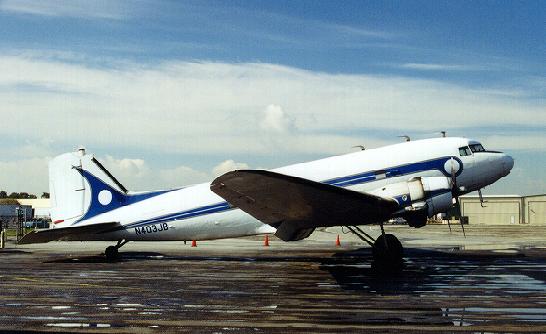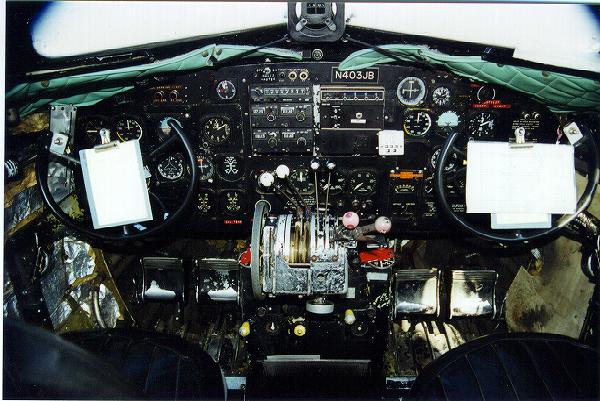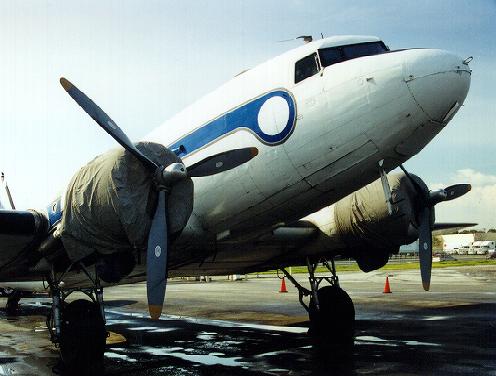 ---