Our Own DC-3, Ozark Air Lines "N763A" Part 2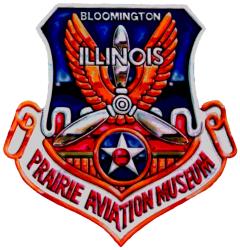 This is our Prairie Avaition Musuem Logo.
---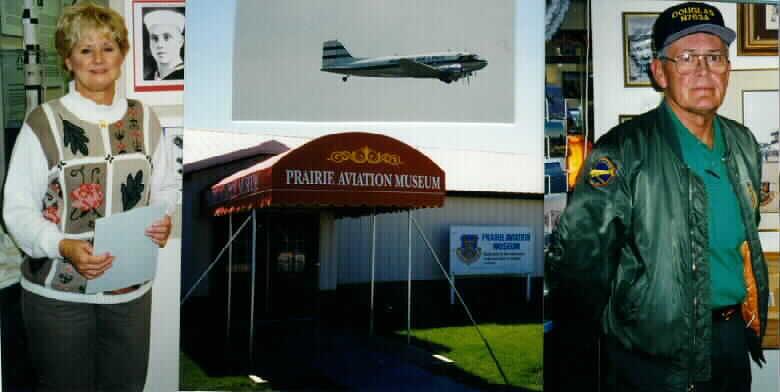 Pictured above on the Left is Fran Romine, a volunteer Commitee member of the Prairie Aviation Museum. She will usually hostess or to be politicly correct, act as steward, on most of our DC-3 flights. On the right, the man who made my dreams come true, Norm Wingler, DC-3 pilot and President of the Prairie Aviation Museum. Without Norm, I would not have had the enormous enjoyment of being a big part of this DC-3 over the last few years. Norm has thousands of hours flight time in the DC-3 and is somewhat an expert pilot of this type.
---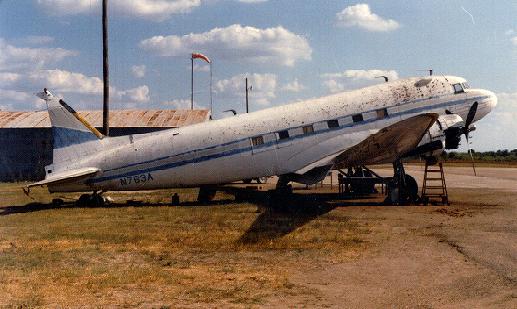 This was the state of our DC-3, N763A, and how it looked originally, when we bought it back in Febrauary 1984
---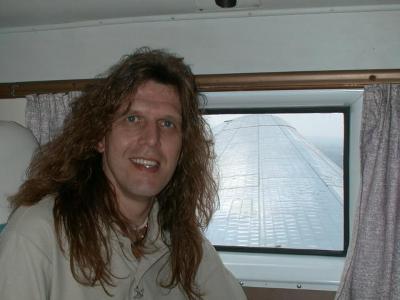 And this is me of course, enjoying yet another flight in our DC-3 this year.
---
This is part 2 about our own DC-3, Ozark Air Lines "N763A". I took a lot of pictures on our flights this year and below are most of them. This year has been an expensive one because of maintainence. Our number 1 engine is troublesome to start, almost like you have to over prime it to keep it running, hence the flames out of the exhaust. If the prop and throttles are not just at the right position, it becomes very stubborn to start at all. Our Number 2 engine needed a new cyclinder. We found when performing a run up of the engines one day, to find it vibrating at 2,000 rpms. We usually run it up to 2,300 rpms during our tests. It was found we had a sticking valve in the cylinder. $850 later, we got a new cylinder before flying off to St Louis. We are in need of a third engine as a spare, we need an 1830-90 or 1830-92 Pratt & Whitney, if you know of any names, phone numbers were they are selling these, please drop me an E-Mail with this information please.
If you have read Part 1 "Our Own Prairie Aviation Museum's DC-3 "N763A" Ozark Air Lines" ....and click here if you have not then I may have mentioned we lost an engine during flight about 2 years ago. Part of the photograph gallery below, shows that very cylinder and the damage it took which caused the loss of our number 2 engine at the time. Enjoy the photo gallery below.
Click on each image for full size view.
Then use the 'Back' button on your browser to return to this page.
There are 23 images, scroll from side to side as well as up and down.
---
1

2

3

4

5

6

7

8

9

10

11

12

13

14

15

16

17

18

19

20

21

22

23
---